Comics
Published November 22, 2017
Monsters Unleashed Enters A New Era
New writer Justin Jordan on what's next for Kei.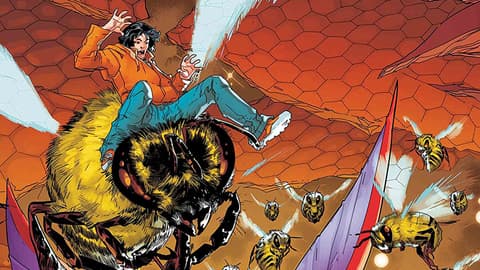 Justin Jordan plans to make his Marvel with a crazy kaiju party in the pages of MONSTERS UNLEASHED starting this December. This series will mark the writer's first ongoing work at the House of Ideas after spending the past several years building a name for himself around the industry.
Jordan takes over for Cullen Bunn who wrote the initial five issue limited series as well as the first eight installments of the ongoing. For his first story arc, called Learning Curve, he'll be joined by Francesco Gaston for MONSTERS UNLEASHED #9, available December 20, as Kei and company take on super-sized bees, while Bachan will plunge them into the ocean depths with MONSTERS UNLEASHED #10.
We talk with Jordan about taking on something of a lighter book, taking over for Bunn and working with a variety of different artists!
Marvel.com: What appeals to you as a writer about taking over MONSTERS UNLEASHED?
Justin Jordan: You know, I think it's that I get to write something fun. I tend to gravitate towards darker and grimmer stuff, so writing something where both the book and the characters are optimistic and fun is actually a nice change. Not that I don't love my grimdark, mind you, but I don't get to flex my fun muscles in books very often.
Marvel.com: With a few exceptions, these are all relatively new characters. Does that make jumping on a book like this more or less challenging?
Justin Jordan: Kind of both, which is a terrifically useless non-answer. On one hand, there's only one version of these characters. If I were writing, say, Captain America, he's been written by so many people for so long that people have lots of different versions in their heads. And that adds to the weight of expectations. Likewise, there's a crap ton of research. So in that respect, this is less challenging.
The flipside is that because Kei and the kaiju have basically just been written by Cullen, it's kind of nerve-wracking to be the next writer. Because that is a very specific version of the character, and so I want to write a character who is definitely the same kid, but not just doing exactly what Cullen did. Which is it's own sort of challenge.
Marvel.com: There's an interesting approach with your first batch of issues in that different artists will be drawing each installment. Does that change how you approach a script at all?
Justin Jordan: It does. I try to, as best I can, write for the artist. I've been lucky that I've known before the script stage who the artist was going to be, and I've been able to write towards that. But it's also easier for me because having the different artists gives us a more distinct feel for each issue, which works really well here because each issue takes place in very different places, with different kinds of antagonists.
Marvel.com: How does Kei working one-on-one with his monsters change their dynamic?
Justin Jordan: This arc gives us a chance for Kei (and, you know, the reader) to really learn more about the monsters. They've generally always worked as a team, so having them work individually gives us a chance to see what their strengths and weaknesses are. And who they are as people. It's a real — GRATUITOUS TITLE DROP — learning curve for Kei.
Marvel.com: How fun is it dealing with all of these monsters, old and new, in the Marvel Universe?
Justin Jordan: Ah, it's super fun. They're just awesome. Who doesn't want to play with giant monsters?
The Hype Box
Can't-miss news and updates from across the Marvel Universe!