Comics
Published January 18, 2017
Monsters Unleashed: Ferocious Fallout
Writer Cullen Bunn breaks down the first issue of Marvel's monstrous new event!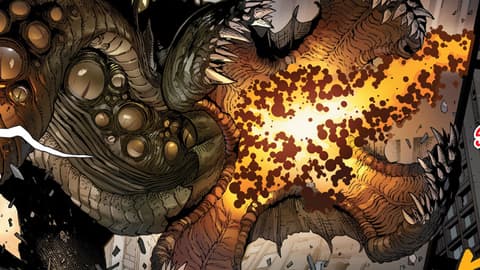 Before the Avengers, the X-Men and Spider-Man ruled the newsstand, creators like Stan Lee, Jack Kirby, Steve Ditko, and Don Heck unleashed a wave of giant monsters that inspired terror and wonder in comic fans everywhere. Now those two concepts collide, as writer Cullen Bunn kicks off MONSTERS UNLEASHED, a five-issue bi-weekly limited series. Marvel recruited a murderer's row of artists to draw the story, starting with Steve McNiven.
With the first issue of Marvel's event series available in comic shops and digitally today, we sat down with Bunn to smash our way through the first bone-crushing, building-destroying issue.
Marvel.com: Cullen, the monsters have now been unleashed! How does it feel seeing the first amazing-looking issue hit stands? What was it like working with Steve McNiven on this issue?
Cullen Bunn: It's thrilling to see this book come together, and I'm really excited to see what people think of it. I think it's a story readers might not be expecting. The focus is monsters and action and fun, but the book is important to the landscape of the Marvel Universe going forward. We're introducing—and reintroducing—giant monsters to the world in a big way. And they'll be a part of the world from this point forward.
Steve is, of course, an amazing artist. I had no doubt that his work on the first issue would be breathtaking. He was an absolute delight to work with, despite all the crazy stuff I was asking him to draw.

Marvel.com: The comic features a wide variety of Marvel heroes, as it shows how the Avengers, X-Men, Inhumans, and others react to the giant monster attacks. Was there anyone in particular in this issue you enjoyed writing, even if it was just for a few pages?
Cullen Bunn: I love working on these stories that span the Marvel Universe, because it gives me this golden opportunity to write a wide range of characters, many of which I might not get the chance to write otherwise. There are definitely a few standouts for me. From the first issue, Hercules springs to mind. He's a great character, especially when facing a threat of this nature. The dual Spider-Men are also a real joy to write. Rocket Raccoon, too, is a lot of fun for me. And of course, I love writing Elsa Bloodstone and Devil Dinosaur!

Marvel.com: With the Marvel Universe still recovering from Civil War II, plus the long-brewing Inhumans Vs. X-Men confrontation on the horizon, it's interesting seeing everyone focused on a similar goal: stopping these monsters. Will these existing rivalries come into play as the series progresses?
Cullen Bunn: I'm not sure the heroes will have any spare time to deal with rivalries. The monster attacks we've seen in the first issue are just the beginning of something much, much more harrowing. There will be some nods to the current state of the Marvel Universe, but I didn't want to dwell on those things. I was much more focused on a fun, entertaining read that anyone could pick up and enjoy.
Marvel.com: Beyond the Marvel heavy hitters who get to punch and kick and blast giant monsters, you have three characters in this first issue who aren't directly tied to the action yet. Let's start with Elsa Bloodstone, who appeared in NEXTWAVE and who you've written before in FEARLESS DEFENDERS. What exactly was she working on in the story?
Cullen Bunn: You can't really have a giant monster apocalypse without attracting the attention of the world's greatest monster hunter! Even though Elsa isn't usually seen battling giant monsters, she still has access to a vast library of monster lore, and she's heard hints of legends that may be tied to the crisis at hand. She's trying to uncover the source of this monster invasion, and when she finds it, she's going to do what she does best.
Marvel.com: Next, there's Moon Girl, whose pal Devil Dinosaur wants in on the action, but she decides their time is better spent figuring out what's going on. What's her approach to solving this particular dilemma?
Cullen Bunn: Moon Girl is going to use her "phenomenal smarts" to solve the monster problem. Lunella has discovered that the monsters seem to be communicating—albeit in roars and screeches and the like—and she's building a device to help her translate what the behemoths are saying. If she can figure out what the monsters want, it might illuminate a solution.
Marvel.com: Finally, there's Kei, a fairly new character we're really getting to know in this series. He spends most of this issue drawing monsters, with interesting results at the end of this installment. Who is he exactly, and how will he play into the bigger crisis?
Cullen Bunn: Kei has a very important role in this series. His powers, it would seem, make him a prime suspect for the source of this monster invasion. We'll be seeing much, much more of him in the series, and we'll be exploring the nature of these abilities and his connection to these monsters.
Marvel.com: Looking forward now to issue #2, what can readers expect from the next chapter? Any hints or teases? Will Devil Dinosaur get to come out and play?
Cullen Bunn: In our next issue, the monster attacks escalate in some dramatic ways. In addition, we'll be seeing some outer space action. Elsa's research brings her right into Kei's life. And we'll be seeing a huge team-up of heroes going up against a massive horde of classic Marvel beasts!
And yes, Devil Dinosaur will definitely get the chance to cut loose in some monster-fighting action, maybe not in the next issue, but he'll get the chance during the series.
Pick up MONSTERS UNLEASHED #1 by Cullen Bunn and Steve McNiven right now, and look out for issue #2 on February 1!
The Hype Box
Can't-miss news and updates from across the Marvel Universe!