Comics
Published January 19, 2017
Monsters Unleashed Madness Continues in April
Marvel unleashes more monstrous mayhem in an ongoing series by Cullen Bunn and David Baldeon!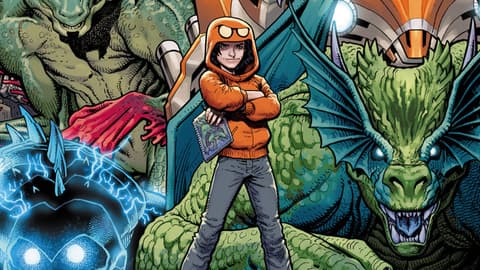 Earlier this week writer Cullen Bunn unleashed giant monsters on the heroes of the Marvel Universe.
"The focus is monsters and action and fun, but the book is important to the landscape of the Marvel Universe going forward," Bunn told Marvel.com on Wednesday. "We're introducing—and reintroducing—giant monsters to the world in a big way. And they'll be a part of the world from this point forward."
If you wondered what the writer meant by that, wonder no more: Kei Kawade and a host of colorful and chaotic characters will return for ongoing adventures after the MONSTERS UNLEASHED limited series concludes!
Appropriately still titled MONSTERS UNLEASHED, the new series from Bunn and artist David Baldeon features Kei—aka Kid Kaiju—as he teams with a new group of mysterious creatures introduced during the event: Aegis, Slizzik, Scragg, and Mekara. Along with ace monster hunter Elsa Bloodstone, this new team has goals and missions that remain largely classified for the time being.
We spoke with Bunn about the new series, its lead characters, and how the rest of the Marvel Universe might greet these new arrivals.
Marvel.com: Without giving away too much about the MONSTERS UNLEASHED limited series, what can you tell us about the premise of the new ongoing?
Cullen Bunn: Giant monsters have been reintroduced to the Marvel Universe, and after the events of the Monsters Unleashed limited series, the movers and shakers of Marvel's hero community simply must take these behemoths seriously as a threat. With that in mind, Kei Kawade and a small group of new kaiju have been tasked with combating giant threats that surface all over the world.
From their hidden island base, Kei and a group of powerful monsters are on call, ready to face these gargantuan Leviathans wherever they may rise.
This is a series firmly rooted in the Marvel Universe. Kei, Elsa, and company will be interacting with a number of Marvel heroes, and they'll be encountering some extremely powerful, extremely dangerous villains in addition to the giant monsters they must face.
Marvel.com: Let's talk a little bit about the character of Kei, who we first saw in Totally Awesome Hulk. Was the plan all along to turn him into a major player in the Marvel Universe? His unique power set seems like a fun thing to play with in an ongoing series.
Cullen Bunn: Kei has been discussed, in one way or another, for a long while now. His abilities and origins have changed over the course of time, but I think the hope was always there that he would become a major player. His powers are unlike anyone else's. If you really think about it, he's insanely powerful, with the potential to be a world-changer, but he's just a kid. It's going to be a lot of fun to see where his powers take him and how they grow over time.
Marvel.com: What role will Elsa Bloodstone play?
Cullen Bunn: It might seem that Elsa is out of her depth when it comes to dealing with giant monsters. Put a mummy in front of her, and she can get the matter sorted straight away. A 30-foot tall dragon, though, is another story. Still, she's an expert in monsters of all shapes and sizes, and over the course of the Monsters Unleashed series, she'll form a bond with Kei. Now she acts as Kei's adviser and bodyguard.
But if you're a fan of Elsa creeping around old crypts, slaying vampires and the like, worry not. Her monster-killing habits are hard to kick. She's going to be doing a little full moonlighting. 

Marvel.com: What does artist David Baldeon bring to the title?
Cullen Bunn: David and I have worked together all too briefly in the past, and I'm so excited to have the chance to work with him on something like this. David draws one helluva monster, which is great because he's going to be tackling a lot of them, as well as a lot of heroes and villains and the like. David also handles action, fun, and humor like a champ.
Marvel.com: Monsters Unleashed gave you a chance to play with a lot of the monsters that appeared before the Marvel Universe officially was born, but I imagine there's still a lot of water in that well. What other creatures do you hope to bring into the ongoing at some point?
Cullen Bunn: Even though hundreds of monsters [appear] in MONSTERS UNLEASHED, it was impossible to showcase all of them. In this new series, I hope to write stories featuring some of the classic monsters I might have previously missed. There are some other existing creatures, like the Monsters of Evil who I introduced while writing VENOM, that I'd like to see get some panel time. I'm also excited to add in some monsters we haven't seen before.
Marvel.com: Finally, we've only seen the first issue of the MONSTERS UNLEASHED limited series so far, which featured a massive attack by giant monsters and Earth's heroes rising to battle them. After this attack, how will they react to a group of monsters that's claiming to be fighting on their side?
Cullen Bunn: That's an important aspect of this series. Kei and his monsters are under a lot of scrutiny from the heroes of the Marvel Universe, government agencies such as S.H.I.E.L.D., and corporate entities like Damage Control. And it's not only the forces of good who are paying attention to Kei and his monsters. There is a sinister cadre of villains who are very interested in Kei and his unusual abilities.
Follow the Monsters Unleashed event going on now and get ready for ongoing action this April!
The Hype Box
Can't-miss news and updates from across the Marvel Universe!