Comics
Published August 28, 2017
Moon Girl and Devil Dinosaur: Girl's Best Friend
Writer Brandon Montclare on the bond between Lunella and Devil!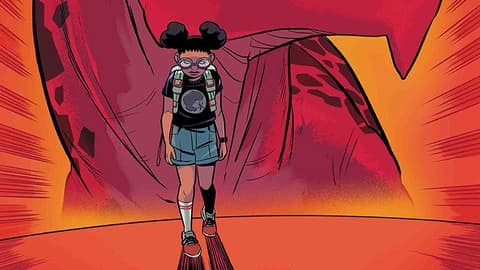 Lunella Lafayette's relationship with her omnipresent sidekick, Devil Dinosaur, has—slowly—evolved since her earliest excursions across the Marvel Universe. After first being forced into a pairing without a choice in the matter, the two have recently matured into…friends?
On September 27, writer Brandon Montclare and artist Natacha Bustos tell the next chapter of this strange duo's story with MOON GIRL AND DEVIL DINOSAUR #23!
We spoke with Brandon to get a greater perspective on these to unlikely buddies.
Marvel.com: When the Terrigen Mist first gave Lunella the ability to switch bodies with Devil Dinosaur, she often got annoyed—and essentially described him as a stupid beast. But that's all changed. How does she see him now?
Brandon Montclare: Simply put, Devil Dinosaur has caused Moon Girl to change her perspective on a whole lot of things. Their adventures have caused her to re-evaluate him. Devil Dinosaur has certainly proven himself to be an able partner; his strength complements her smarts when they need to save the world.
All of this opened Lunella's eyes, but there's a more important thing she discovered: Devil Dinosaur became her first real friend. He's not only someone who helps her on missions—he's actually inseparable from her in every aspect of her life. And Lunella still has a lot to learn about the world and herself. I think Devil Dinosaur taught her that things change—and that her first reactions and deductions might not always reveal the whole picture.
Marvel.com: What, in particular, has caused their relationship to grow? They've been through a lot together!
Brandon Montclare: Probably just proximity! Moon Girl can't get rid of Devil Dinosaur. This is, of course, amplified when they switch minds every full moon. They were forced to get along and make a working relationship. And that blossomed into a super team! And, at this point, it might destroy them both if they ever had to split.
Marvel.com: How does Devil Dinosaur feel about Lunella?
Brandon Montclare: What's great about Devil Dinosaur is that he doesn't change; he's a constant source of loyalty for Lunella. Even though she's smart—The Smartest There Is, in fact—she has a hard time understanding people. There are others in her life who would support her unconditionally, but she's pushed them all away. But you literally can't push away ten tons of Tyrannosaur. Devil Dinosaur embodies loyalty. And reliability.
So as much as Devil Dinosaur changed Lunella, Lunella doesn't really change Devil Dinosaur. He's a constant. I guess an advantage of being a dinosaur is not having to bother with complexities and anxieties and (pun intended) evolution. Although teleported a few million years to our present, I don't think any amount of time changes Devil Dinosaur's pure nature.
Marvel.com: In some ways, these two are opposites—Lunella relies on her intelligence and Devil Dinosaur on his strength. In other ways, they're pretty similar—they both have an endearing stubborn streak. How do these dynamics impact their friendship?
Brandon Montclare: It's great to work with opposites in storytelling. You can source a lot of dramatic tension from those natural conflicts. And when these things get smashed together, you're left with a shade of grey that reveals maybe the two opposites were never that different. It's a push and pull that the creative team gets to play with every month.
Both characters started with very opposite views on friendship. For Devil Dinosaur, it's a default—if you're reasonably deserving. For Lunella, friendship is suspect and she avoids any semblance of making friends—probably because, deep down, rejection really does hurt her. But as much as she doesn't think she needs it (she has "more important" things to do), like any other little girl, she wants accepting friends more than anything. So this isn't a place where the two meet—but Devil Dinosaur pulls her more to the middle where she can at least have one friend. He isn't perfect. He isn't even human. But he's a start!
Marvel.com: What else can you tell us about the upcoming issue?
Brandon Montclare: Natacha Bustos hammers it every issue—this Girl-Moon arc, especially. These issues showcase her unique sensibilities—they make you laugh, they pull your heartstrings, and they wow your eyes.
For each issue, the fountain of ideas can make it difficult for everyone to pick one concept and go with it. And when the finished covers start piling up, it's hard to pick a favorite. Every book is unique, but MOON GIRL AND DEVIL DINOSAUR might be a little more different than the average monthly comic. And having Natacha demonstrate that feel continues to be something special.
MOON GIRL AND DEVIL DINOSAUR #23, by Brandon Montclare and artist Natacha Bustos, drops September 27!
The Hype Box
Can't-miss news and updates from across the Marvel Universe!