Comics
Published October 27, 2017
Moon Girl and Devil Dinosaur: Three's Company
Writer Brandon Montclare dishes on the Fantastic Three for Marvel Legacy!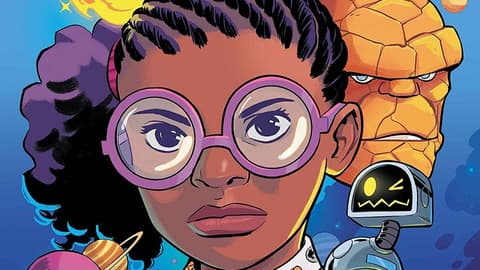 written by Dominic Griffin
Lunella Lafayette first crossed paths with a member of Marvel's First Family when she met Ben Grimm back in issue #14 of MOON GIRL AND DEVIL DINOSAUR, but now she'll be joining forces with The Thing and ol' Flamehead himself, The Human Torch!
On November 22, writer Brandon Montclare and artist Natacha Bustos jump into Marvel Legacy with a new Fantastic Three in MOON GIRL AND DEVIL DINOSAUR #25! When The Silver Surfer returns to Manhattan in advance of a cosmic threat, Lunella steps up for the job, but without Devil Dinosaur by her side, she needs some help. And that's where Johnny Storm and Ben Grimm come in!
We spoke with Montclare to hear more about this unlikely trio.
Marvel.com: Since Lunella has taken the "smartest person on the planet" crown from Reed Richards, having her interact with the two Fantastic Four members who aren't missing seemed like a no brainer, right?
Brandon Montclare: Precisely. It all lined up. And I think that happens because MOON GIRL AND DEVIL DINOSAUR has a lot of thought put into it. Even though a kid can read and enjoy it as much as an adult, it's really layered. That doesn't just come from me; that comes from the whole creative team. And when you have that kind of dedication, it creates an internal consistency where new things fit as if by magic!
But most of all, the FF leftovers are missing their brains—and now Moon Girl is missing her brawn. So it makes sense on paper! But Natacha and I have to make it make sense on the page.
Marvel.com: When you first created this character, did you know from the outset what kind of legacy characters she'd be likely to interact with?
Brandon Montclare: Not really. I always appreciated that Devil Dinosaur started as one of Jack Kirby's many babies. Not the most loved! But he came from the King. So that became the inspiration for putting Lunella Lafayette on Yancy Street—as a nod to Kirby's fictionalized version of the real Delancey Street where he grew up. So I like Lunella growing up there too. And Yancy Street leads to, of course, The Thing. But when I helped create Moon Girl with Amy Reeder and Natacha Bustos, we didn't have the idea yet that she would be the smartest person in the world. That came to me later, and Marvel supported it. At first, she was just a typical genius! I say typical, because there's a definite Marvel legacy of Bruce Banner, Peter Parker, Hank Pym filling that role. But Reed Richards, to my mind, acted as the prototype. So I think all that stuff pointed us toward a connection with the Fantastic Four.
Marvel.com: Can you talk a little about the chemistry Lunella has with Ben and Johnny?
Brandon Montclare: MOON GIRL AND DEVIL DINOSAUR #14 (guest starring The Thing) felt like the most fun for me to write. So I was happy to get back there. Chemistry in these situations becomes as much (actually, probably more) about their personality conflicts than their teamwork. Again: they hail from the same neighborhood, but have had totally different experiences (and exist at least a generation apart). Plus, they're natural opposites. So I love the dynamic. And for the Legacy arc, I can take them in a new direction. They both miss big parts of their families, so it becomes an opportunity to bond.
As for The Human Torch, he's fun too. I like writing him and Ben bouncing off each other. I'm definitely awed by this one short story in MARVEL FANFARE by Barry Windsor-Smith about the two of them. It's so good that it's intimidating! But luckily most people haven't read it. So it just acts as motivation for me to do even better with these two members of the Fantastic Four.
Marvel.com: Do you think—if Lunella had been created earlier—she'd have been a good fit for the Future Foundation?
Brandon Montclare: No. Sometimes I default to being contrary…and Future Foundation will always be something I can't disassociate from Jonathan Hickman…but nonetheless it wouldn't work story-wise. Lunella has been overlooked her whole life—it's a big part of who she is. So while she wanted to get into the Future Foundation, or anyplace other than the school she resents—that never happened. It didn't help her social skills, but it did create a certain kind of self-reliance.
Marvel.com: We know you can't spoil anything, but can you give us a tease as to where this team-up might be headed?
Brandon Montclare: I can say it will head to Galactus and Silver Surfer—so that's awesome. A blast from FF past. Lots of FANTASTIC FOUR Easter eggs. And a surprise character returns. But I think the best part of working for Marvel is being a part of the big universe. So I want to tie her into FANTASTIC FOUR lore. Marvel Legacy feels very personal to me. I grew up on Marvel. And to contribute something lasting to this Universe scratches just about all the itches I have.
Before Fantastic Three, Lunella was already becoming a big part of the world: a counterpoint for the Inhumans, sympathy with the X-Men, the world tour of heroes in "The Smartest There Is." Fantastic Three and Legacy just cement her into the ongoing continuity, which gets mirrored in both the story and my experience writing it. It couldn't have worked out better if I'd planned it.
Catch the team-up in MOON GIRL AND DEVIL DINOSAUR #25, by Brandon Montclare and artist Natacha Bustos, on November 22!
The Hype Box
Can't-miss news and updates from across the Marvel Universe!