Comics
Published December 6, 2016
Moon Knight at the Movies
Introducing Steven Grant, mysterious film producer—and secret super hero?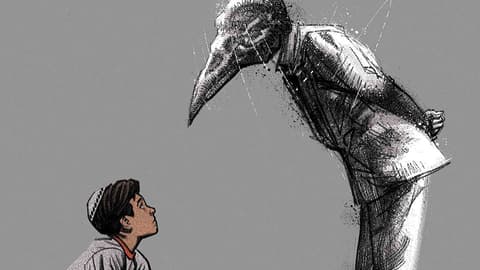 Hollywood's Most Intriguing Producer to Be Available for First Ever Q&A
LOS ANGELES, CALIFORNIA — For the first time, one of Hollywood's most sought after producers, Steven Grant, will make himself available to the public for a Q&A before his hotly anticipated newest project "Moon Knight."
Grant, a New York entrepreneur who has found himself unable to resist the bright lights of La La Land for too long, has long been the subject of rumor and debate inside the film industry and on the pages of tabloids. However, he has rarely spoken about his life to anyone on the record and certainly not in an open forum.
First becoming famous in Manhattan for his appearance, seemingly out of nowhere, on society pages as a wealthy entrepreneur and philanthropist, Grant fascinated the East Coast press. Attractive and dashing, he seemed to love a good party but never lingered long enough for anyone to get to know him. Even the reliably intrusive gossip pages could not seem to find a thing on him.
He stoked the flames of interest even further as he began to appear at fundraisers and art auctions with the beautiful and well connected Marlene Alraune on his arm. Over the years, their on again off again romance has capture the world's imagination and raised both's profiles considerably. But still Grant remained remarkably quiet.
Despite his New York roots, Grant's love of show business proved too much to resist. While his entrepreneurial pursuits seemed to no longer interest him, his interest in film and television blossomed. Gaining a reputation as a producer with a large wallet from which he freely dispensed capital, Grant also stood out amongst his ilk for his artistic vision. In a town full of people with money only interested in increasing their bottom line regardless of the product, Grant seemed more like the maverick directors of the 70's—only the art mattered.
Inevitably, when discussing the producer's dedication with art, one must also acknowledge his other obsession: the vigilante Moon Knight. His interest in the white clad violent crime fighter has, at times, reached such a fever pitch that many speculated the two one in the same or, more likely, Grant provided his fortune as the Lunar Warrior's chief financier. While there remains no evidence to back up these wild theories, they continue to follow Grant to this day. Other particularly bizarre conspiracies include Grant once serving as a mercenary for hire and sometimes driving a cab on New York's streets to keep him "in touch" with those less fortunate than himself.
What clearly rings true: the producer has great respect and admiration for Moon Knight and thus has been driven to capture the hero's adventures on-screen. His first attempt—the recent Moon Knight TV series—has been regarded as a delightful slice of summer television. Grant copped to the fact that the series proved less intense and artistic than he expected; he nonetheless became heartened by fans' embrace of its big action and characterization.
However, the restless producer could not let it be the final world on the Fist of Khonshu. Thus, the MOON KNIGHT film series. Now fans await with bated breath the release of MOON KNIGHT #10, which Grant made in collaboration with visionaries Jeff Lemire and Greg Smallwood. And to sweeten the deal for Angelinos, Steven Grant will appear at an exclusive screening on the film's release date, January 4, to answer the burning questions fans and cinephiles alike have long wondered about.
The Hype Box
Can't-miss news and updates from across the Marvel Universe!