Comics
Published November 21, 2016
Mosaic: Predator Becomes Prey
Who's after the newest Inhuman? Writer Geoffrey Thorne offers some guesses!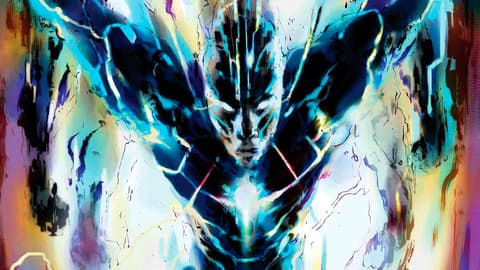 Someone stalks Morris Sackett.
Despite the loss of his physical body thanks to Terrigen Mist exposure, the man now known as Mosaic has become prey for an unknown player. With so much on his plate already, we have decided to help out Sackett and give him a head's up on who might be on his trail.
MOSAIC writer Geoffrey Thorne has lent us his brain power to help build a list of suspects and contemplate who could be the person on the trial of Marvel's newest hero.
Karnak
The Inhuman who cannot help but see the flaws in everyone and everything around him might not take well to a new member of his people out there jumping body to body. Barely in control of his power, Mosaic may well represent a danger to himself, to others, and to Inhuman reputations in general.
"Karnak is good," Thorne admits. "Even though he can't detect Mosaic, he might be able to figure out the effect of a body jump. Once he knows what that looks like he could track Mosaic that way. Provided he could see the potential victims."
Human Torch
Although not an Inhuman himself, thanks to his romantic association to Medusa, Johnny Storm has never been closer to them. Like Karnak then, he might well want to corral a brand new Inhuman for everyone's sake.
"The Human Torch could both see and track Mosaic when he's outside a host but only when he's flamed on," reveals the writer. "Human Johnny Storm can't see or hear Mosaic."
Kraven the Hunter
With a name like that, you can never sleep on Kraven when it comes to issues related to being tracked and pursued. He may not have the motivation of some of the above, but he does love a challenge.
"Kraven might also be able to use Karnak's trick and, if he knew about Mosaic's weakness for disruptive energy—not all energy does it but when it happens it's really bad—he might be able to set Mosaic traps," confesses Thorne.
Spectrum
The current Ultimate has a long history of heroics and given her grasp of all kinds of energy may be uniquely suited to the act of finding Mosaic. Additionally, with her great empathy, she might want to find him to help him before things get out of control for Sackett.
"Monica Rambeau can both see and hear Mosaic when he's out of a host," the writer states. "Inside a host she can't."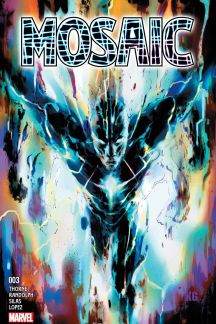 Bullseye
Arguably the #1 assassin in the Marvel Universe for most of his career, he would be a natural choice for anyone looking to wipe someone—especially a super hero—from existence.
"Bullseye's got nothing," dismisses the writer. "Even if he could track Mosaic there's nothing he could do about it. He's sort of Kraven/Karnak lite on this score."
Silver Surfer
The wielder of the Power Cosmic recently left Earth once more, but given his track record, he could already be back. With his wide array of powers, it seems unlikely almost anyone could hide from him, especially an untested hero like Mosaic.
"The Silver Surfer could easily catch Mosaic," Thorne asserts.
Cyclops
The de facto head of a large faction of mutantkind, he found Muir Island littered with Multiple Man bodies and covered in a cloud of Terrigen Mist. He might see Sackett as a possible ally against his own kind given his experiences to date or easy pickings in the escalating mutant/Inhuman conflict.
"Cyclops can't do much to Mosaic unless he manages to blast him unconscious while he's in a body before he has a chance to jump out," argues the writer. "No chance of tracking him after he jumps out of a body."
Join the hunt in MOSAIC #3 by Geoffrey Thorne and Khary Randolph on December 14!
The Hype Box
Can't-miss news and updates from across the Marvel Universe!