Comics
Published February 11, 2019
Ms. Marvel's 5 Biggest Moments
Prep for Kamala Khan's 5th anniversary and Wednesday's massive 'Ms. Marvel' #38 with a landmark look back!
She's fierce, smart, nerdy, and Jersey City's number one Super Hero. She's Kamala Khan!
Since making history in 2014 as Marvel's first Muslim character to headline their own series, Ms. Marvel has traveled across the Marvel Universe, becoming one of the most beloved new heroes in recent memory. And on Wednesday, February 13, MS. MARVEL #38 marks the character's fifth anniversary—as well as the end of co-creator G. Willow Wilson's run on the book (before Saladin Ahmed starts a new series with MARVELOUS MS. MARVEL next month)!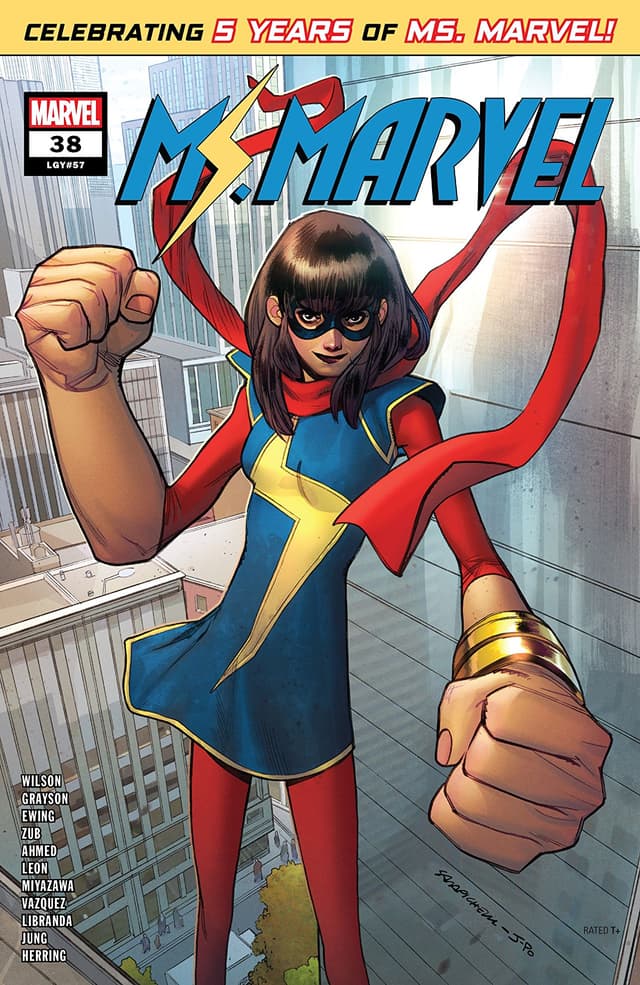 In honor of her fifth anniversary, here are five of Ms. Marvel's biggest moments ever.
Meeting Her Idol
Kamala is a fan of Super Heroes, but she's a huge fan of Captain Marvel. She has a poster of the captain, she can be seen in Jersey City wearing a Captain Marvel-themed jacket, and when she was hit by the Terrigen Mist, she became Captain Marvel's former identity, Ms. Marvel. The transformation didn't last long, but Kamala was inspired to be hero in her own city and picked up the mantle for good.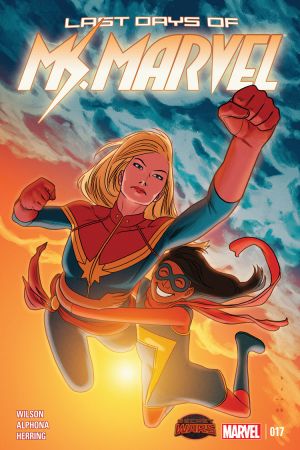 When the world was ending and her brother, Aamir, was kidnapped, Kamala received a visit from the one person that could help her: Captain Marvel! Cue the fangirling. In MS. MARVEL #17-18, they teamed-up and managed to rescue Aamir. Before leaving Kamala, Captain Marvel gave her a pendant—containing the Captain's star and Kamala's lightning bolt—as a means to contact her in the future.
Mrs. Khan Finds Out
Kamala has had to worry about not just keeping her identity secret from the public, but keeping it from her parents!
With the exception of Bruno, for a long time, Kamala told no one that she's Ms. Marvel. Things changed, however, when facing the apocalypse. Kamala told her mother that she was Ms. Marvel in MS. MARVEL #19. Her response? "I know."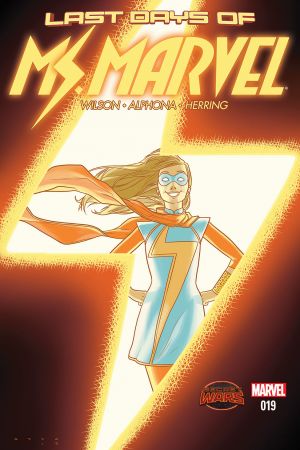 Mrs. Khan explained that she noticed small clues that led to her deduction, such as Kamala asking for her swimsuit, which she changed into her uniform, and sneaking back into the house before prayer at dawn. Call it mother's intuition. To further add to Kamala's surprise, her mother told her that she was proud of her for it all.
Rejected by Her Mentor
Being a Super hero is hard. You have to fight villains, save people, and uphold justice, but sometimes things can be even tougher than that. Example: CIVIL WAR II. 
During the event, Kamala was tasked by Captain Marvel to lead a small task force, the Cadets, in stopping crimes before they happen, but soon learned that predictive justice might not be the best way to handle crime. In MS. MARVEL #11, Kamala took a stand against Captain Marvel by faking a crime to prove her point. Not a fan of this tactic, especially when Iron-Man arrived, Captain Marvel removed Kamala from leading the Cadets and cut ties with her protege.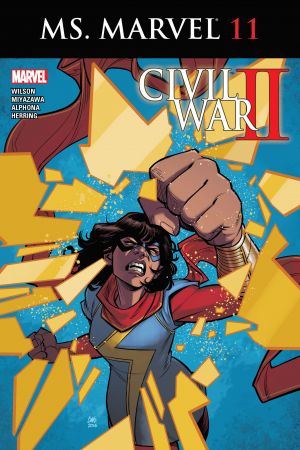 To make matters worse, Bruno, who was recovering in the hospital after accidentally blowing up a building, wanted nothing to do with Kamala after months of feeling like her sidekick instead of her best friend. He then decided to leave Jersey City for Wakanda once he was cleared by his doctor to travel.
Kamala just couldn't catch a break.
Missing Ms. Marvel
Kamala soldiered through a lot of difficult situations in her first year of being a hero, but even she has a limit.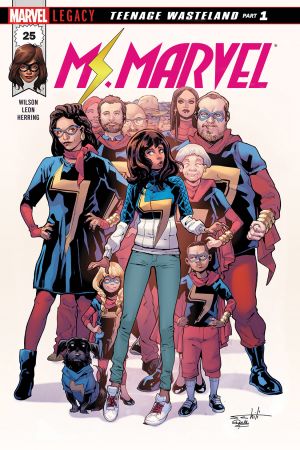 Ms. Marvel (2015) #25
published

added to marvel unlimited

letterer

writer

editor

inker (cover)

penciler (cover)

inker

penciler

colorist (cover)

colorist
What is Marvel Unlimited?
When the Red Dagger arrived in Jersey City and gained instant approval from the media and the citizens, Kamala called it quits. She disappeared, and no one (except Aamir) knew where she went! Her departure was at the worst possible time because the Inventor returned to Jersey City from prison to exact his revenge. The Kamala Corps—Nakia, Mike (Michaela), Zoe, and Gabe—protected their home from the mad doctor to the best of their ability, with help from Captain Marvel, but of course, a true hero like Ms. Marvel didn't stay down for long.
The Origin of Embiggening
Every Ms. Marvel fan knows Kamala's powers were activated by the Terrigen Mist, but how can she change her mass so easily?
Bruno and Kamala teamed-up in MS. MARVEL #34 to find out how her powers work—until she lost control of them. Later, with a Professor X simulation as his assistant, Bruno answered the important question: Kamala draws mass from time. After experimenting with a sample of Kamala's DNA, Bruno was able to see Kamala in various alternate timelines—as President of the United States; as the older, EXILES version called Khan; as Ms. Marvel while working with the Red Dagger; married to Bruno.
Which one is the definite timeline? Not sure. What is known is that Kamala's molecules, in a sense, time-travel every time she uses her powers!
Read the landmark MS. MARVEL #38 at your local comic shop on Wednesday, February 13!
The Hype Box
Can't-miss news and updates from across the Marvel Universe!