Comics
Published June 6, 2018
New Cloak and Dagger #1 Digital Comic Released
Writer Dennis Hopeless reveals his plans for the new digital comic!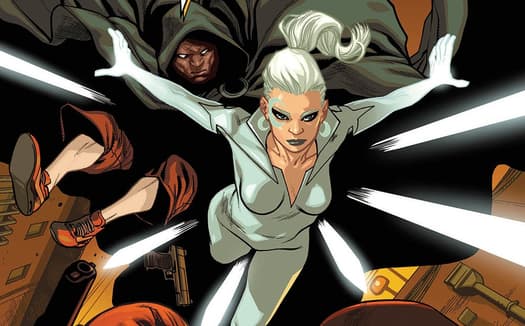 One of Marvel's most mysterious teams is getting a brand new limited digital series! CLOAK AND DAGGER #1, available today and written by Dennis Hopeless with art by David Messina, will pick up during a bumpy time in Cloak and Dagger's relationship. But like most powerful pairs, Tyrone and Tandy won't be apart for very long.
We spoke to Dennis Hopeless to get an inside look on what's in store for Cloak and Dagger!
Marvel.com: You've written for teams as well as individual characters. What was it like writing for two characters who are so different but so intertwined?
Dennis Hopeless: CLOAK AND DAGGER sort of splits the difference between writing a solo character and writing a team. When you're writing about a single hero you can tell the story from inside their head. There's one POV, and that perspective drives the story. Team books are often more of an ensemble. The spotlight moves around and the team dynamic is a bigger part of the story than any single point of view.
With CLOAK AND DAGGER, we're telling the story from two very different perspectives at the same time. Tyrone and Tandy are fundamentally intertwined characters, like you say, but they see the world through different lenses. It's been a lot of fun playing with that shifting perspective. We let the reader into each of their heads, sometimes even showing the same scene from two different angles. Just like in life, it's the differences that propel the drama.
Marvel.com: What has it been like seeing David Messina interpret your script into art?
Dennis Hopeless: David's style is big, bombastic, and super heroic. This is very much a psychological thriller. Like all the best Cloak and Dagger stories, it crawls down some narrow alleys and gets real dark. David's art brings some much needed light and life to that. I love it.
Marvel.com: Cloak and Dagger have not only had their powers since they were teenagers, but they've been a duo for the same amount of time. Where does this relationship stand when we meet them in CLOAK AND DAGGER #1?
Dennis Hopeless: The current state of Cloak and Dagger's relationship is one of the main driving forces behind this story. When we open, they're further apart than ever, and the new status quo is still uncomfortable for everyone. Then old memories crop up, like old memories always do, and they're yanked back together. It's a lot of fun because we get to dive into their long history together. We spend some time with them in the early days when their powers and partnership were both still new and terrifying.
Marvel.com: Can you tell us anything about the "dangerous threat from their past" that is coming back? Is this series' villain someone against whom Cloak and Dagger are seeking revenge?
Dennis Hopeless: That's the old memory I was referring to. Tandy is working a murder case and spots something in a crime scene that brings back long forgotten teenage memories. Our villain sort of crawls up out of those memories… all of which is complicated by the fact that Cloak and Dagger are estranged. It's a whole big tangled mess.
Marvel.com: Because they got their powers in such a scary way, do you feel like they feel resentment towards their powers? Do you think they've had long enough to accept them?
Dennis Hopeless: I think Tyrone and Tandy would each answer that question very differently. Dagger has embraced her powers and role as Super Hero in a way Cloak probably never will. To Tyrone, the Darkforce will always be a sort of curse. He uses it for good to the best of his ability, but it's not something that gives him joy.
Marvel.com: Cloak and Dagger are coming back to address a mutual threat. Do you feel like there is any world in which they could truly separate for good?
Dennis Hopeless: They're trying their best to do just that. So far it's not going terribly well, but I guess we'll find out.
CLOAK AND DAGGER #1 is available in the Marvel Digital Comics Shop, Comixology, and on the Amazon Kindle starting today!
The Hype Box
Can't-miss news and updates from across the Marvel Universe!