Comics
Published December 1, 2017
New Mutants: Soul Survivors
Matt Rosenberg reunites the X-Men's former pupils and injects some new blood!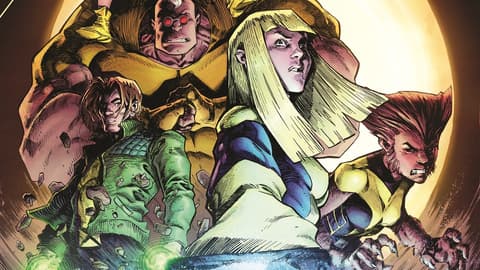 When supernatural threats loom over the Marvel Universe, a new team of mutants emerges to stand on the front lines.
Beginning in March, writer Matt Rosenberg and artist Adam Gorham unite for NEW MUTANTS: DEAD SOULS, a six-issue limited series that has friends old and new coming together to contend with the paranormal.
"To me, the New Mutants exemplify everything I love about [super hero teams]," shares Rosenberg. "They are true underdogs, doubted and dismissed, but always ready to prove themselves. They're the weirdos, the outcasts, the leftovers, and the misfits, but they are there for the people who need them."
Each installment of NEW MUTANTS: DEAD SOULS features a standalone story with the offbeat group butting up against things that go bump in the night. Karma summons New Mutants alums Magik, Wolfsbane, Rictor, and Boom Boom along with X-Factor veteran Strong Guy–but does the mind-controlling mutant have more in mind than simply protecting the innocent from the forces of darkness?
"They're constantly in way over their heads, but always rise above," says Rosenberg of the team. "Our series takes all of that, collects some of the best New Mutants alongside oddballs better known for their time with X-Factor and X-Force, and throws them into a mission they aren't at all ready for. We pack it full of nods to the history of the team and hints about their future, an enough creepy moments, epic battles, offbeat humor, and dysfunctional family dynamics to make a book worth of the title 'New Mutants.'"
Starting in March, meet up with some old pals for a dive into darkness with NEW MUTANTS: DEAD SOULS from Matt Rosenberg and Adam Gorham!
The Hype Box
Can't-miss news and updates from across the Marvel Universe!