Comics
Published August 25, 2017
Not Brand Echh: Brand Conscious
Christopher Hastings and Jay Fosgitt on a Legacy spoof of the Universe!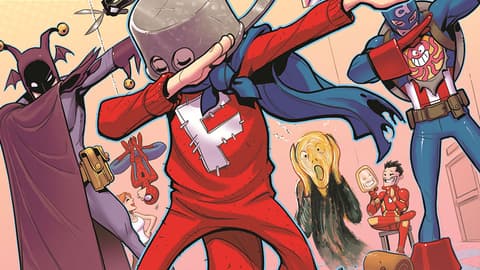 In the swingin' Silver Age of Marvel Comics, Stan Lee poked fun at his characters—and those of his competitors—in a crazy, totally unique book called NOT BRAND ECHH.
On November 15, Marvel Legacy revives Stan's tradition with NOT BRAND ECHH # 14! Christopher Hastings, Nick Spencer, Jay Fosgitt, and more contribute stories that toy with the Marvel Universe in a manner not seen since 1969's issue #13!
We spoke with Christopher and Jay about what readers might expect from the resurrection of this one-of-a-kind Marvel comic.
Marvel.com: What are your outlooks on the role NOT BRAND ECHH plays in Marvel history?
Christopher Hastings: I have always loved parody and satire that comes from a place of appreciation and enjoyment. I think it's fun to goof on a character because you have an in-depth understanding and love for it. NOT BRAND ECHH completely exists in that tradition—and I'm delighted to get in on the fun.
Jay Fosgitt: I've been a fan of NOT BRAND ECHH for as long as I've been a fan of Marvel! The satirical, cartoonish goofiness served as an inspiration for my own humor, and I look forward to giving back to that proud goofball legacy!
Marvel has always had a humorous vein running through its pathos; NOT BRAND ECHH was that vein dug out and allowed to spill a torrent of hilarity upon readers. In the '60s, when so much in society was tumultuous, we needed those laughs. And it seems that Forbush Man saw our current tumultuous climate, as he's come back to save us with laughs in these crazy days!
Marvel.com: Forbush Man returns! What was it like writing him?
Jay Fosgitt: For my stories, I see Forbush Man as a narrator telling stories through his dented pot-topped viewpoint. There will be familiarity squeezed out of a satirical tube!
Marvel.com: Christopher, a character you know very well, Gwenpool, will feature in the book—it seems like she'll fit right in.
Christopher Hastings: Gwenpool is a pretty silly idea, but throughout THE UNBELIEVABLE GWENPOOL, we tried to bring a lot of heart and depth to her. For this story…we're just going to stick to acknowledging the absurdity of her creation.
Marvel.com: What's your approach to writing comedy for a book like this?
Christopher Hastings: I don't think about comedy too much when I'm outlining; I just look for story beats at that stage. But when it comes time to actual scripting, my brain gets pretty jumpy, pointing out absurdities, funnier ways of doing scenes instead of just playing them "straight," adding commentary that could happen. So I usually just let the comedy come pretty naturally at that point.
Jay Fosgitt: Playing with Marvel's cast of characters allows me to lampoon even more than most of my past work—mixing pop culture references and tropes with these iconic characters. When you can poke fun at the characters you grew up with, there's as much love as laughter in the storytelling, and that means everything to me!
Writers Christopher Hastings, Jay Fosgitt, Nick Spencer, and more present NOT BRAND ECHH #14, with art by Gurihiru, Jay Fosgitt himself, and others, on November 15!
The Hype Box
Can't-miss news and updates from across the Marvel Universe!