Comics
Published October 9, 2017
Old Man Hawkeye: Slings and Arrows
Artist Marco Checchetto breaks down the aged Clint Barton!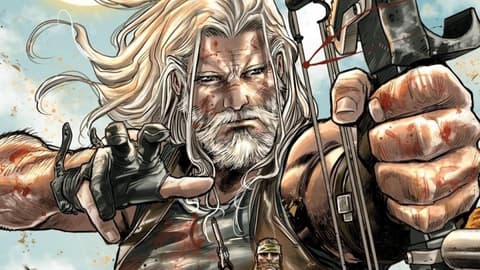 The sharpest shooter in the Marvel Universe dives into an uncertain era this January.
A different kind of coming-of-age story, OLD MAN HAWKEYE, written by Ethan Sacks with art by Marco Checchetto, presents a gray Clint Barton, losing his vision, undertaking what may be his very last hero's quest.
We caught up with Checchetto to get the inside scoop on what Hawkeye faces during the upcoming journey.
Marvel.com: Tell us about the concept behind this series.
Marco Checchetto: It's a 12 issue series, set five years before the events of OLD MAN LOGAN. We will tell the story of the aged Hawkeye fighting in the name of his fallen friends, the Avengers. And he's losing his vision—so he has to accomplish his mission while he still can.
Marvel.com: What does this future world look like?
Marco Checchetto: Like OLD MAN LOGAN, our series takes place in a dark world where Marvel's super villains have killed the Avengers about 45 years prior, leaving only a few survivors. It's a wasteland.
Marvel.com: Hawkeye played a big role in the original OLD MAN LOGAN run—how does this series connect to that? Will we see Logan appear?
Marco Checchetto: Clint still has his vision—for now. And Logan lives as a pacifist, with a modest life and family. So, yes, we will see Logan in our series too. I'm very happy about that—I've drawn a lot of characters for Marvel Comics, but this has been the first time I've had the opportunity to draw Wolverine.
Marvel.com: How does Clint compensate for the impacts that age has on him?
Marco Checchetto: Hawkeye has no super human powers and now finds himself in old age—but hey, he still remains an exceptional fencer, acrobat, and marksman. It will be hard for him not to miss all his targets, but he'll do his best. To show his age, I gave him some serious scars and weathering.
Marvel.com: What can we expect from the art in this book? Will it stay in line with the style of the OLD MAN LOGAN series, or can we expect some changes?
Marco Checchetto: I liked the fantastic job Steve McNiven did with the previous series, so I tried to stay close to his character and background designs. At the same time, I'm working hard to create something new and I hope the readers will be happy with it. In OLD MAN HAWKEYE, we will explore new corners of the wasteland, meet new characters, and discover Easter eggs throughout Clint's journey.
Marvel.com: How does the art reflect the grittiness of this world—and the current state of Clint's being?
Marco Checchetto: My style does not feel clean; it's grimy and gritty. I like to draw dust, pain, and blood. I'm a dark side guy.
Marvel.com: Where do you draw influence from when working on these grit and grim stories? And how do you maintain a balance between the darker side and the funnier side of things?
Marco Checchetto: I do like humor in a series. My favorite comic book character is Spider-Man, who we all know to be fun and friendly, but my favorite stories with him tend to be the sad and obscure ones, like Kraven's Last Hunt. So when I can draw something dark and evil, I do my best.
Marvel.com: What else can you tease about the series?
Marco Checchetto: If you like Venom, stay tuned.
OLD MAN HAWKEYE, written by Ethan Sacks with art by Marco Checchetto, takes flight this January!
—
A special convention reward for Marvel Insiders!
Enter the code MA2VE7L to earn 250 points in the "Marvel News Code Day 4" Activity!
Be on the lookout for codes throughout the rest of the weekend to earn even more points!
Not a Marvel Insider? Join at Marvel.com/Insider today and start earning!
Code valid through 10/11/2017 11:59PM EST. Limited to one redemption per code per Marvel Insider account.  Marvel Insider Loyalty Rewards Program open to U.S. residents ages 18+ only.  See marvel.com/insider for program details and terms.  See marvel.com/insider/activities for details and terms on specific activities.
The Hype Box
Can't-miss news and updates from across the Marvel Universe!