Comics
Published March 3, 2017
Old Man Logan: Meeting the Maestro
Two time-displaced titans clash as Ed Brisson and Mike Deodato take over!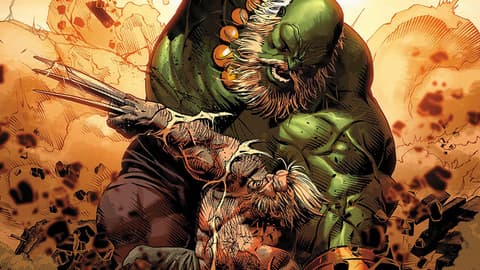 Hulk and Wolverine have never really gotten along. In fact, the Canuck with an Attitude's first foray into the four color world involved him clashing with ol' Jade Jaws.
Unfortunately, OLD MAN LOGAN #25 will show that age and wisdom do not always go together as Logan and Maestro—the alternate world fascistic genius Hulk introduced way back in HULK: FUTURE IMPERFECT—meet up and decide that one truly can never be too old to take a poke at an old antagonist.
Writer Ed Brisson and artist Mike Deodato have come onboard the book to push these two aging titans into swinging at each other once more. We caught up with Brisson who gladly took a break from stirring the proverbial plot to tell us all about it.
Marvel.com: Given the history of antagonism between Wolverine and Hulk, bringing Maestro into the book is one of those choices that seems so right, one is surprised it never occurred. For you, what made the idea of bringing Maestro into the book creatively exciting? What made you believe it would "work" in the context of OLD MAN LOGAN's tone and pacing?
Ed Brisson: What makes it immediately interesting for me is that you have these two future versions of big Marvel characters who've both seen the world go to pot in similar ways, but have adapted to those changes very differently. For one, the future is nothing but pain and loss; the other, the future is his playground.
Now, they're both here in the present and about to come face-to-face.
Because Maestro appears to be rolling with his own Hulk Gang, including at least one member that Logan has dealt with before, Logan's chief concern is that the future that he thought he had been prevented—his own future—may be coming to fruition. Once we learn of Maestro's plans, it becomes clear that he might not be wrong. It soon becomes a battle between them: one man trying to prevent his future, while another tries to bring his into being.
Marvel.com: We've seen how being in the mainstream Marvel Universe has affected Logan over the course of the previous 24 issues, but we've only really seen Maestro in the pocket of CONTEST OF CHAMPIONS. How does his transition affect him? How, if at all, does it change his perspective or attitude?
Ed Brisson: When Maestro shows up, he's a man with a plan. He's been displaced from his own future and timeline and, for reasons to be explained, can't go back. He's now in the mainstream Marvel Universe, present day, but has 100 years of baggage and memories regarding humanity and how they treated him and how they eventually undid themselves. To him, man doesn't deserve this planet. He's ruled it—in his timeline anyway—for years just fine and doesn't see any reason why he can't do the same again.
So, that's his goal here. But, he's not going to come in guns-a-blazing. He's looking to do this on the low. He's trying to stay off the radar and play the chess pieces so that man, once again, undoes himself.
Marvel.com: For Logan, the Hulks he's most used to are the Hulk offspring from his future. What is Logan's experience of encountering this smarter, more singularly ruthless version of the Jade Giant from a psychological standpoint? How would you say this conflict between these two compares to the mainstream Hulk vs. Wolverine throw downs we've seen before?
Ed Brisson: Both of them have seen the future—albeit two different, though equally depressing futures. For each, the future hangs in the balance and they're fighting to prevent it, in Logan's case, or bring it about, in Maestro's.
Maestro is also larger and smarter than the Banner that Logan is used to dealing with. He's not some hillbilly hiding out in a cave pumping out Hulk babies. He's got laser focus and the drive to bring about what he wants. And, he's not going to be stupid about it. He's not just a couple of fists, smashing everything in sight. He's got a plan and knows that the best way of carrying out that plan is by keeping a low profile. Or trying to, anyway.
As mentioned, Maestro has a Wasteland Hulk Gang with him. At the end of the original ["Old Man Logan" story], it appears Logan has wiped them all out, so it comes as a bit of a shock when they pop up here. People are going to have to read the series to find out the whys and the hows of it, but I think that we've come up with a very logical reason for how they've come to exist here. They may initially seem to be very much like the old Hulk Gang, [but] there are a few behind-the-scenes complexities that will come out to show how different they really are.
Marvel.com: How has working with artist Mike Deodato helped you to realize the tone and atmosphere of the book you were hoping for? How, if at all, did his style inform your approach to the title?
Ed Brisson: When they told me that Mike was going to be on the book, my head nearly exploded. I've been a fan of his work for years now.
Mike's a very smart artist and was able to come on board and nail down the feel we were going for right away. Just about every day a new page pops into my inbox and I just sit there and soak it up over my morning coffee. Everything is just so brilliantly laid out and acted.
In terms of informing how I approach the book, I think that working with him has made me pull back on a few pages, in terms of panel count, so that Mike has some room to do some really big and incredible action sequences. There are some pretty spectacular scenes in the first issue that I think are really going to sing because he's got that room to breathe.
Marvel.com: Looking beyond the conflict itself, what can you tell readers about what you have planned for the book when you take over? What are some of the plot points you want fans to know to ensure they make the book one of their can't misses?
Ed Brisson: Jeff Lemire has been writing an incredible series here, so I'm assuming that it's already on everyone's pull list!
Through this first arc, we really wanted to play on Logan's anxieties. His greatest fear is that his future will somehow still rear its ugly head, but, over the past 24 issues, we've seen him getting comfortable in his new setting. He's never going to be completely at home, but still…bit-by-bit, he's settling into the new life. He's letting people get close to him again. So, we wanted to bring his past—our alternate future—and drop the very possibility of it happening again right in his lap.
Aside from Maestro being here, we're going to see a lot of echoes from Logan's time in the Wasteland. A few familiar faces will be popping up.
Beyond the first arc, we've got a few plans to keep Logan in this state of agitation. Keeping him in a place where he can never be fully comfortable for fear of his past catching up with him.
Ed Brisson and Mike Deodato take control of OLD MAN LOGAN with issue #25 this June!
The Hype Box
Can't-miss news and updates from across the Marvel Universe!