Comics
Published September 15, 2023
Relationship Recap: Peter Parker and Gwen Stacy
New on the Marvel Unlimited app, the 'Love Unlimited: Spider-Man' story arc will revisit this couple's touching—and tumultuous—history. Grab a refresher now!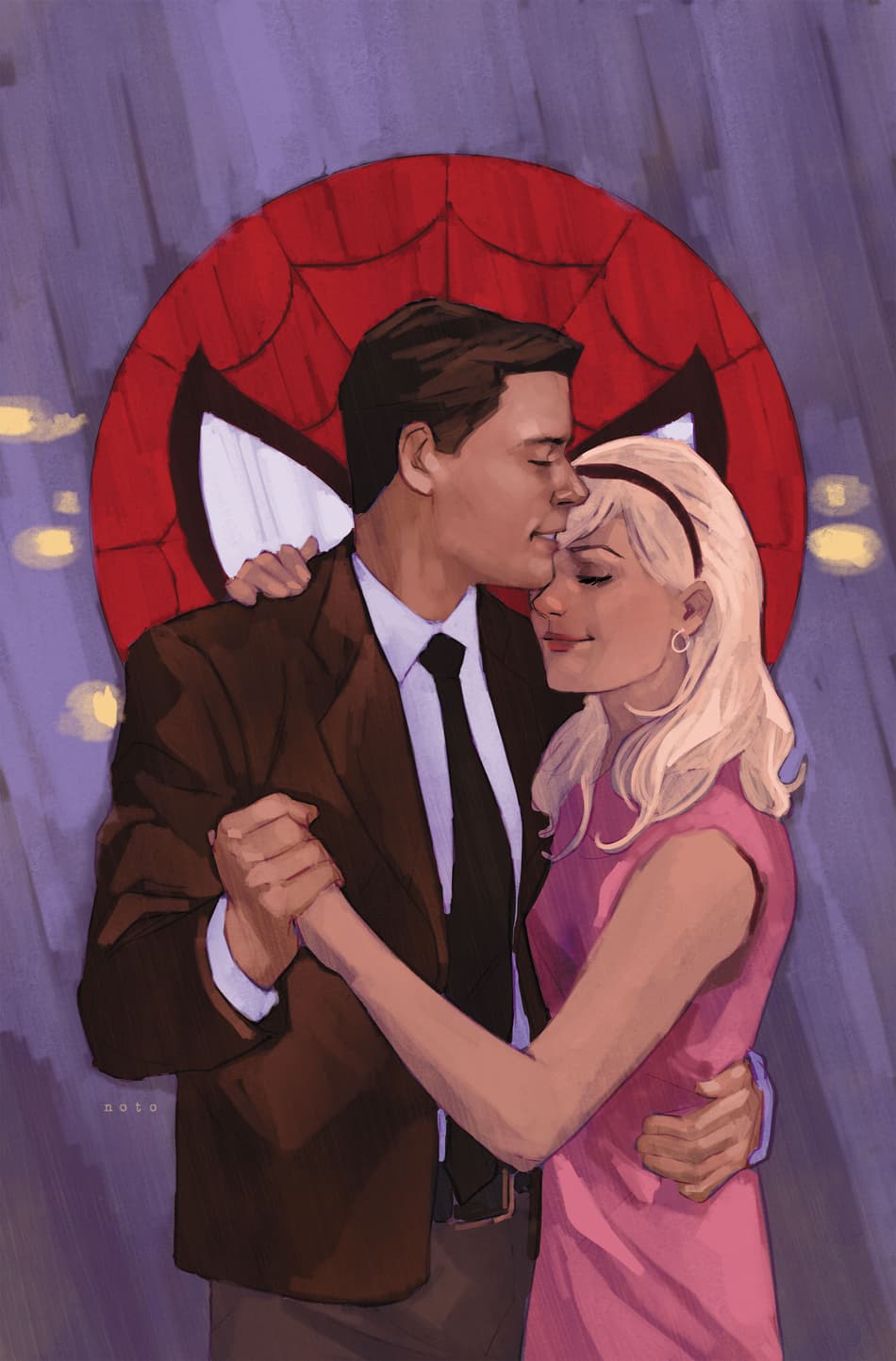 The Marvel Universe has plenty of tragic romances, derailed by disaster and other forces beyond their control, but none quite as enduringly heartbreaking as the ill-fated relationship between Peter Parker and Gwen Stacy. A star-crossed couple that constantly weathered severe complications from Peter's double life as Spider-Man, Gwen's life was cut tragically short by the machinations of Spider-Man's greatest nemesis, the Green Goblin. Gwen's death haunted Peter for years to come, with the super hero never fully recovering from losing his great—and first—love.
The Marvel Unlimited app's romance anthology series, LOVE UNLIMITED, has kicked off a new Spider-Man story spanning issues #67-72. This arc by creators Magdalene Visaggio, Derek Charm, and Rico Renzi revisits a pivotal chapter in Spidey romance history, with Peter Parker drawing from his past with Gwen Stacy to teach Miles Morales a lesson in the present. To help set you up for LOVE UNLIMITED: SPIDER-MAN, here's a look back at the tenderness and tumult that defined Peter and Gwen's romance. And though this particular love story doesn't have a happy ending, it stands as a defining chapter in Spider-Man's life; a reminder of the old adage that it is far better to have loved and lost than to have never loved at all.
[RELATED: Romance, Drama, Angst & More: Weekly Anthology Series LOVE UNLIMITED Hits the Marvel Unlimited App]
THE FIRST MEETING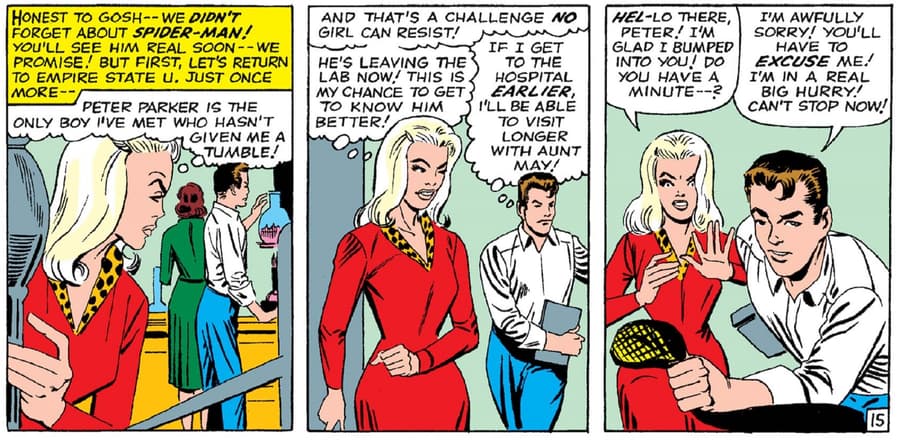 Gwen Stacy made her debut in THE AMAZING SPIDER-MAN (1963) #31 as a classmate of Peter's at Empire State University. After enduring several unwanted romantic advances, Gwen finds Peter intriguing, especially after he is focused, at the time, on the wellbeing of his beloved Aunt May following her hospitalization. In response, Gwen began pursuing Peter's attention, but he ended up dating Mary Jane Watson instead shortly after being introduced to her in THE AMAZING SPIDER-MAN (1963) #42.
To make Peter jealous and reconsider dating Mary Jane, Gwen dated two of Peter's friends, Flash Thompson and Harry Osborn. Gwen and Mary Jane began competing for Peter's affections during this period, going so far as to care for him after he fell sick while engaging the Vulture in a wintry battle across New York. Gwen's feelings for Peter were complicated when she repeatedly witnessed him running away from danger, believing him a coward. Of course, she was unaware that he was about to swing into action as Spider-Man.
LOVE (FINALLY) BLOSSOMS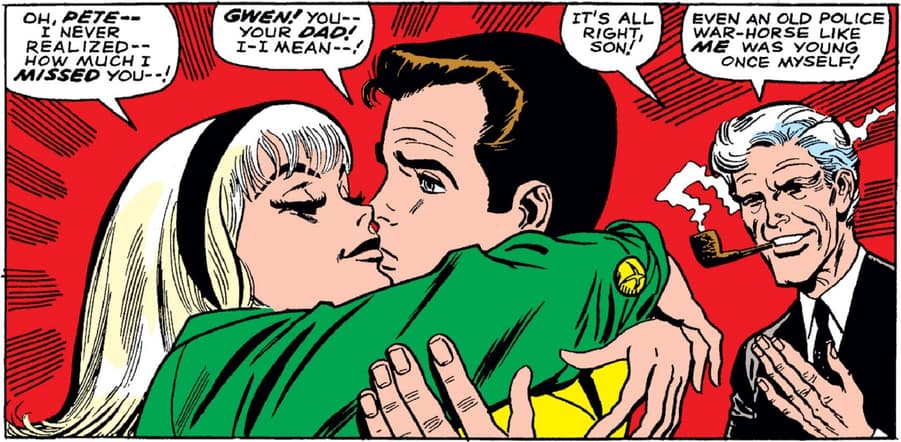 Feeling Mary Jane was too shallow for a serious relationship, Peter decided to pursue a relationship with Gwen instead, asking her on a date to attend a science symposium hosted by Professor Miles Warren in THE AMAZING SPIDER-MAN (1963) #53. This was jeopardized when Gwen's father, police captain George Stacy, was brainwashed by the Kingpin, straining Gwen's fledgling romance with Peter. After George's mind was restored, he personally helped his daughter reconcile with Peter, clearing up the misunderstandings that occurred while he was under the Kingpin's control.
Though it was clear that Peter and Gwen loved each other, she was frequently frustrated by Peter's constant distractions as Spider-Man, feeling overlooked and ignored. Peter strongly contemplated sharing his secret identity with both Gwen and George but never could quite justify sharing such sensitive information, despite George vocally supporting Spider-Man's activities in contrast to hit pieces published in the Daily Bugle. This support proved short-lived, however, as Peter and Gwen's romance faced its greatest challenge yet…
THE DEATH OF GEORGE STACY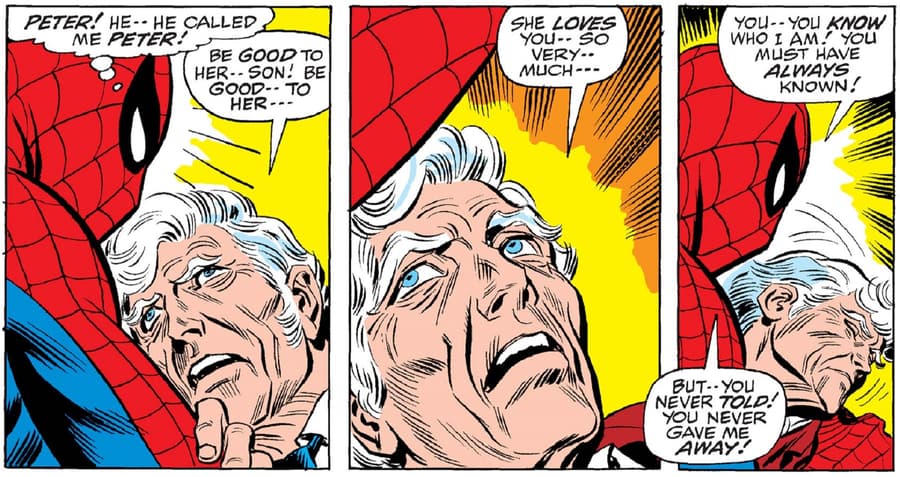 In THE AMAZING SPIDER-MAN (1963) #90, Spider-Man battled Doctor Octopus across the rooftops of Manhattan, with the resulting brawl causing a torrent of bricks to fall down on the streets below. George Stacy, who happened to be on the scene, pushed a young boy to safety but was crushed by the falling rubble. Though Spider-Man managed to pull George out from the debris, the venerable police captain was mortally wounded. With his dying breaths, George confirmed he knew Peter was Spider-Man and pleaded for him to take care of his daughter.
With Gwen blaming Spider-Man for her father's death, coupled with Peter's own guilt for being involved with the incident that claimed George's life, he begins to act strangely around Gwen. As Gwen mourned George, she received an offer from her uncle to live with him in England, which she accepted. Peter found himself unable to ask Gwen to stay with him in New York due to his own complicated feelings. Although Gwen secretly hoped that Peter would propose to her in a bid to keep her from leaving. Feeling defeated and heartbroken at the lack of a proposal, Gwen left Peter to start a new life in England in THE AMAZING SPIDER-MAN (1963) #93.
A TEMPORARY BREAK AND BLISSFUL REUNION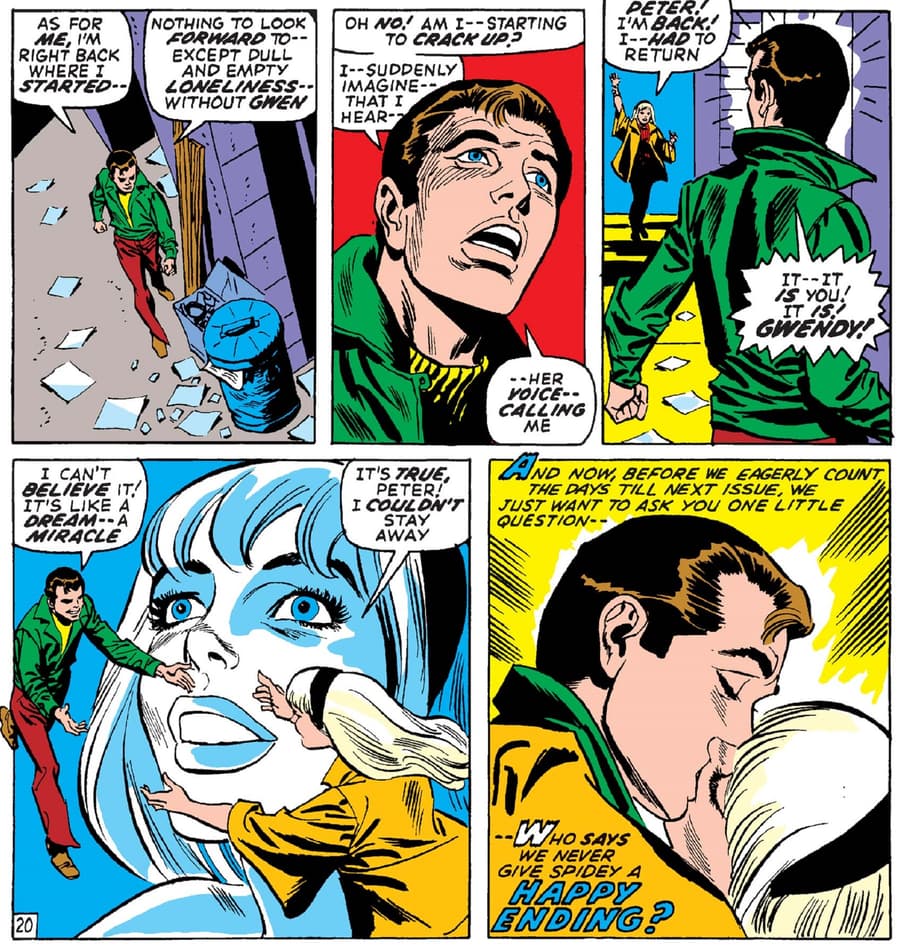 Peter accepted a business trip from the Daily Bugle for the chance to reunite with Gwen in England but was unable to do so when he was forced to swing into action as Spider-Man abroad. Separately, Gwen realized how much she truly missed Peter and that relocating was a mistake, moving back to New York and happily reconciling with Peter in THE AMAZING SPIDER-MAN (1963) #98. Though Peter and Gwen faced additional complications because of Peter's secret identity, the rough patch they endured in the wake of George's death was largely behind them.
Together, Gwen helped Peter take care of his Aunt May while the couple helped Harry Osborn through his issues with substance abuse. While visiting home on furlough from Vietnam, Flash Thompson attempted to rekindle his romance with Gwen only to learn how genuine her feelings for Peter were. As Gwen and Peter weathered these challenges as a unified and serious couple, Norman Osborn recovered from his amnesia, not only recalling his super villain alter ego as the Green Goblin but also Peter's secret identity as his nemesis Spider-Man.
"THE NIGHT GWEN STACY DIED"
With the Green Goblin back in action, Norman attacked Peter's apartment, discovering Gwen there alone instead and kidnapping her to lure Spider-Man into a confrontation at the Brooklyn Bridge in THE AMAZING SPIDER-MAN (1963) #121. (Editor's note: The bridge depicted is the Brooklyn Bridge, but the text cites it as the "George Washington Bridge.") Pursuing the Green Goblin, Spider-Man tried to save Gwen after Norman threw her from the top of the bridge but the sudden stop in her fall caused by Peter's webbing snapped her neck, killing her instantly. A flashback in the "Dead No More" story arc from THE CLONE CONSPIRACY (2016) #1 revealed Gwen was conscious when Spider-Man arrived, and was shocked when she overheard the Green Goblin reveal Peter's secret identity since he had lied to her about it for years.
After realizing Gwen was dead, Spider-Man fought the Green Goblin in their most brutal battle to date, with Norman accidentally impaling himself with his Goblin Glider and presumed dead. In the aftermath, Miles Warren, who was secretly in love with Gwen, went ahead and attempted to resurrect her with a line of clones, becoming the super villain the Jackal in the process. The Jackal convinced the Punisher that Spider-Man was a murderer from this bridge incident, pitting the two figures against each other until the misunderstanding was cleared up.
ALL TOO BRIEF RETURN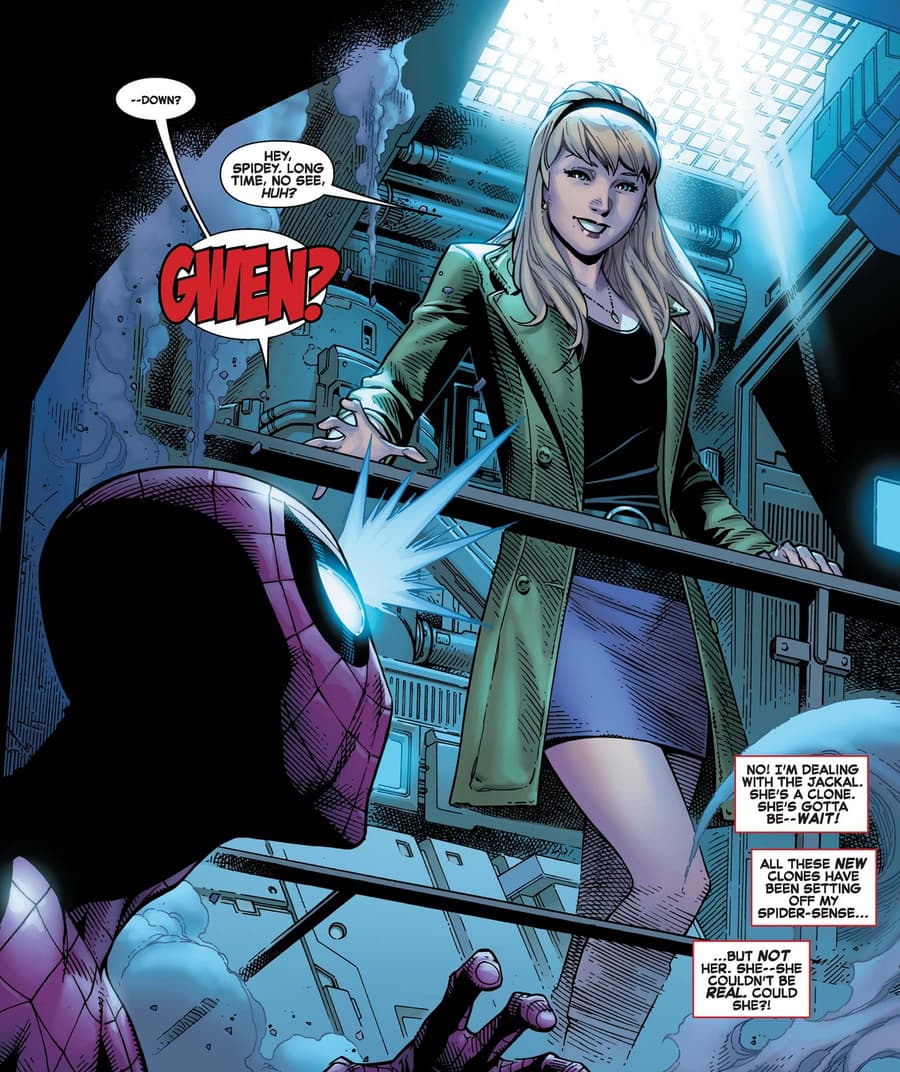 Even after dying, Gwen has had an occasional chance to reunite with Peter, underscoring how much of a void in his life she continues to leave. In 2016's THE CLONE CONSPIRACY event, the Jackal created an advanced line of clones which retained the memories that their genetic source material had in life. After Peter apologized to Gwen for keeping the secret of his Spider-Man persona, Gwen forgave him for her and her father's deaths. This clone ultimately sacrificed herself to help Spider-Man stop Doctor Octopus and the new Jackal.
In A.X.E.: JUDGMENT DAY (2022), a Celestial named the Progenitor took on various physical forms and judged different individuals on Earth, including Spider-Man. Taking on the appearance of Gwen, the Progenitor questioned Peter's decision to work for Norman Osborn, the man who killed Gwen and caused Peter so much misery. Ultimately deeming Peter worthy, the Progenitor resurrected the true Gwen Stacy to allow for one last happy moment between her and Peter before departing, reminding Peter—and readers—just how enduring and fragile their love story is.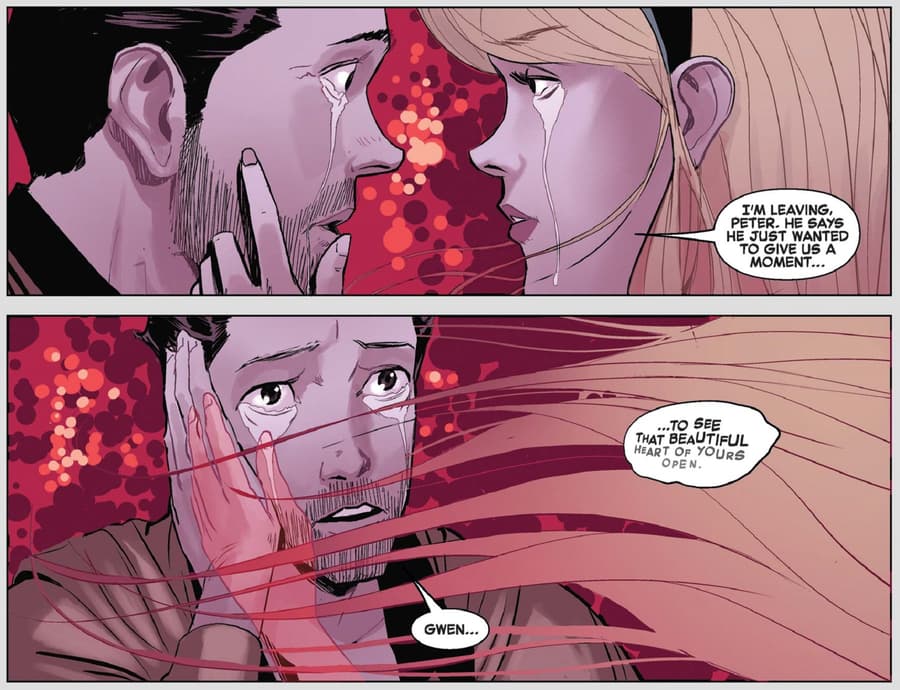 Want to reread the complete love story? Sign up for the Marvel Unlimited app to read new chapters from six-part arc LOVE UNLIMITED: SPIDER-MAN! You'll also gain access to 800+ issues from the app's exclusive lineup of vertical Infinity Comics!
The Hype Box
Can't-miss news and updates from across the Marvel Universe!