Comics
Published September 20, 2017
Phoenix Resurrection: Eternal Flame
Writer Matthew Rosenberg opens up about bringing back Jean Grey!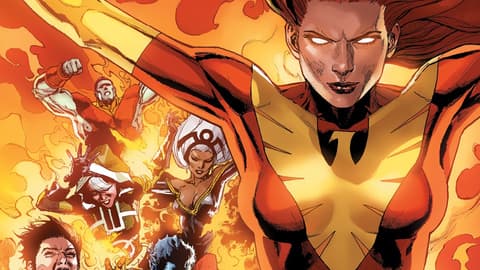 Resurrection has always been the essence of the Phoenix. The mystical bird bursts into flames and returns reborn, stronger than ever.
So too, it seems, it will be for Jean Grey.
After years gone from the Marvel Universe—dead and buried in the minds of her friends, family, teammates, and enemies—she will complete that transformation from ash to stronger than ever once more.
The creative team of Matthew Rosenberg and Leinil Yu have come aboard in PHOENIX RESURRECTION this fall to help her on her way from the grave to flying above the Earth once more. We found Rosenberg getting fitted for an asbestos suit and he graciously answered our questions as the tailor took his measurements.
Marvel.com: How does it feel to be the one tasked with bringing back the adult Jean Grey? Did you advocate for the role or did Marvel come to you?
Matthew Rosenberg: Crazy. It feels crazy. [UNCANNY X-MEN] is the book I learned to read with. I have been a fan my whole life. And Jean…Jean is the heart of the team. She ties everything together. For her to have been gone so long, it always felt like an open wound. Getting the chance to maybe heal that, it's an honor I don't take lightly.
Marvel came to me with this, I didn't advocate for it. I mean, I did in the sense that I talk about the X-Men all the time to anyone who will listen. But I didn't specifically fight for this book. [Marvel Editor-in-Chief] Axel Alonso and [X-Men Senior Editor] Mark Paniccia brought it to me and asked if I had any ideas. I casually said what I would do to bring her back and they both looked real surprised. To be honest, I thought I'd just lost the gig. But finally they told me that was not at all what they had in mind, but they liked it. And from that point on it's just been a whirlwind.
Marvel.com: What creative challenges does writing this book present for you? What opportunities?
Matthew Rosenberg: The biggest challenge is obviously doing it justice. People love Jean. I love Jean. Some people desperately want to see her back because they miss her, and I want to do right by them. But others feel really strongly that her death was monumental and we should respect that. And I get that 100%. I'm hoping we can tell a story that makes those people understand why we brought her back. We actually have something to say, it means something. And I think all of that, trying to please everyone, is the real trick.
As for opportunities, for me it's two things. Getting to use the X-Men, all of them, is a huge one. Getting to explore her relationships with them, showing how they react to certain things, what things mean to them, is a real blessing because these characters have ties to her that long time readers will understand. There is an emotional shorthand to Beast or Bobby or Logan or Storm seeing her again. It's heavy. And the other great storytelling opportunity we have is how powerful Jean and Phoenix are. They can create worlds and rearrange minds. That is something we go into a bit and I think it will keep readers on their toes.
Marvel.com: What is essential to writing Jean "right" in your opinion? How similar or different is this Jean than the one we knew before she died?
Matthew Rosenberg: One of the big keys to getting Jean is to actually study her progression as a character. From the meek and quiet student, to the bad ass team member, to the goddess, to death, and back again. She has had these changes; the Marvel Girl of old is not the same as Phoenix, or Jean in X-FACTOR, or the Jean that raises Cable in the future, or the Jean that fights Emma for the heart of Scott. All of these are evolutions of who she is. And our book, it does something a bit different. This isn't an evolution. It's a resurrection. But I can't say much more than that.
Marvel.com: What's the tone and setting of the book? How does Leinil Yu hope you achieve the look and feel of the book you are looking for?
Matthew Rosenberg: Our tone and setting change as things go. It's a bit of a mystery, a bit of [an] epic super hero book, and a bit of an emotional character study. We travel all over the world in the series and it sort of just becomes this race to answer some questions nobody wants to ask.
As for what Leinil brings? Everything. He is a titan in storytelling, character, action—you name it. And he brings all of that. There are some genuinely creepy moments in the book and he knocks it out of the park on those. But there are also some real tender moments and those hit just as hard. I know this sounds crazy, but more than once I have actually been a little sad that I'm writing this book because I want so badly to just be able to read a PHOENIX RESURRECTION book with Leinil on art as a fan. I want to pick it up off shelves and not know what was going to happen. And seeing his work now, I know I'd be blown away. It's gorgeous as always.
Marvel.com: Who else can readers expect might be popping up in the book?
Matthew Rosenberg: If there is an X-Man you like, there's a strong chance they pop up. We're doing a lot of fan favorites, a lot of deep cuts, and everything in between. Not everyone is going to get the screen time they deserve. But this is all hands on deck for the X-Teams.
Marvel.com: How does Jean's return echo through the lives of others? Any insight into how it might affect the Marvel Universe at large?
Matthew Rosenberg: For the X-Men it will have an immediate effect. This will hit all of them. It's going to be huge for the X-Men with a ton of ramifications across the board. As for the larger Marvel U…you'll have to wait and see.
The wait continues later this fall with PHOENIX RESURRECTION from Matthew Rosenberg and Leinil Yu!
The Hype Box
Can't-miss news and updates from across the Marvel Universe!