Comics
Published March 23, 2017
Poe Dameron: Building Black Squadron
Get familiar with some of Star Wars' most elite pilots!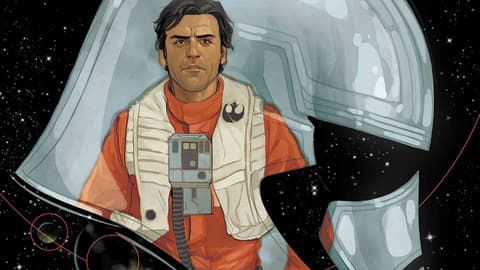 The newest bad guy network set on controlling the galaxy is on the rise and it's up to the Black Squadron to outsmart them in STAR WARS: POE DAMERON #13, written by Charles Soule with art by Phil Noto and coming out April 19. Want to know more about these selfless heroes? Let's take a look!
Poe Dameron – This dashingly debonair pilot fearlessly leads Black Squadron with his own blend of high stakes decisions and cheeky one-liners. Following in his parents' footsteps, Dameron left the Republic's Starfleet to join the rebellion after General Leia Organa recruited him. He quickly became one of her most skilled and trusted operatives and assumed the task of putting together an elite team to track down Lor San Tekka and smooth talk his way to uncovering the location of Luke Skywalker, who has taken over the role of Leia's only hope.
L'ulo – The grandfather of the group, but don't let him catch you saying that. L'ulo is a battle warn hothead not afraid to defy orders if he thinks he knows better, which he usually does. He's a bit of a grumpy gill but his years fighting in the Alliance have given him that right. During that time L'ulo became close with Shara Bey, Poe's mother, and even stepped in to help raise him after her sudden death. Nothing like a somewhat endearing, semi-father-son dynamic to add a little tension to the group.
Temmin "Snap" Wexley – Poe's right hand man and occasional comic relief, Snap, grew up on his own after Imperial forces captured his father and his mother left to join the Rebel Alliance. He learned to fend for himself working as a junk dealer on the streets of his home planet before rejoining his mother to fight against the remaining Empire forces. His combination of street smarts and fighting experience make him an invaluable member of the team. Plus he adds some adorable cheese ball moments romancing fellow squad member Karé Kun.
Oddy Muva – A classic case of a guy doing the wrong thing for the right reasons, Oddy works as the team's mechanical tech with aspirations of becoming a pilot. Though the team might be better served finding a way to keep that mechanical genius on lock. Unfortunately, while he's the last person Poe would suspect of being a First Order informant, it does sadly seem to be the case, as we've learned that the First Order officer Terex holds his wife hostage as leverage against Oddy.
Karé Kun – A seasoned Resistance fighter, Karé flew alongside Poe in the New Republic Navy as a member of Rapier Squadron and you can bet he'd trust her with his life—and has. She's driven, remarkably talented, and one tough cookie who likes to let you know it, but don't be surprised to hear her crack a joke with her teammates. After all, she does reserve all the teasing rights to Snap.
Jessika "Jess" Pava – The bad girl of the group, Jess likes to live on the edge and prepare herself for any situation. She has a knack for mechanics as her and Oddy like trying experimental modifications out on her ship. If it were her choice she would always have her weapons and never lose control of the situation at hand which makes for a great balance to Poe's "make it up as you go along" attitude. And while she has an effective tactical mind and stands out as a great pilot, she also adds a needed sass to the group dynamic.
Catch the whole team back in action April 19 in STAR WARS: POE DAMERON #13 by Charles Soule and Phil Noto!   
The Hype Box
Can't-miss news and updates from across the Marvel Universe!