Comics
Published September 22, 2017
Poe Dameron's Quest is Getting More Dangerous
Charles Soule gives us a Star Wars mission update!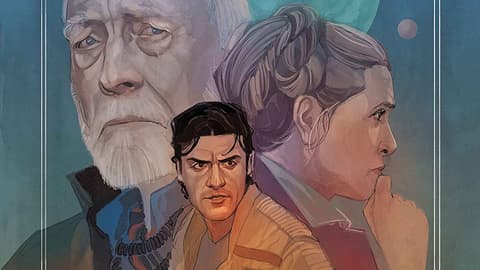 Cue the recap roll! Poe Dameron and his team of elite pilots have been tasked with finding Lor San Tekka, a wise old explorer who may know the whereabouts of Luke Skywalker. Suffice it to say the gang has faced their fair share of trouble along the way, everything from fighting off a glorified bounty hunter to orchestrating a good old fashion prison break, knocking them a bit off track.
But come October 18, writer Charles Soule and artist Angel Unzueta make sure the team gets back on track. "Most of the main threads we've been dealing with in the series have been wrapped up, except one – the one that began the book," says Soule. STAR WARS: POE DAMERON #20 will kick off a six issue story that is, as Soule puts it, "an epic in the great Star Wars tradition."
So just how far out is Poe from completing his mission? Let's check the reports!
Operative: Poe Dameron
Commanding Officer: General Leia Organa
Objective: Find Lor San Tekka and determine what he knows about the last remaining Jedi, Luke Skywalker – our only hope.
Progress: Black Squadron has made some great leaps in furthering the resistance's agenda, most recently securing a fuel transfer for the rebel bases depleting resources and gathering footage of operatives in action to use as a way to rally support for the cause. However, progress toward the major objective has been slow going.
"Poe made progress early in, finding a list of possible locations, but it's taken a while for the Resistance to work through it and narrow it down," notes Soule, "C-3PO and his squad of droid operatives have been working through the list trying to see if any of the locations will bear fruit." Time to lace up your boots and pound the space pavement as the search kicks off anew.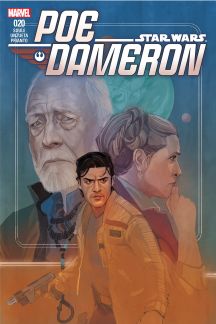 Deviations: The team has encountered a few hiccups along the way, some more heartbreaking than others. However, "the biggest issue is that Poe made an enemy of an extremely versatile and deadly First Order Security Bureau named Terex," notes Soule, "This fellow was once an Imperial Stormtrooper, and in the decades since the fall of the Empire made his way through the galaxy by being scarier than anyone else. Not a good person to have trying to hunt you down!"
So far Poe and his team have successfully thwarted the attempts of the First Order to capture them, but with Terex brainwashed into mindlessly following orders, Black Squadron finds it harder and harder to pull of their usual escape just in the knick of time antics.
Next Step: "Survive and thrive…hopefully," suggests Soule. General Organa has planted a seed in Poe's mind – the resistance is bigger than just one person. Why is this significant for Poe you may ask? "Poe has lost long-time companions, dealt with traitors, and has been learning the galaxy is a darker, more complex place than he realized," explains Soule, "He's understanding that he needs to evolve – that maybe he can't just be a hotshot pilot anymore. The Resistance needs more – it needs a leader."
Will Poe find Lor San Tekka and become the leader the Resistance needs? Find out on October 18 in STAR WARS: POE DAMERON #20, written by Charles Soule with art by Angel Unzueta!
The Hype Box
Can't-miss news and updates from across the Marvel Universe!