Comics
Published May 26, 2017
Poe Dameron: Turning to the Dark Side
Charles Soule crafts a new villain for the Star Wars galaxy!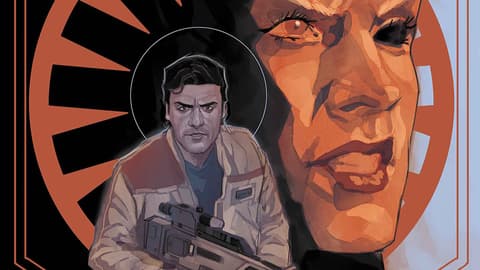 STAR WARS: POE DAMERON #16 hits on June 28, and writer Charles Soule looks to introduce readers to Malarus, a new villain whom the Resistance's greatest pilot will need to contend with as he and Black Squadron continue in their struggle against the First Order.
Given the strength of the villains of the Star Wars universe, we spoke with Soule about what goes into creating the right kind of scum to pit against the galaxy's finest.
Marvel.com: The fact that the First Order consists of a massive federation with many, many people willingly supporting it rarely gets addressed. Do you see everyone in the First Order as completely evil and in need of a boltcaster shot? Or can readers can empathize with these villainous characters?

Charles Soule: The First Order is a pretty monstrous group, I think. As I see it, they're not just a powerful military force, but they think they're better. They're inculcated from birth to believe that they are destined to rule the galaxy by virtue of their strength and superiority in all sorts of ways—and I think that goes from the lowest Stormtrooper all the way to the top with General Hux and Kylo Ren. That's a recipe for all sorts of terrible acts, as we've seen in the films, comics, etc. They think they're justified. That said, if you make the bad guys too one-sided they become less interesting. So, the trick is to stay true to the somewhat ravenous nature of the First Order's ideology while also populating their ranks with people that are a bit relatable. You might not agree with what they do—hopefully—but you can see how a person can get there.
Marvel.com: We've seen the rise of different types of villains in the Star Wars universe; from more nuanced, complicated characters like Darth Vader and Kylo Ren to those like the completely corrupted Emperor Palpatine. Which type do you find more compelling as both a fan and as a writer?

Charles Soule: It's interesting that you consider Palpatine less complex, and I can see that; he has one goal, and he's going to get there no matter what: ultimate power. But, he's just so skilled and subtle in the way he achieves that goal; evil is his instrument, and he is an absolute virtuoso. He's one of my all-time favorite characters to write in all of Star Wars. That said, Vader and Kylo are very cool too, and it is that slight underpinning of moral complexity that gets us there. Obviously they're all a blast to write—but something in Palpatine just speaks to me. I'm not sure what that says about me, though.
Marvel.com: Now, from a more conceptual standpoint, can you share a little of the challenges you face in fleshing out this still-new terrain surrounding the "Force Awakens" era?
Charles Soule: The biggest challenge is really that the story here isn't done yet. There are still many questions yet to be answered about the First Order, the nature of the Force in this era, Luke's deal, the Knights of Ren, even basic stuff like the logistics for the Resistance and the government of the New Republic. We've gotten bits and pieces of that from "The Force Awakens" and various additional stories—novels, comics, etc.—but the story's still being written. In the original trilogy and prequel era stuff, most of those questions are settled, and have been for decades. Sometimes, writing in the new trilogy is like sailing through a fog-covered sea—but it's awesome nevertheless because it's uncharted territory. Many times, if a question hasn't been answered yet, I get to answer it. That's a really great thing.
Marvel.com: Of course, with new territory comes new characters: heroes and villains. Can you unpack the process of creating a villain to go toe-to-toe with the Resistance's best, Poe Dameron?
Charles Soule: I've made up two significant bad guys to face Poe so far. One is Agent Terex, an officer in the First Order Security Bureau—sort of like their Gestapo/intelligence-gathering arm—who has a rich, layered history that goes all the way back to the days of the Empire. I've had 15 issues to build him up, and he's one of my favorite creations period. He's a monster, but he's tragic at the same time. Then, we have Commander Malarus, who we've only just started to get to know. She's pretty unique, sort of like a sadistic bodybuilder type. I asked [series artist] Phil Noto to model her after Brigitte Nielsen in "Rocky IV," and he came through perfectly as always. She's physically very imposing, sadistic in a very direct way, which is unlike Terex, who's perhaps a bit more subtle in his manipulations. If Terex is a rapier, Malarus is a big two-handed claymore. In both cases, the idea is to present someone who's a good foil both for Poe's skill set and his personality, who you really want to see get a comeuppance. Villains are always fun.
Marvel.com: Let's pretend for a moment that you aren't really a mild-mannered lawyer-turned-comic writer, and instead, you're nefarious evildoer from a galaxy far, far away. How would you go about taking down Poe Dameron?

Charles Soule: I'd hit Poe right where he lives. I'd go after BB-8. And maybe his jacket.
Marvel.com: To wrap things up, can you give us any hints as to how you think Poe will escape the plans you've hatched for him?

Charles Soule: There's a certain plotline we started the series with, related to a certain galactic explorer who possesses a key portion of a map leading to a certain lost Jedi warrior, and—I'm talking about Lor San Tekka. I haven't forgotten about that story, and while Poe's been on a million adventures since we last saw him dealing with all of that, we'll be getting back to it soon. I can't wait; I love exploring the weirder, Force-related corners of the galaxy. Should be a blast!
See more of Commander Malarus in STAR WARS: POE DAMERON #16, due out June 28 from Charles Soule and Angel Unzueta!
The Hype Box
Can't-miss news and updates from across the Marvel Universe!