Comics
Published August 14, 2017
Poisoning the Well: A Venomverse Sketchbook
Take a sneak peek at Venom-ized Marvel heroes and more courtesy of artist Iban Coello!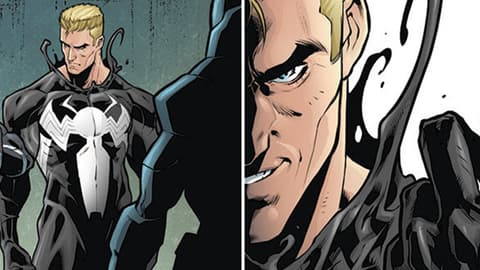 The Poisons threaten the entire multiverse and only one force can stand in their way: Venom and the symbiotes! Not a fully altruistic endeavor, the Lethal Protector understands that this new threat intends to consume anyone carrying a symbiote and turn them into a force for no good in VENOMVERSE by Cullen Bunn and Iban Coello.
Led into by the EDGE OF VENOMVERSE series of character spotlight issues, the September-launching, five issue limited series pits Eddie Brock and his symbiote partner against the Poisons, who seem to be more than a match for him and a group of Venom-ized heroes.
We talked with Coello about working on some of his all-time favorite characters, symbiote trickiness, and more
Marvel.com: EDGE OF VENOMVERSE leads right into VENOMVERSE. How was it working with some of these Venom-ized heroes first presented by other creators?
Iban Coello: It was really fun. The other creators did a great job with the Venom-ized characters and I tried to do the same. I hope to have achieved it!
Marvel.com: Did any of the Venom-ized characters take more getting used to than others? Did any offer you surprises you weren't expecting?
Iban Coello: I have some troubles with Rocket Raccoon, but I really enjoyed drawing Venom Spider-Man webslinging everywhere!
Marvel.com: What can you tell us about the Poisons and the design process that went into bringing them to life on the page?
Iban Coello: It was really challenging because they are the opposite of the symbiotes. They have some kind of crystalline armor and spikes.
Marvel.com: How was the collaboration with Cullen Bunn? 
Iban Coello: Working with Cullen was great as always. He gave me a lot of pages with great action scenes and I love to draw them. And he knows it!
Book your trip to VENOMVERSE #1 with Cullen Bunn and Iban Coello for September 6!
The Hype Box
Can't-miss news and updates from across the Marvel Universe!