Comics
Published November 16, 2016
Power Man & Iron Fist: Harlem Hit List
David F. Walker lays out the criminal crew looking to set the city ablaze!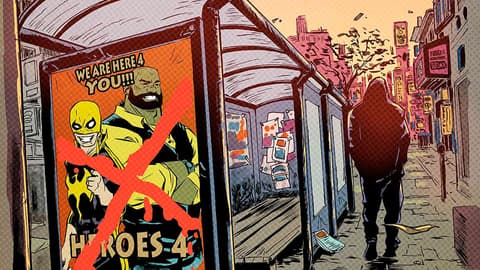 In the wake of Civil War II, Luke Cage and Danny Rand head back to Harlem to heal their wounds. But upon their return, a turf war sparks into a flame and threatens to light the city on fire in "Harlem Burns"!
It's a battle for more than turf between the baddest crime bosses in the borough and contenders looking to stake their claim as the new king in town. And only Power Man and Iron Fist stand in their way.
Here's series writer David F. Walker's rundown of the who's in the fight, what they want, and how they plan to take Harlem by any means necessary…
Tombstone
"He's the boss of organized crime uptown; that's pretty much everything across 110th Street. He rules it all, and has no plan on sharing any of it."


Mr. Fish
"He used to run with Tombstone back in the old days, and he sees that his old friend is facing some challenging days ahead. But Mr. Fish might not be able to stand up to the threat that awaits Tombstone."


Black Cat
"She's the crime boss that wants to take over Tombstone's territory, but she lacks the muscle to go toe-to-toe with him, so she's looking to build her own crew, even if it means manipulating those that are working for her."


Raymond "Piranha" Jones
"The small-time crime boss from over in the Bronx, he's spent most of his criminal career in the shadow of Tombstone, and he wants to run everything. Black Cat has him convinced he's the guy to take down Tombstone."


Cornell "Cottonmouth" Stokes
"Best friends with Piranha Jones, escaped from prison and on the run, Cottonmouth is looking to avoid going back to jail. He sees through Black Cat's attempts to use his friend, and decides he doesn't want any part of it."


Black Mariah
"After escaping from prison, Black Mariah is still looking to settle old scores with Tombstone, especially after his most recent failed attempt. She's down with a new crew that thinks they have what it takes to overthrow the ruling crime boss."


Dontrell "Cockroach" Hamilton
"He was there at the beginning, when Tombstone, Mr. Fish, Piranha Hones, Cottonmouth, and Black Mariah all tried to start their own gang, and he saw it all fall apart. Now, he's looking to help old friends in a time of need, but which friends, and how deep do his loyalties run?"

Alex Wilder
"The new kid in town. He wants to take down Tombstone, and he's amassing a gang that can do it—or can they? Gifted with super powers, superior intellect, and magical skills, Alex is weighed down by immaturity and ego, and the desire to be the type of crime boss that would please his dead parents."
Join David F. Walker and artist Sanford Greene as they continue "Harlem Burns" in POWER MAN & IRON FIST #11 on December 14!
The Hype Box
Can't-miss news and updates from across the Marvel Universe!