Comics
Published June 4, 2019
'Power Pack' Co-Creator June Brigman Looks Back on Marvel History
Celebrate Marvel's 80th anniversary with our final foray into the ever-lovin' '80s!

Each week, the Best of the Decade column honors 80 years of comic book excellence by spotlighting a single issue from the House of Ideas beloved by the best in the business!
It's 1984, and artist June Brigman has to shatter writer Louise Simonson's perfect fictional family for their new POWER PACK series to stand a chance of success.
"I think my contribution was the idea that the kids would argue and fight and be jealous," she recalls. "Weezie got along so well with her sisters that she hadn't considered this. But she really ran with it when she realized how much fun it was to make the kids be brats."
Brigman and Simonson—Weezie to her close friends and colleagues—created something special with the Power siblings and their science-fiction-tinged adventures throughout the 1980s. It's an enduring Marvel concept—one that the duo will revisit later this year with POWER PACK: GROW UP #1 as part of the ongoing 80th anniversary celebration!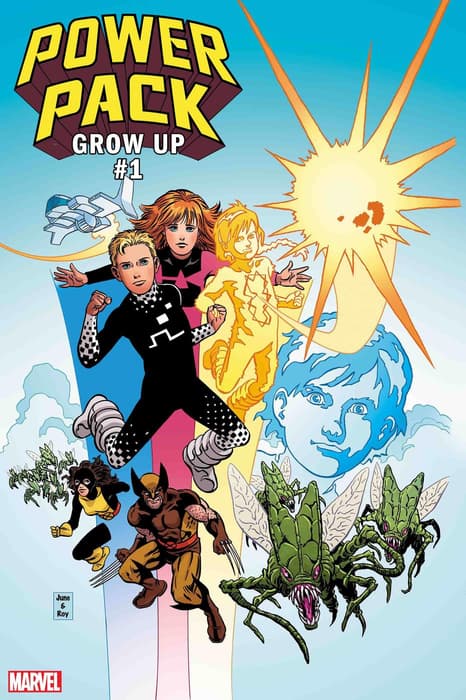 As part of our own recognition of this Marvel milestone, we talked to the brilliant Brigman about the origins of Power Pack, working next to the biggest names of the '80s, and more.
What was your first exposure to comic books, and specifically to Marvel?
I didn't read comic books as a child. My boyfriend, now husband, Roy Richardson introduced me to comics. He had to show me how to read them, I didn't understand in what order to read the balloons. The first Marvel story that still inspires me to this day was [an issue of WHAT IF? starring the Avengers] written by Jim Shooter, drawn by Gil Kane, and inked by Klaus Janson. The artwork was incredibly dynamic. And the story was classic comic book storytelling. Then I got into Frank Miller's DAREDEVIL and Walt Simonson's THOR.
Where did your interest in art come from, and when did you decide to pursue it as a career?
I've always loved drawing. It was how I entertained myself as a child. When I started college, I knew I wanted to be a professional artist. And I probably would have stayed in school and majored in illustration if Roy hadn't taken me to a comic book convention in Atlanta around 1979. I got to meet Gil Kane, Bernie Wrightson, and Michael Kaluta. I saw these guys doing these beautiful sketches without any reference. No models, no photos. It was amazing. And I think that's when I decided to become a professional comic book artist.
As a professional who got her start in the '80s, what did you notice was changing about comics during that period?
It was a time of great creative freedom for artists and writers. Creators like Walt Simonson, Frank Miller, Chris Claremont, and John Byrne breathed new life into the Marvel Universe. There were as many different styles as there were artists. There was no house look. It was a really exciting time to be in the business of making comics.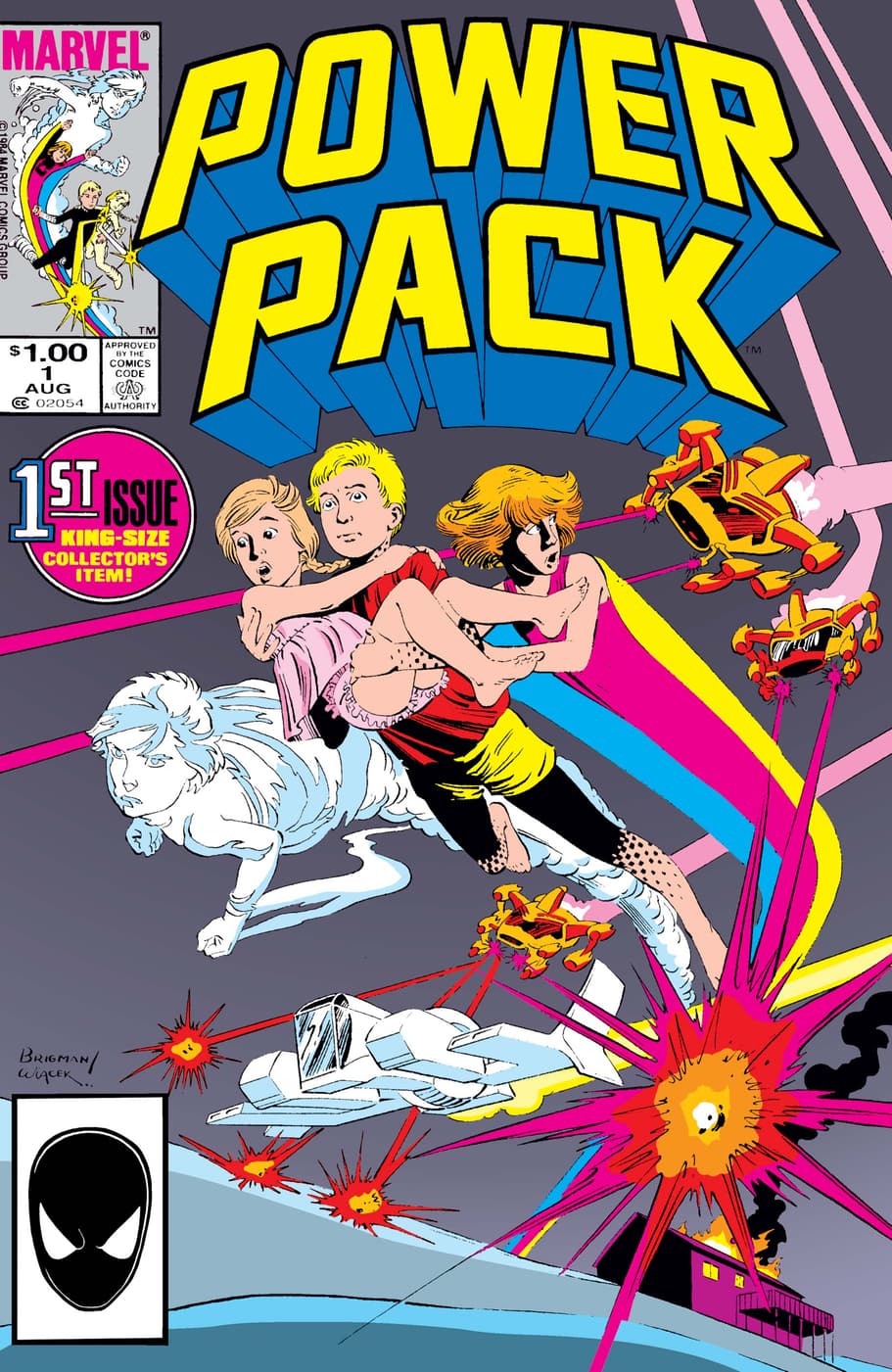 What was Marvel like as a place to work in the '80s?
It was a great experience. Even though the company was expanding like crazy, it still felt like a small family. Remember, this was before the internet. There was no emailing files. So a lot of freelancers lived in the area. You'd run into friends at the office, go to lunch, dinner, parties. If you needed help meeting a deadline, you could send out an SOS and have a jam session of great artists. I made lifelong friends and connections that have helped me throughout my 35-year career.
How did you connect with Louise Simonson?
I met Weezie on my very first visit to Marvel. She was an editor then, and I was making the rounds, showing my portfolio. She asked if I could draw children and I said yes. And that's how it all started. I don't know if I would have had a career in comics if I hadn't met Weezie. She really gave me my big break. And we've been friends ever since.
Where did the concept for Power Pack come from? Why did you feel this was a valuable and important idea?
It was Weezie's concept. While I did have some input, it was really all her idea.
At the time, I didn't quite understand what we had. I knew it was different, but I didn't grasp just how special this idea of sibling Super Heroes was. It may be more important now than when the book was first released in 1984. I think that, in the current state of dark and gritty and nasty comics, that it's important to have a book that's all ages. This is why Power Pack has stood the test of time. It's why people come up to me at conventions and tell me that they read the book when they were kids, and now their kids love reading POWER PACK too.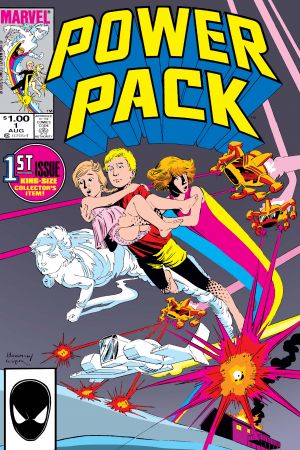 What are your favorite moments from your initial run on POWER PACK, both in terms of what you produced and stuff behind the scenes?
I think my favorite story is "The Kid Who Fell to Earth" [from POWER PACK #16] where we meet Kofi, the young Kymellian, and Franklin Richards meets Power Pack. It had  a lot of emotional impact. Plus, it was just fun to draw.
As far as behind the scenes, it was great getting to hang out with Weezie and her husband Walt. They lived on the Upper West Side, a block away from the Dakota. This was also Power Pack's neighborhood, so I got to experience it first hand.
How did Power Pack fit into the Marvel of the 1980s?
Power Pack fit into the Marvel Universe amazingly well. They teamed up with Cloak and Dagger, Wolverine and Kitty Pryde, even the Punisher. They were Super Heroes in a Super Hero universe. They were just a little younger. And shorter.
What do you feel is the lasting legacy of Marvel comics from that era?
I suppose the most obvious effect of the '80s can be seen on the big and small screen, the movies and the [TV] shows. But I think the creativity of the '80s is the reason why we all still know and love these characters and their stories.
For the full initial run of POWER PACK, plus an assortment of art from June Brigman, head over to Marvel Unlimited! And visit Marvel.com's 80th anniversary hub page for more!
The Hype Box
Can't-miss news and updates from across the Marvel Universe!