Comics
Published August 24, 2017
Power Pack: The Pack is Back
Devin Grayson and Marika Cresta renew the super group with Marvel Legacy!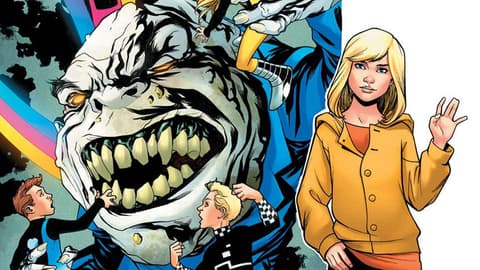 Back in the 1980s, Alex, Julie, Jack, and Katie fought aliens, befriended mutants, and discovered how to be heroes as one of Marvel's first ever preteen superhero crews, POWER PACK. After 62 issues, the series came to a conclusion in 1991, though the characters would go on to appear in titles such as AVENGERS ACADEMY and FANTASTIC FOUR AND POWER PACK.
On November 1, Marvel Legacy heralds the super siblings' return in a special one-shot POWER PACK #63 by writer Devin Grayson and artist Marika Cresta!
Devin filled us in on what we can expect from the return of the Pack.
Marvel.com: What attracted you to working on POWER PACK? Were you a fan of the original run?
Devin Grayson: A colleague introduced me to Power Pack in 2000, after my book about a young super hero team, Relative Heroes, came out. I was thrilled to discover another family team—not to mention a title created by [series writer] Louise Simonson, who I greatly admire. I immediately fell in love with June Brigman's expressive art and the authenticity Louise brought to the young characters. Each of the four kids is really unique, and, once you've met them, it's impossible not to start caring about their story.
Marvel.com: When does POWER PACK #63 take place?
Devin Grayson: My story is actually set a few months after "The Return of Power Pack," the short story by [writer] John Allison and [artist] Rosi Kämpe that was featured in CIVIL WAR II: CHOOSING SIDES last year. So we can call that present day—as long as we acknowledge how aging works in comics (very slowly). 30 of our years have ended up being about six of theirs, meaning that Julie's in college at Empire State University and Katie and Jack are still living at home. Alex's whereabouts are, of course, something of a mystery, and that's an issue my story takes on thematically. Any confusion you may feel about where he is pales in comparison to his own family's concern.
I also make use of flashbacks in the story, though, so new readers will be able to see the team in all of its original glory—and long-time readers will hopefully experience a nostalgic thrill. I know that many of us, myself included, are excited to see how these kids will age, but that's the kind of thing I think we would need to see develop on stage in a series. In a one-shot like this, though there's a temptation to jump ahead, I think it works best to underscore and explore the status quo.
Marvel.com: What are the Powers up to in your new story? Who might they be facing off against?
Devin Grayson: This story focuses on Katie, who is facing the ultimate nemesis of American 11-year-old's: school work. Though she's technically too old now to be afraid of the proverbial bogeyman, Katie Power has direct experience with another Bogeyman…some of us might remember him as her dad's old boss, Mr. Carmody.
Marvel.com: There are a few elements that made the original series so unique—their family dynamic, the Kymellian and the Snarks.
Devin Grayson: We don't actually see the Kymellians or the Snarks in this issue, though there are a few Easter Eggs for attentive fans.
The story, though, is very much about familial relationships, which shouldn't surprise anyone with even a passing familiarity with my work. I don't think I could have avoided that theme if I tried.
Marvel.com: What's it like working with Marika Cresta on this one-shot?
Devin Grayson: I feel so lucky to have Marika on board for this! She's incredibly excited to be doing her first work for Marvel. For those of you unfamiliar with her, Marika studied with Sara Pichelli and was discovered by one of Marvel's talent scouts in Italy during a portfolio review at Lucca Comics & Games—a comic book and gaming convention in Tuscany—in 2016.
She's a phenomenal new talent, and although I'm sure there's nothing she can't do, she has a particular gift for capturing the energy and sensitivity of younger characters. She's also incredible with body language and beautiful, detailed backgrounds. I can't wait to see the story come to life in her hands!
Marvel.com: Finally, of the four siblings, did any end up being your favorite to write? Who was the most challenging to create?
Devin Grayson: Personally, I relate most strongly to Julie—her academic leanings, her sexuality, and her status as an elder sibling all make her extremely accessible to me. But this story is really about Katie and Alex—their relationship.
Both Katie and Jack, as athletic younger siblings who tend be more impulsive than their older brother and sister, were more challenging for me. They both have such distinct voices though, they don't end up being difficult to write; they're the kind of characters that huff at you in frustration if you get them wrong and don't stop pestering you until you fix whatever displeased them.
These characters that Louise created are so individuated and so alive—I can't imagine new readers not being excited to meet them. And I hope their existing fans enjoy spending time with them again as much as I did!
Devin Grayson and artist Marika Cresta's POWER PACK #63 awakens on November 1!
The Hype Box
Can't-miss news and updates from across the Marvel Universe!