Comics
Published May 1, 2018
Preview Avengers #1 on Marvel's The Pull List
Get a podcast peek at this week's new Marvel Comics!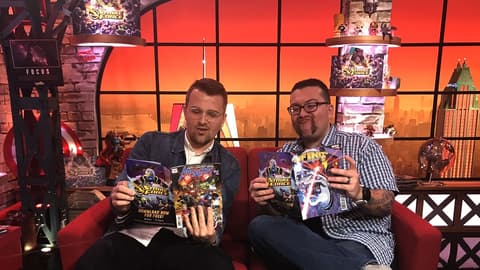 Dive into the comic book universe with Marvel's The Pull List!
On this episode, Ryan and Tucker preview May 2's new comic releases, including AVENGERS, CAPTAIN AMERICA, HUNT FOR WOLVERINEL: WEAPON LOST, INFINITY COUNTDOWN, and all the other books that will be waiting for you on in stores tomorrow!
Here's the full list of what's available from Marvel this week:
MARVEL PRINT COMICS ON-SALE (5/2/18)
ASTONISHING X-MEN #11
AVENGERS #1
CAPTAIN AMERICA #701
HUNT FOR WOLVERINE: WEAPON LOST #1
INFINITY COUNTDOWN #3
RISE OF THE BLACK PANTHER #5
ROGUE & GAMBIT #5
SPIDER-MAN #240
STAR WARS #47
VENOMIZED #5
WEAPON X #17
X-MEN: GOLD #27
YOU ARE DEADPOOL #1
COLLECTIONS
AGENTS OF ATLAS: THE COMPLETE COLLECTION VOL. 1 (TRADE PAPERBACK)
AVENGERS ASSEMBLE: GAME ON (DIGEST)
COLOR YOUR OWN DEADPOOL AGAIN! (TRADE PAPERBACK)
COLOR YOUR OWN STAR WARS: HAN SOLO (TRADE PAPERBACK)
DEADPOOL CLASSIC COMPANION VOL. 2 (TRADE PAPERBACK)
PUNISHER MAX BY GARTH ENNIS VOL. 1 (HARDCOVER)
SHE-HULK VOL. 3: JEN WALTERS MUST DIE (TRADE PAPERBACK)
SPIDER-MAN: FREE FALLING (DIGEST)
STAR WARS: HAN SOLO (HARDCOVER)
WEAPON X: THE RETURN (HARDCOVER)
WOLVERINE GOES TO HELL OMNIBUS (HARDCOVER)

DIGITAL COMICS
AVENGERS: BACK TO BASICS #5
ALSO ON SALE ON THE MARVEL APP
GREEN GOBLIN (1995) #1-2, 4-11, 13
MAN-THING (1979) #1-11
MASTER OF KUNG FU (1974) #50-60
DIGITAL COLLECTIONS
S.H.I.E.L.D. BY HICKMAN & WEAVER: THE REBIRTH
STAR WARS: TAG & BINK WERE HERE
GREEN GOBLIN: A LIGHTER SHADE OF GREEN
INCREDIBLE HULK MASTERWORKS VOL. 9
INCREDIBLE HULKS: PLANET SAVAGE
MARVEL POINT ONE II
THOR: BLACK GALAXY SAGA
FRESHLY DIGITIZED COMICS ON MARVEL UNLIMITED
ALL-NEW WOLVERINE #26
AMAZING SPIDER-MAN ANNUAL #22
AMERICA #8
AVENGERS ANNUAL #17
BEN REILLY: SCARLET SPIDER #9
BLACK PANTHER #166
DAREDEVIL #28
DAREDEVIL ANNUAL #10
DEADLY FOES OF SPIDER-MAN #1-4
DESPICABLE DEADPOOL #288
FANTASTIC FOUR ANNUAL #21
FREE COMIC BOOK DAY #1
GUARDIANS OF THE GALAXY: TELLTALE GAMES #4
JEAN GREY #8
LETHAL FOES OF SPIDER-MAN #1-4
MOON GIRL AND DEVIL DINOSAUR #24
NEW WARRIORS #31, 45, 46, 65-67
PETER PARKER, THE SPECTACULAR SPIDER-MAN ANNUAL #8
SGT. FURY AND HIS HOWLING COMMANDOS ANNUAL #2
SILVER SURFER #14
SILVER SURFER ANNUAL #1
STAR WARS: JEDI OF THE REPUBLIC – MACE WINDU #3
THANOS #12
THE AMAZING SPIDER-MAN #790
THE MIGHTY CAPTAIN MARVEL #125
THE PUNISHER #17
THE PUNISHER ANNUAL #1
THOR: WHERE WALK THE FROST GIANTS #1
U.S.AVENGERS #11
WEAPON X #10
WEB OF SPIDER-MAN ANNUAL #4
WEST COAST AVENGERS ANNUAL #3
WOLVERINE: KNIGHT OF TERRA #1
WOLVERINE/CABLE: GUTS AND GLORY #1
WOLVERINE/NICK FURY: SCORPIO RISING #1
X-MEN: BLUE #14
Subscribe to the show on Apple Podcasts, download the episode from Marvel.com/podcasts, or tune in on SoundCloud!
The Hype Box
Can't-miss news and updates from across the Marvel Universe!