Comics
Published February 13, 2017
Psych Ward: Captain America
Sam Wilson tries to find balance as he wears the stars and stripes!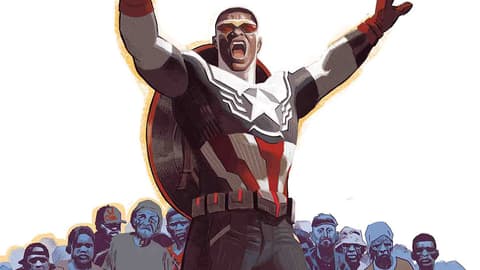 The client, Sam Wilson, has worked with this therapist on previous occasions including to work through emotions raised by the death of his nephew, Jim Wilson, from AIDS-related complications, short-term follow-up visits to process things like a history of criminal activities as a youth and attempts at mind control to assess for possible dissociation or delusions, and trauma stemming from being abducted and tortured by a white nationalist/white supremacist terrorist organization.
These all occurred when Wilson also identified himself as the costumed hero "Falcon." Since then, the client has taken on the mantel of Captain America, initially to replace his friend and mentor Steve Rogers and then continuing on even after Rogers once again resumed activities as the Sentinel of Liberty.
This time, the client was visiting to discuss concerns he has about how he may have changed since taking on the mantel. For instance, he finds himself concerned that the need to represent the American Dream—and to follow in his predecessor's footsteps—has blunted his more activist impulses. Having heard from and watched younger minority identified heroes like Rage or the new Falcon, he has spent time wondering if some of the criticisms may be valid.
These doubts coincide with a rising tide of criticism from right wing identifying organizations that are demanding he give up the role of Captain America because he is somehow unworthy of it. Wilson admits that he does not think that they are right and is inclined to believe that his skin color has far more to do with their criticisms than he is abilities. However, the anger they engender in him does concern him and he worries about controlling his temper in the field when it feels surrounded by criticism.
Overall, the client just wants to process strong feelings that he is working through at this time. Given the position he is occupying at the pressure therein—both internal and external—this is a healthy reaction and his decision to seek therapeutic support was praised and validated as such.
We began to explore the client's sense of duty and the feeling of his need to be all things to all people. We discussed how perfect is the enemy of good and as a person he is bound to make mistakes, but that just because someone does not agree with what you've done does not necessarily make you wrong or mistaken.
The client seemed to respond well to this interaction and admitted he felt better as he left than when he had when he arrived.
Given the short-term nature of the work and the number of clients this writer is already carrying, the client will begin seeing Doctors Nick Spencer and Daniel Acuna on March 15. His note will be available for review in file CAPTAIN AMERICA: SAM WILSON #20.
Psy D. Candidate Tim Stevens is a Staff Therapist who knows he'd be the first in jail if they ever outlaw the expression "perfect is the enemy of good."
The Hype Box
Can't-miss news and updates from across the Marvel Universe!