Comics
Published September 5, 2017
Psych Ward: Captain Phasma
The First Order's stoic trooper predictably refuses to open up.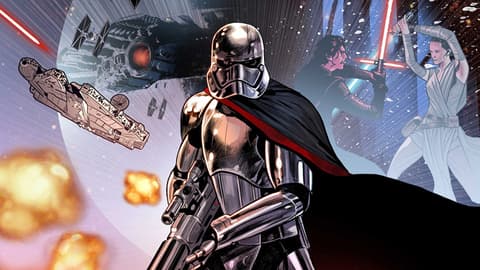 Captain Phasma is an adult woman whose health records indicate she is of above average physical health, although she has a history of injuries, mostly gained during combat or training for combat, dating back to her teens.
The client acted, until recently, as the third ranked officer on the Starkiller base behind General Armitage Hux and special advisor Kylo Ren. In her position as Captain, she has acted as the head trainer for the Stormtroopers corps, with a special emphasis on developing the talents of those who were expected to be the most elite and least conflicted of the brigades.
Unfortunately, however, the client has been officially recorded as having encountered a series of setbacks. To summarize quickly, one of the troopers under her direct command "broke" during a mission. When she sent him for reconditioning, he instead helped a key prisoner—the Resistance pilot Poe Dameron, believed to have knowledge of where the so-called Jedi Luke Skywalker could be found—escape the base. She has reported that this is the trooper that later returned with the criminal known as Han Solo and his partner Chewbacca to free an unidentified female prisoner of high interest. This group took her hostage briefly, forced her to turn over secrets at gunpoint, and then sent her down a garbage shaft. It is also believed that this group helped render the Starkiller Base vulnerable to attack and therefore led to its destruction.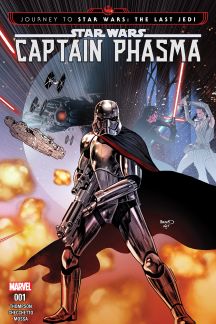 Journey to Star Wars: The Last Jedi - Captain Phasma (2017) #1
Despite these setbacks, the client remained generally disinterested and rejecting of therapy. For most of session, she even refused to remove her helmet, eventually acquiescing upon this writer's 15th request, although her reasoning remains unclear. There is a certain temptation to label her as hostile towards therapy but the fact is she was so even and unemotional in most of her reactions that even this would be inaccurate.
Given my struggles with connecting with the client, it is clear this is not a helpful therapeutic situation for her. In an attempt to find a better fit for the client and, hopefully, bring about a more productive therapeutic bond for her, Captain Phasma has been referred to specific First Order therapists, Doctors Kelly Thompson and Marco Checchetto.
The client will first meet with them on September 6, followed by appointments on September 20 and October 4. Detailed assessment notes will be available in files Journey to Star Wars: The Last Jedi – Captain Phasma.
Star Wars Tim Stevens believes everyone has a right to therapy. Even First Order Captains.
The Hype Box
Can't-miss news and updates from across the Marvel Universe!