Comics
Published November 6, 2017
Psych Ward: Gwenpool
Marvel's favorite reality manipulator stumbles into the therapist's office.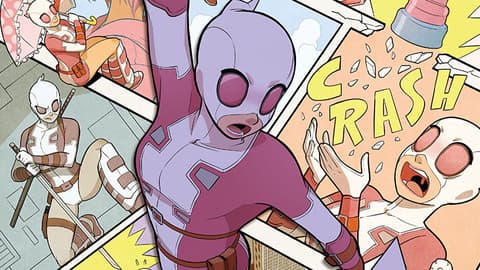 The client in question, a Gwen Poole, stumbled into the office, unannounced, around the middle of the day. Given her presentation—her costume is very reminiscent of Deadpool, and she goes by Gwenpool while in, which she insists is a result of an accidental conflation of her real name to an alias—staff and security immediately attempted to turn her away. As detailed in several different incident reports, lawsuits, and 9-1-1 calls, the mercenary known as Deadpool has threatened this writer on several occasions and has forced staff and this writer to provide him and partners of this service numerous times.
Eventually, all in the office were able to work out that despite appearance and name, Poole has no relationship or connection to Deadpool. Thus, against my better judgment, I elected to allow her to wait in reception for a possible no-show or cancelation. When one occurred, this writer invited her in for a standard intake.
Despite her lack of connections to Deadpool, it quickly became apparent that the client shares more than a look and a name with him. She espoused—multiple times—attitudes and beliefs that would not have seemed out of character being said by that aforementioned mercenary.
However, this writer is very aware that it is unhelpful to treat the client in front of you like anyone else—especially someone you feel active antipathy towards—so I pushed beyond these initial judgments and explored the client's perspectives and experiences with more depth.
Most concerning is the client's stated belief that the world she currently exists in is not her own but rather a sort of comic book universe come to life that she had, prior to her arrival in our world, had been reading in installments and collections. As a result, she tends to think of this world as fictional. While she admits she has "grown" some since her arrival, she still defaults to thinking the people around her, especially those who are not super heroes or villains, "do not count."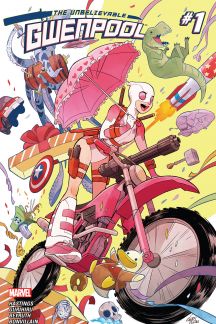 As a result of this attitude, she believes herself to have an advantage over many. For instance, she indicated she knew the secret identities of many costumed heroes and villains, and listed off several of them. Without naming names, she appeared to be overwhelming accurate, at least in comparison to the knowledge this writer possesses. Because she has this "inside" information and knows "how" this universe works, she believes she is in a position to take advantage of such things.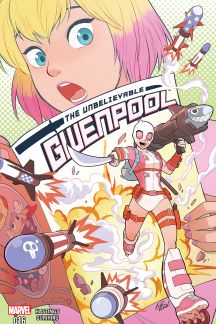 All of this being said, she confessed that things have become far more serious than she expected. Her first friend was killed before her and did not return to life as she expected although he was with her for a time after that as a ghost. She has suffered injuries and she continues to be frustrated by her struggle to improve her physical abilities, two things she expected to be easy given her perception of the "rules" of our world.
What is more distressing is she increasingly feels she is not allowed to be good. She admits she first arrived with little interest in anything but making money and having fun. However, after speaking to someone she described as "noir duck guy," she reshaped her attitude somewhat and decided to pursue being a true hero. Yet, every attempt she makes to do so, she insists, leads to her running afoul of the law in some way, whether it be ending up a henchman of M.O.D.O.K., losing control of M.O.D.O.K.'s organization she seized and then tried to use for good, or fighting a Dr. Doom that, to quote her, "apparently is a hero now?!"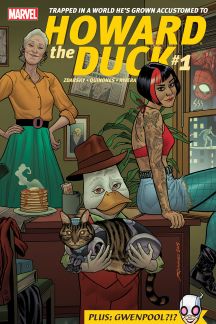 While people displaced from other realities into our own is not unusual, the client's insistence that this is what has happened to her may also be evidence of a delusional disorder. As always, this writer tries to give each client the benefit of the doubt but the pervasiveness of her perspective combined with her belief she is somehow being compelled to be bad means that I cannot afford to ignore the possibility of a delusion disorder entirely as there might be a strong chance of her being a danger to herself or others.
To that end, I have referred her to Doctor Christopher Hastings and Irene Strychalski who are experts in evaluating individuals for what they've labeled "Reality Displacement Distress Syndrome." When we have those results, we will be better able to evaluate how to proceed.
That appointment is scheduled for December 6 and all notes can be found in folder UNBELIEVABLE GWENPOOL #23.
Psy D. Candidate Tim Stevens is a Staff Therapist who's ideal alternate dimension would allow him to have a monocle and top hat wearing talking manatee for a partner in crime solving.
The Hype Box
Can't-miss news and updates from across the Marvel Universe!