Comics
Published February 8, 2017
Psych Ward: Man-Thing
Will our therapist know fear?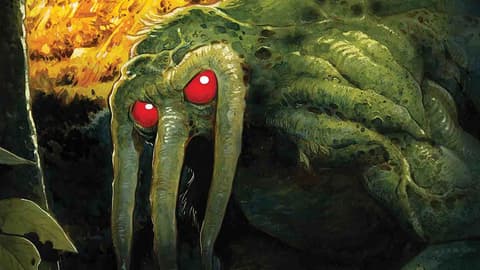 Theodore Sallis, who requested I call him Ted, presents as—for lack of a better way to describe him—a shambling being made up entirely of plant matter and swamp muck. According to the client, he was once human and presented as such, but the combination of an experimental serum and a car accident turned him into the being he is today.
We explored this early incident at length—the fear of it, the feelings of pain and anger directed towards his wife for betraying him, the regret of his recklessness—before the client revealed he had never spoken from the time of the incident until about a week ago.
On the basis of this, this therapist evaluated the client for selective mutism. However, given Sallis' statements, it appears the loss of speech was not psychological but rather physiological. However, that conclusion does not manage to explain the seemingly spontaneous return of speaking ability. The client, for his part, is trying not to worry about the why of it and just appreciate its return. As a scientist, however, he confesses that it has been difficult not to wonder.
This therapist, having previously observed the client in his natural habitat, shared this information with him and his observations. Sallis seemed not to recall the several hours he was under observation but did, generally, agree with the conclusions that the writer had drawn from the experience.
The client, however, stated that his presenting problem stems not from the traumatic incident that forever changed him, his time since as a sort of dimensional protector, or the return of his speaking voice but rather a recent trip to Hollywood. He had found himself, suddenly, after years of resignation and acceptance, horribly sad about his presentation and feeling as though people were inherently cruel.
He described his time in the swamp as occasionally lonely but never marked by feelings of being hated or ostracized except by those who he described as, "pretty terrible to begin with." However, in Hollywood, he found otherwise seemingly decent people to be judgmental and mean-spirited. For the first time in a long time, he became acutely aware of what he had lost and of how his current appearance separated him from the masses.
Given the depths of exploration necessary and the recent upheavals to a life that has been stable if unconventional, this writer suggested further sessions and the client agreed.
Because of my current caseload, Sallis (aka Man-Thing) has been referred to Doctors R.L. Stine, German Peralta, and Daniel Johnson. His next appointment is scheduled for March 8 and their session will be found in the file marked MAN-THING #1.
Psy D. Candidate Tim Stevens is a Staff Therapist never expected to have a mistake of nature in his office but this job always surprises.
The Hype Box
Can't-miss news and updates from across the Marvel Universe!