Comics
Published October 16, 2017
Psych Ward: Mojo
As the Mojoverse invades Manhattan, Marvel.com's resident therapist profiles the villain.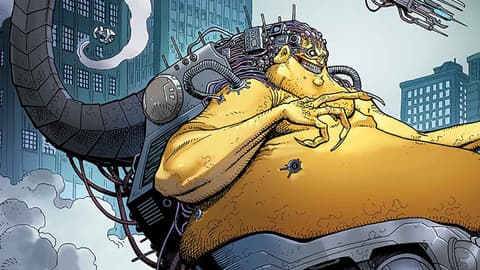 As always, evaluating a subject without ever meeting them is, at best, educated guessing. Nonetheless, given the direness of the situation and the data available, this writer felt it was ethically sound to offer this personality sketch and his attorneys have agreed. I hope it provides help with subduing the subject.
The subject, Mojo, is an apparent alien/other-dimensional being who is from a race that are born without spines and use technology to increase their mobility and ability to stand upright. He self-identifies as a male although it remains unclear if that concept is native to his race's reality or a product of exposure to human television. The planet and universe he hails from was evidently named for him (Mojoworld, Mojoverse), not the other way around. This apparently reflects his dominance of the most important aspect of his race's society, television.
According to a history of the universe that appears to be—as best as we can verify— accurate, his universe was bombarded by broken waves of energy that were, in fact, Earth television waves.  Exposure to the broken and, to them, inexplicable energy both caused a sort of societal psychotic break and created a universe-wide addiction. Craving content more intense than the broken waves could provide, Mojo rose into the void and created homegrown TV content. As such, he was elevated to a kind of combination dictator and program director.
Given the subject is an alien from a planet with an aggressively different social structure, it is difficult to label him a sociopath as, in terms of his society, his behavior and cognitions might be entirely in line with societal norms. However, by our standards, to our understanding, he does present with symptoms of Antisocial Personality Disorder and, possibly, Narcissistic Personality Disorder.
He is motivated, seemingly, purely by the twin desires of garnering maximum attention for himself and dominance of his enemies. He shows limited regard for the lives and comfort of those around him. He is erratic and capricious, nearly always choosing the quick jolt of short-term satisfaction over long-term planning.
This makes him defeatable—as his history with the mutant rights group the X-Men indicates—but also wildly dangerous. Because he is oriented towards the short-term, he is unpredictable and just as likely to react in violent rage as in cowardly self-preservation. Additionally, he has engendered the kind of support from those beneath we might associate with a closed state dictatorship, meaning he has a plethora of what he likely considers "cannon fodder" at his disposal to throw at his enemies.
The surest path to victory against the subject is to demonstrate to him that bigger ratings can be achieved through easier means. He is a fairly lazy creature and, as noted above, likes the quick fix. So if the ceiling to success feels like too much work and a simpler means to rating dominance exists—think the amount effort required to make a successful cheap reality show vs. a prestige drama with well-known actors—he will always take the easy way out.
For further information and analysis of the subject, this writer recommends the definitive volume on Mojo, X-MEN BLUE #15 from Doctors Marc Guggenheim and Jorge Molina, available on November 15.
Psy D. Candidate Tim Stevens is a Staff Therapist who loved TV enough growing up and bets he could've ruled the Mojoverse.
The Hype Box
Can't-miss news and updates from across the Marvel Universe!