Comics
Published May 17, 2017
Psych Ward: Poe Dameron
Grounded, the ace Resistance pilot decides to visit a therapist.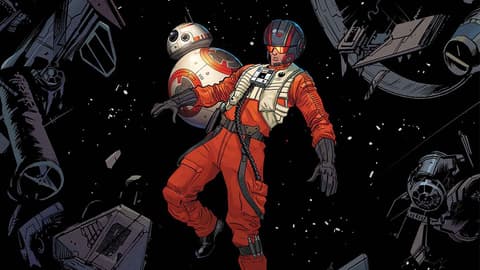 Poe Dameron is an adult male who present as in above average physical health, a perception confirmed by his medical records.
While the client's reputation precedes him, this is the first time this writer has seen Dameron in a professional setting. Given his status as arguably the best pilot of the Resistance and the numerous accolades he has received over the years, this writer does admit I experienced a certain level of celebrity gazing early in session. I did, however, quickly overcome this and was able to engage with the client in a therapeutically appropriate manner.
The client has been grounded by General Organa following a largely successful mission that nonetheless resulted in the death of a colleague and the loss, to the First Order, of the target they were pursuing. This therapist expected, therefore, that the presenting issue(s) would be related to grief and loss and possibly feelings of guilt and failure.
Initially, that is where the intake began. However, as session progressed, the client became more engaged and open and disclosed that actually what he found himself most concerned with was the General's charge that he be more than the best pilot, that he find the one thing that would make him invaluable to the Republic and the Resistance.
We explored the notion of taking on a more active leadership role, of accepting himself as not just a man giving orders, but a figure of inspiration. The client confessed he had never seen himself in this way and even now struggled to see how others might. Additionally, it was not necessarily a role he aspired to. He loves being a pilot and being known as the best; why does he need to be more than that?
Together we discussed what it meant to him to be "the best" and what it would look like to, in some ways, sacrifice that for a new role—a role that would be both more and less than being the best pilot.
Overall, the client presents as smart and insightful. Although he does have some hesitance to disclose and was resistant at moments, overall he seemed engaged in the therapeutic process and open to the possibility of it being helpful to him.
Given my age and already heavy caseload, I referred Poe Dameron to my colleagues Doctors Charles Soule and Angel Unzueta, and Doctors Robbie Thompson and Nik Virella. His first session with them is scheduled for May 17 to be followed by a second session on June 21. The data for those will be uploaded to the memory units labeled POE DAMERON #15 and POE DAMERON ANNUAL #1 respectively.
Star Wars Tim Stevens is aware his continuity must be confusing. Just imagine that after the fall of the Empire, he found the Force, renounced his previous ways, and joined the Republic to make up for his past ethically dubious choices.
The Hype Box
Can't-miss news and updates from across the Marvel Universe!