Comics
Published April 20, 2017
Psych Ward: Quentin Quire
The former problem student prepares for his next step!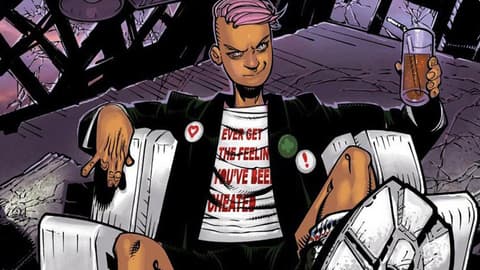 Quintavius "Quentin" Quire is a male who presents as being in his late adolescence and in healthy physical shape. He is a self-identified mutant with ties to the mutant rights group the X-Men. Although he is mostly known by his given name, he has also been called "Kid Omega."
The client was dropped off at the office by Thor with her ordering our staff, "You talk to him!" It should be noted that this is not the ideal start of a therapeutic sentence. However, Quire and this writer have a pre-existing relationship and he seemed to agree to a session without coercion so I did sit with the client.
When we last worked together, the client was a student at the Jean Grey Institute. In the time since, he has graduated, joined the X-Men, quit the X-Men out of conflicts with Wolverine, joined the Hellfire Club and seized control of it as the White King, and then quit that as well, going into isolation.
Despite all these changes, Quire presents in much the same way as when we first worked together. He recycled his lines about his distaste for psychology and psychologists, talking therapy, and his assertion that what I practice is "junk science."
However, when the therapist began to dig into the series of rapid changes the client had recently experienced, his affect changed and it became clear that he was struggling to maintain his typical presentation.
Somewhat begrudgingly he disclosed the boredom that characterized his time with the Hellfire Club which left him confused and agitated. He had always felt he deserved power and leadership and when he gained it he found it rather empty and unfulfilling.
We also explored his complex feelings towards Wolverine, someone he characterized as an individual who only sought to make Quire act his worst just so he could say to the client, "See? Look how bad you are."
Finally, he confessed he had gained some knowledge—although he was very vague about how or what—of his own death and the experience had shaken him. The therapist's attempts to dig deeper only resulted in the client becoming more disconnected and dismissive of the session.
Therefore, I moved away from a past focus to a present orientation. The client briefly explained that Thor had been attempting to convince him to help with a re-emergent Phoenix Force. The client presented with anger and bluster at this point. He insisted on his independence and that he would not answer to anyone or follow orders from anyone, not even the "so-called God of Thunder herself." While the client allowed that, yes, the Phoenix Force would be the biggest challenge he had ever faced and yes, he was aware what it had done, at various times, to Jean Grey and Emma Frost, he refused to admit to or even acknowledge the possibility he had any fears about it.
Abandoning the attempts to get the client to open up and knowing from previous experience he was rarely moved by the needs of others, this writer finally appealed to the client's sense of self-preservation, arguing that if he faced Phoenix he may be hurt or killed but if he failed to, he'd make enemies of gods and likely would only be delaying an inevitable death by Phoenix, one that he would be less prepared for than this face off.
Given the rather resistant nature of the client, this writer is referring the client to Doctors Jason Aaron and Russell Dauterman who have more experience with working with "wielders and victims of the Phoenix Force." Their follow-up sessions will occur on April 26 and May 17. Session notes can be found in file MIGHTY THOR #18 and MIGHTY THOR #19
Psy D. Candidate Tim Stevens is a Staff Therapist who will never grow tired of people telling him psychology is not real science.
The Hype Box
Can't-miss news and updates from across the Marvel Universe!