Comics
Published April 26, 2017
Psych Ward: Scarlet Spider
On the run, Ben Reilly may be beyond even Peter David's help!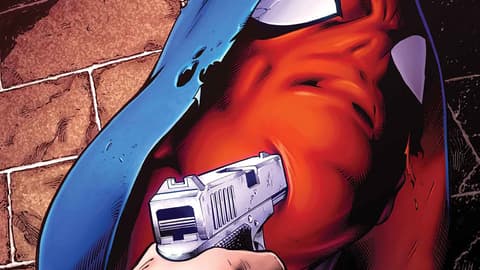 This session was a fill-in session for the client, Ben Reilly, while his therapists—Drs. Peter David and Mark Bagley—were away on a conference. Arrangements were made in advance with this writer for me to pick up their critical cases during this interim including Mr. Reilly.
Ben Reilly is an adult male who presents with unusual scarring that he reports is a degenerative condition—not entirely different than the apparently common condition to clones created by Dr. Mile Warren. The client denies any of the mental health issues that are commonplace for those Warren clones including changes in personality and interference with cognitive and emotional processing.
However, Dr. David's results suggest otherwise. On a recent progress note, he reported, "I would say that at this point Ben Reilly has no idea who he is."
"To his mind, the only reason he is considered a villain is because he had a plan that Spider-Man thwarted," David elaborated. "As far as he's concerned, he's a misunderstood good guy. Except anyone standing outside of him is driven to the conclusion that he has become disconnected from reality. It's hard to determine whose reality is the genuine one."
This writer would find little to quibble with in Dr. David's description after this session.
In person, the client presents as superficially charming with a quick wit and a gift for holding a conversation. Any attempts to move him beyond the superficial, however, quickly reveal the client is putting on little more than a very good show.
Unlike both Kaine and Peter Parker—genetic identicals to Reilly—the client seems to lack either's sense of self-reflection. On the one hand, this limits the tremendous guilt Parker often feels and the reflexive self-hatred Kaine falls prey to. On the other, it makes Reilly arrogant and unable to contemplate the perspectives of others when it comes to his desires and plans.
The client's refusal to allow himself to be given a physical exam is disquieting. While there are plenty of external signs—physical and psychological—of the ravages of the degenerative condition, it is impossible to estimate exactly the internal damage, especially to his brain. Without that key information, we are unable to know if his current condition is stable, if he may improve, or—most likely—exhibit increasing antisocial behavior and physical deterioration.
While most individuals with mental health issues are as safe as the average person, given Reilly's past behaviors and his abilities, any worsening in his condition could very well make him a threat to others and himself.
Unfortunately, without physical documentation or expressed homicidality or self-harming behaviors, this writer—and his other therapists—can only recommend hospitalization to the client, leaving the ultimate decision up to him.
Ben Reilly will return to Doctors Bagley and David's schedule on May 24. Details of that session can be found in file BEN REILLY: SCARLET SPIDER #2.
Psy D. Candidate Tim Stevens is a Staff Therapist who'd love to blame his failing looks on some kind of clone degeneration but, alas, he's an original.
The Hype Box
Can't-miss news and updates from across the Marvel Universe!