Comics
Published June 21, 2017
Psych Ward: Spider-Man
HYDRA forces our resident therapist to profile Miles Morales!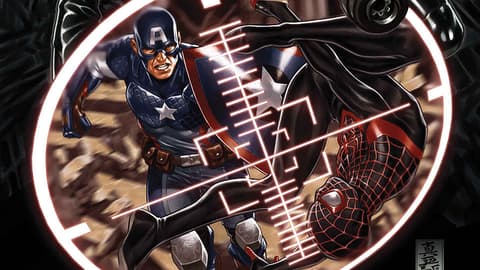 To begin with, I must renew my objections to this report. What is happening here is very nearly coercion and while this is not an ethical violation or illegal judging by current laws, statutes, or professional codes, it also does not feel necessary or oriented towards some kind of good outcome. While it has been made clear to me that my opinion on this matter has little weight, I nonetheless strongly urge this report be destroyed without review and that this practice end here and now.
Additionally estimating factors like future dangerousness, which is similar to what you are asking, are impossible without direct meetings with the subject. In other words, the information presented below is literally guesswork and may be more muddling than helpful.
The subject in questions is one of two individuals who identifies as Spider-Man and operates as a costumed crime fighter. This particular Spider-Man wears the black costume with red web markings.
The subject presents as male and, given his size and body type, is most likely a teenager. This matches the scant information provided to this writer by your organization, so I do expect it is accurate.
In the past several months, he has worked with the Avengers, the teen pacifist and recently discredited team known as the Champions, and on his own. He has engaged in a variety of conflicts including stopping so-called street level crime, super villain crime, and interceded in civil right issues in foreign nations. From this, it seems likely the subject tends towards idealism. It is possible, as well, that he may be amoral and just seeking conflict because of some desire for violence, but this would be highly unusual.
The subject does seem to have a preference towards teams and partnerships while acting as a super hero. This may indicate that he is seeking a stability in his "career" that he is not finding at home. There may be a variety of reasons for this including absentee or abusive parents, an inability to share his secret with his family, or a recent major loss in the family. Of course, it could also mean the subject has an excellent support system in his non-costumed life and therefore is drawn to similar situations while costumed.
To speak directly to the question at hand: does this writer think the subject is capable of the murder of Steve Rogers? I do not believe he is. Physically, it does seem possible; the client obviously possesses incredible strength and agility and reports indicate he might have some kind of ability to short circuit other's abilities for a small window of time.
Psychologically, however, it seems unlikely. The subject has no recorded instances of using lethal force at any point, no matter the danger of the situation or the state of his physical being in that moment. The subject has not sought out conflicts in any active way—for instance, as The Punisher has been known to do—and has even, at times, attempted to defuse situations before turning to violence even when initially engaged violently by someone else. Finally, all his known alliances have been with vigilantes who else do not employ lethal force, limiting the potential for him to have a sudden change of heart.
Therefore, I would suggest HYDRA's obsession with the subject—who, I stress, is most likely an adolescent—is unnecessary and ill-informed.
I have heard some individuals suggest that whatever report I deliver here is not to be trusted given my strenuous objections to doing it at all so I would also suggest reviewing Doctors Nick Spencer and Leinil Francis Yu's report on Spider-Man. It is available on July 26 in the file marked SECRET EMPIRE #7.
Psy D. Candidate Tim Stevens is a Staff Therapist who has never worn HYDRA green and never will.
The Hype Box
Can't-miss news and updates from across the Marvel Universe!