Comics
Published June 7, 2017
Psych Ward: Wiccan
A future version of Billy Kaplan swings by the office for some therapy!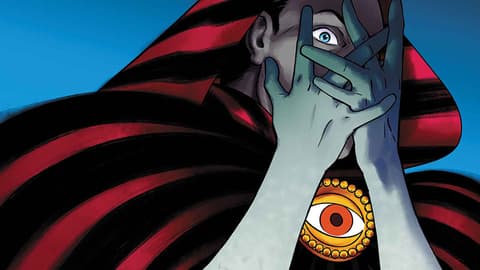 The client, William "Billy" Kaplan—known previously as both Asgardian and Demiurge, and currently as Wiccan—arrived at this writer's office after a long absence from therapy. Upon inviting Kaplan into the therapy room, however, it became clear that he was not the person I had previously worked with. My client was a late adolescent. "This" Kaplan presented as an adult. After much discussion, the client revealed that he was Kaplan but from a future and possibly alternate timeline. Recognizing roughly the era he found himself in, he decided to come to my office because he recalled a positive therapeutic relationship with me. He revealed he had a therapist in his proper timeline as well but that he was not me and his therapist was not yet active in my present. The client refused to explain why I was no longer seeing clients and I declined to pursue it further out of both respect for Kaplan and fear of what my own fate might be.
The client arrived with a file from his future therapist, a Dr. Robbie Thompson. The case summary read as followed: "Billy is one of the greatest Sorcerers in history. Everyone accepts this as fact, except Billy. He's never truly believed he was worthy of being Dr. Stephen Strange's successor to the mantle of Sorcerer Supreme, and I worry this self-doubt will prevent Billy from achieving the greatness we all know he's capable of, or, worse, put him in a position where his doubts about his abilities compromise his safety, or the world's."
This summary did not strike me as particularly surprising or unusual given the client's history. Previously, I had worked with him in processing the apparent death of a teammate—a death he felt tremendous guilt and responsibility for. Additionally, he was still working through the idea of being the result of the heroes Scarlet Witch and Vision's relationship as well as the twin brother of Speed and the fact that he could not bring his two biological—insofar as that term can apply to his creation—parents back together. Given his orientation towards a significant internal locus of control, it follows that he would feel tremendous responsibility to be a "perfect" Sorcerer Supreme and therefore feel significant apprehension at his inability to be flawless.
As time was at a premium, I chose to focus on validating his fears—as none of us are perfect—while challenging his overall assumption that perfection was a necessary, or, in fact, even desirable level to reach. We explored the impossibility of perfection and the ways in which striving for it—at the cost of ignoring improvement and advancement—is a negative not just for his overall mental health but also for his ability to grow as a wielder of magic and crime fighter.
Before leaving, we began to develop a "toolbox" for him to use to address and overcome feelings of being unworthy of his position as Sorcerer Supreme and general confidence issues in day-to-day life including thought stopping techniques and how to choose easy positive self-talk expressions that feel relevant enough to him to be effective.
While I recognized it was not entirely within his ability to choose, I encouraged him to try to make his next appointment with Doctors Thompson and Javier Rodriguez scheduled for July 12 and provided him a file, marked DOCTOR STRANGE AND THE SORCERERS SUPREME #10, to give to them when he next meets with them, updating them on what was discussed in this session.
Psy D. Candidate Tim Stevens is a Staff Therapist whose colleagues know him as The Therapist Extreme.
The Hype Box
Can't-miss news and updates from across the Marvel Universe!