Comics
Published September 7, 2017
Punisher: The Platoon Sketchbook
Goran Parlov on re-enlisting with Frank Castle.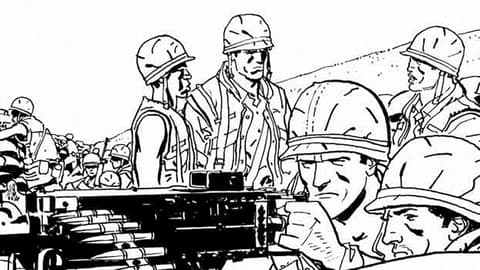 Before the skull, Frank Castle shipped off for Vietnam where his life changed forever. Surrounded by blood and death, the man who would become the Punisher witnessed the cruelty and awfulness the world had to offer, but also the power of violence.
Garth Ennis and Goran Parlov plan to explore these facets of Frank even further in the pages of the long-awaited, PUNISHER: THE PLATOON, debuting in October.
We talked with Parlov about tackling each script, drawing inspiration from everyday life and constructing a pre-Punisher Frank Castle.
Marvel.com: What is it about Frank Castle and his world that keeps capturing your imagination as an artist? 
Goran Parlov: I love the fact that he acts like a robot – the Terminator. Matter of fact, in the first issues I pictured him as the Terminator. He's all business, emotionless… Or at least it appears so.
He works in binary code, 1 or 0, plus or minus…guilty or not guilty, as simple as that. I love his steady, emotionless face, but with eyes that burn – the stare that scares you.
I took that from "The Terminator." The way Arnie stares at us, with that red eye. Wow, thats's it, you just freeze! It's even better when the endoskeleton does that. Frank, in my version, acts like the Terminator, thinks like him, walks like him.
Frank is the Terminator for me. Maybe the fact that I'd been working on the Terminator books right before I started my run on the PUNISHER MAX had some influence on me. Yeah, I am a big fan of the Terminator and it was just easy for me to adapt the things from the movies into the Punisher books.
Marvel.com: You mentioned that you often laugh when reading Garth's scripts. How do you translate that reaction on your part onto the page?
Goran Parlov: It is very positive thing for me. It means that the thing works. If I am the first to laugh, I know many others will too.
Usually I never read the whole script. I read it as any other reader, page by page, day after day. This way I allow the script to surprise me. And the emotions it gives me in that moment, I put them on the page right away. It's very immediate.
If I read the whole script, later I would only remember the emotions from when I first read it, not really feeling them. Yeah, sometimes I laugh, sometimes I am disgusted, some other time it's something else. But I always like to use those immediate emotions that the script gives me.
Marvel.com: This is a pre-Punisher Frank Castle, so what sets him apart from his skull-wearing future self?
Goran Parlov: This is a Frank Castle before the "anger." Before his family has been killed. So here he doesn't carry that frustration with him.
I hope that will be noticeable.
Marvel.com: Your characters are so expressive. How do you achieve that? Is it purely out of your imagination and sketching?
Goran Parlov: Yes, for the most part. The rest comes from observing the world. Or TV. Or magazines. Or comic books. The important part is not to observe comic books only.
Marvel.com: Do you use a mirror or photo reference of yourself?
Goran Parlov: No, I never had that habit. I don't even own a small mirror. I use photo references a lot, but I don't copy them. It's rare for me to find a photo that is exactly what I need. It's almost a curse. Happens that I always have to draw an object from a slightly different angle than it is on a photo, so that excludes copying the photo. In almost 90% of cases it's like that. I have the exact image in my head, and I don't want to change the image just because the object on a photo is taken from a different angle. So I render the things in my head and draw them from the angle I want.
Marvel.com: Do you use in-person models or get your hands on physical objects for reference?
Goran Parlov: I don't. Think I would feel uncomfortable having one in my studio. Or, at least not really focused on work.
As for weapon models, etc., I don't have them. The only models I have are one Dodge Charger from "The Dukes of Hazzard" and a Ford Capri, a car owned by my father and still in my garage. And a Tin Tin rocket model! Two of them! A bigger one and a smaller one. I did a variation of that rocket in my Starlight book. The Dodge Charger, I used it in my Terminator book. I really like that car, but it was way before I bought the actual model. I love cars. And my dream would be a Punisher book with lots of cars. Something like The Punisher meets "Mad Max 2," one of my all-time favorite movies.
Actually, now I remember… I had a small endoskeleton model that I borrowed from my friend. I used it a lot while working on The Terminator. And I took a hundreds of photos of it.
Marvel.com: What sort of approach did you take on character design for this book? It takes place in both the past and the present with soldiers in Vietnam who are later seen as veterans. Do you get your inspiration more from movies or television or just from people around you in Croatia?
Goran Parlov: Both, I think. One of the main characters has been inspired by Steve Buscemi, but after he went through all my filters he might have became completely unrecognizable. But the initial inspiration came from there.
I've been using Steve Buscemi as a starting point for a whole lot of characters during my professional career, but surprisingly all those characters went completely different in final versions that one would never say they all started from good ole Steve.
I don't want to look at his photos all the time. Or to copy those. A drawing often loses its energy when it's a copied photo. It is static, completely different from the rest of the book, because you try to copy all the information that's there on a photo – the things that you would never draw if you didn't see it on a photo. There's too much graphic information there. You need to synthesize those and make them coherent with the rest. And if an artist is not very skilled, the result might be scarce.
So, back to Steve; I see him, I do few sketches and then the character evolves, all by himself, throughout the book. I don't care if that's not Steve anymore. Another one of the four has been inspired by one of the bosses at my previous publisher. Some of my friends might recognize themselves here and there. Things like that. You never know where an inspiration might come from. It just strikes you.
Marvel.com: Who are your biggest influences? I see some Alex Toth, some Moebius… a little Milt Caniff? Some Hal Foster?
Goran Parlov: Alex Toth, Jean Giraud – Moebius, Alfonso Font, Bernet, Frank Thorne, Frank Robbins, Ernesto Garcia Seijas, John Romita Sr, John Prentice, Jim Holdaway, John M. Burns, Romero, Angelo Stano, Sergio Tacconi, Duncan Fegredo, … and billions of others. Those are my top. But I actually often find myself learning something even from the artists that I consider bad. You can always pick something good even from the worst artist in the world.
PUNISHER: THE PLATOON #1 by Garth Ennis and Goran Parlov ships off on October 4.
The Hype Box
Can't-miss news and updates from across the Marvel Universe!