Comics
Published September 5, 2017
Raising Hell: A Spirits of Vengeance Sketchbook
Open up artist David Baldeón's dark book of demonic drawings!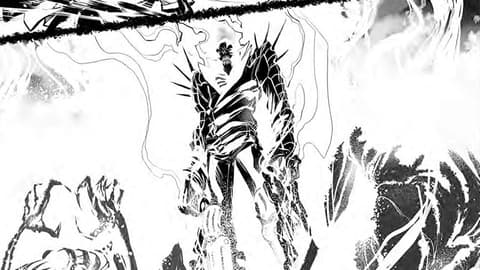 What do Satan's kids, a flame-headed demon, and a vampire hunter all have in common? They intend to keep the balance between heaven and hell as seen in the October 4-launching SPIRITS OF VENGEANCE.
Written by Victor Gischler and drawn by David Baldeón, the five-issue limited series will bring Johnny Blaze's Ghost Rider together with Blade, Satana, and Daimon Hellstrom to stop a mysterious force from using an incredibly powerful weapon to plunge existence into chaos.
We talked with Baldeón about bringing his unique vision to these denizens of the dark and digging into the horror genre with an expert like Gischler!
Marvel.com: You've drawn a lot of different books in a lot of different genres. How has the supernatural/horror corner of the Marvel Universe been treating you?
David Baldeón: So far, so good! Horror is not the first thing that comes up when I think about my work so far—except maybe for ZOMBIES CHRISTMAS CAROL—but it sure feels good to stretch my horror fan legs a bit and see how I adapt to it.
I [grew up on], like any decent 80s kid, on my fair share of gory VHS tales, and quite a few of them come into play for this SPIRITS OF VENGEANCE run. Add to that the fact that I'm working with some of the very best supernatural characters around, which happen to inhabit the Marvel Universe and, well, I'm having much more fun than the guy who did the art for MARVEL TSUM TSUM should be allowed to be having!
Marvel.com: Did you look back to any of these characters' previous runs to get a better feel for them?
David Baldeón: A little bit, mostly their more recent runs and appearances, just to keep in tune with what they look like nowadays and build on that. Their classic runs were of course present, because they have been part of my comic book diet consistently. I have had a Ghost Rider and a Hellstrom and a Blade version of mine in my head for a long long time. When this book came along, I just had to articulate them into the tale that Victor had come up with. Funny thing is what I had in my head seemed to work perfectly with what was written in the scripts!
Marvel.com: When we first talked about this book, you sounded very excited about the designs for the villains. What can you tell us about that process?
David Baldeón: As usual, it all comes from the script. Victor's story is wonderfully layered, and the influences and connections it requires are the best ground for some very rich design work. Plus, as I mentioned earlier, it all seemed to work perfectly with the versions of the characters that I have had in my head as a fan for years.
For instance, Daimon Hellstrom, as described for this book by Victor, is very much a James Bond of the supernatural, which allowed me to weave his signature pentagram into the most dapper-looking suit I could design. And just with that the character is both designed and described visually! Our Rider is not too different from his classic look, but my long-time dream of drawing him as a death metal version of Jack Skellington worked perfectly with the look our demons needed.
And of course in my head they all came from more or less the same place, so it made sense that they shared an elongated, unnatural look. The book is filled with these little visual motifs, small clues and connections that I hope will help give it a distinct tone and a visual identity that is up to the story's standards. And then there are the design candy characters and environments that I get to draw in every single issue, that of course I cannot comment on without going into full spoiler mode. But I'm sure they will be easily identified when the book is released.
Marvel.com: When it comes to figuring out some of the more supernatural-heavy scenes in the series, does the script have a lot of detail or does that come from you?
David Baldeón: Just the right amount of detail to let me run with it. Victor lets me do the groundwork on the visual storytelling, but of course that's really easy to do when the script is so well crafted and the characters so wonderfully fleshed-out. I have tried to add to that, of course, and have tried to give each scene a different tone and use different visual narration techniques, depending on which character "carries" it. Which, again, is easy when the characters are so well written.
And by the way, I can't say enough either about Andres Mossa's gorgeous work on color. Andres' lighting of all scenes in general—and the most gruesome and terrifying ones in particular—certainly close the deal. Not only do the pages look gorgeous, they're pitch-perfect. If this was a movie, we could not have a better Director of Photography.
Marvel.com: Victor's done a lot of work in the horror space. Would you say that came through in the scripts you used to draw the issues from?
David Baldeón: Forgive me the pun, but hell yeah. Victor sure knows his horror, and he is playing the classics and the references to my absolute delight, and most assuredly, the readers'. But he's not just playing clichés or tropes, he's using the basic and best rules of the genre to expand that supernatural corner into a wonderful wide playground. And best of all, what he's doing—and hopefully I'm bringing it through with the art—follows what every good horror author knows: that it all works through and for the characters.
SPIRITS OF VENGEANCE #1 from Victor Gischler and David Baldeón burns its way into your hands on October 4!
The Hype Box
Can't-miss news and updates from across the Marvel Universe!