Comics
Published September 15, 2017
Remembering Len Wein
The global comic book community celebrates the life of the iconic creator.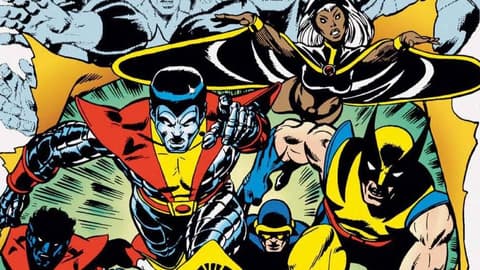 Additional reporting by Maggie Klimentova
The news of Len Wein's passing rocked the comic book world this week—and people everywhere shared their stories in honor of his memory.
Writers, artists, creators, and fans spoke about how he dreamed up so many cherished characters and comics; how he enriched and influenced so many lives along the way. Wein—the man who conceived of iconic Marvel heroes like Wolverine, Storm, and Colossus—shaped generations of creators who came after him.
Beyond the emotional depth and humanity he expressed on the page, Len Wein stood as a kind, generous spirit beloved by his peers. His colleagues universally remembered his bold spirit and giving nature, his humor in the face of adversity. Their words and memories represent a testament to his legacy.
RIP the great Len Wein, co-creator of Wolverine, Swamp Thing and Human Target, architect of the British Invasion & a truly wonderful man.

— axel alonso (@axelalonsomarv) September 11, 2017
Saddened by the loss of my friend @LenWein. I knew him less for his legendary output, & more for his warmth & inquisitive smile. #RIPLenWein https://t.co/YyhKoiDMlR

— Bear McCreary (@bearmccreary) September 10, 2017
R.I.P. @LenWein #LenWein #DC 11×17 India ink/ acrylic/ pencil/ spray paint pic.twitter.com/R0O0OTdsjG

— Bill Sienkiewicz (@sinKEVitch) September 12, 2017
Len Wein, co-creator of WOLVERINE and SWAMP THING & more responsible for the x-men you love than he gets credit for. Thank you. #RIP

— BRIAN MICHAEL BENDIS (@BRIANMBENDIS) September 10, 2017
One of the industry's best writers.
One of the industry's best editors.
One of the industry's best people.
RIP @LenWein.

— Fabian Nicieza (@FabianNicieza) September 10, 2017
Rest in peace and thank you so much, Len Wein. pic.twitter.com/ULLXr1CCJV

— Greg Pak (@gregpak) September 10, 2017
Blessed to have known Len Wein. I first met him in 2008. I told him – from his heart, mind & hands came the greatest character in comics. pic.twitter.com/cFqL1uy0JV

— Hugh Jackman (@RealHughJackman) September 11, 2017
Today's warm up sketch is all about saying thank you. #RIPLenWein pic.twitter.com/1AhPHQpwCb

— Joe Mulvey (@JoeMulv) September 12, 2017
Co-created Wolverine & the new X-men. Co-kickstarted the modern comic book era with its most powerful metaphor. And more. RIP Len Wein. pic.twitter.com/TSiWChvfdI

— Joss Whedon (@joss) September 10, 2017
R.I.P. to comic book legend LEN WEIN, co-creator of not only Wolverine but also one of my favorite characters of all time, the Swamp Thing.

— KevinSmith (@ThatKevinSmith) September 11, 2017
RIP the great #LenWein. He co-created Wolverine & Swamp Thing, both of which gave me a living as a writer & endless pleasure as a reader.

— Mark Millar (@mrmarkmillar) September 10, 2017
I just learned that my friend and writing inspiration @LenWein passed away this morning. My love and condolences to his wife, @mcvalada.

— Neil Gaiman (@neilhimself) September 10, 2017
Farewell to Len Wein. I devoured his runs of Swamp Thing, Amazing Spider-Man, Fantastic Four, Incredible Hulk and Marvel Team-Up in the 70s.

— Peyton Reed (@MrPeytonReed) September 10, 2017
Heartbroken to hear my friend, my old boss, the man without whom, Len Wein has passed. I would not be who I am without having known him.

— Scott Edelman (@scottedelman) September 10, 2017
Len Wein. The fanboy made good, made legend. Co-creator of Swamp Thing, Wolverine, editor of Watchmen, writer of, well, everything. RIP. pic.twitter.com/ZYhDK7uOuH

— Tom King (@TomKingTK) September 10, 2017
Our old pal, Len Wein, caught the last train out. Much will be said of him; I'll just say I loved him. Godspeed.https://t.co/4DYfnWfTRS

— Walter Simonson (@WalterSimonson) September 10, 2017
Len Wein's legacy will endure in both the hearts of the community that celebrates him and in the characters whose stories will live on forever.
The Hype Box
Can't-miss news and updates from across the Marvel Universe!