Comics
Published December 2, 2016
ResurrXion Files: Iceman
A charter member of the X-Men receives his first ongoing series by Sina Grace and Alessandro Vitti!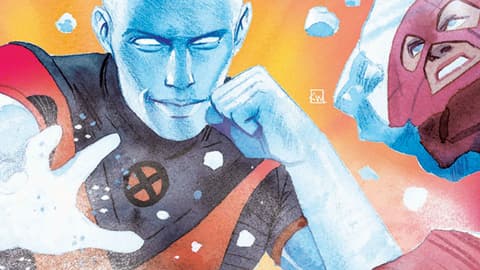 Bobby Drake's never had it easy. Protecting a world that hates and fears mutantkind and all that saving the world stuff meant he never spent too much time focusing on the man beneath the ice.
Coming up in ICEMAN, Sina Grace and Alessandro Vitti chip away at what makes Bobby Iceman while forcing him to come to terms with some of the hard truths revealed by his time-displaced younger self. We talked with Sina about his work on the book and where he plans to take the original king of cool.
Marvel.com: Older Bobby's been having a tough time dealing with his role as an X-Man, his personal life, and coming out as gay. What was most important to you about writing this new chapter in Iceman's journey?
Sina Grace: The most important thing for me is making a book that I feel stays true to the X-Men legacy, and honors Iceman's history. Editor Daniel Ketchum and I both think there's a great story to tell with the older Bobby Drake facing himself in the mirror and making the decision to step up and use this as a way to become a greater hero. That, and making people laugh. I want to make readers LOL IRL.
Marvel.com: Can you talk a little about the dynamic between the elder Iceman and Iceman the Younger? What exactly is happening there?
Sina Grace: What I've seen of their interactions to date, the two have the best relationship between all off the [original five time-displaced] X-Men and their older counterparts. There's a lot of mutual pride going on; a lot of brotherly love vibes. They both have a lot to learn from each other, and it'll be cool to show how that reflects on the super hero side of things as well as the personal side.
Marvel.com: Watching young Bobby go after what he wants, older Bobby's feeling like he needs to get his life in gear. Does he have a plan yet or is he ice sliding by the seat of his pants?
Sina Grace: Without spoiling much, there's a little of the former and the latter! I will say that there's no clear "hero quest" waiting for him, which is what I'm sure Bobby would prefer than the work he actually has to do. There's tons to explore with his powers, too. What does hiding a secret from yourself do to your own potential, y'know?
Marvel.com: What kind of challenges lie in Bobby's path? I'm assuming we're going to see some super-powered slugfests, but are there subtler obstacles he'll have to deal with?
Sina Grace: We'll be seeing some familiar bad-guy faces—and some new ones who will make Bobby's life pretty tough. I'm allowed to say that Juggernaut will be crashing his way into an earlier issue of the series! The biggest obstacle that I feel Bobby has waiting for him is dealing with his parents. Anyone who knows Bobby's dad knows that the man does not like when anything is outside of his comfort zone. I'll leave it at that.
Marvel.com: And with the revelation that Iceman is in fact gay, would it be fair to say the book will look at a lot of the coolest X-Man's relationships and how they might change?
Sina Grace: What's nice about this being an X-Book, is about the power of finding acceptance in the face of adversity. Bobby's friends will always be his friends; but some folks will have reactions. There's going to be an ex-girlfriend or two that he'll have to have a difficult talk with. That's all I can say without spoiling the fun we have in store for readers.
Marvel.com: And please tell me we'll be watching as Bobby dives into the dating scene?
Sina Grace: You better believe that we'll see Bobby try his hand at dating! The thing to keep in mind is that he's only just dealing with that part of his identity, so he won't be quite as confident in getting what he wants the same way his younger self is. This is a Marvel book, so we're having a great time working out how Bobby will find romance, hurdles [and] all! Iceman can save the world from all kinds of pending doom, but can he even lock down a first date?
Marvel.com: Finally, I know I'm going to be reading ICEMAN, but why should everyone else pick it up?
Sina Grace: At its heart, ICEMAN is going to be everything that is to be adored about an X-Men title: It's funny, it's got action, and there'll be lots of feels. Alessandro Vitti is one of the most dynamic storytellers in Marvel's stable right now, and he's pushing my imagination to new heights.
Follow Marvel.com and our social channels for the latest on ICEMAN and the rest of ResurrXion!
The Hype Box
Can't-miss news and updates from across the Marvel Universe!