Comics
Published January 25, 2019
Return of Dormammu
Relive when Doctor Strange went up against his greatest enemy!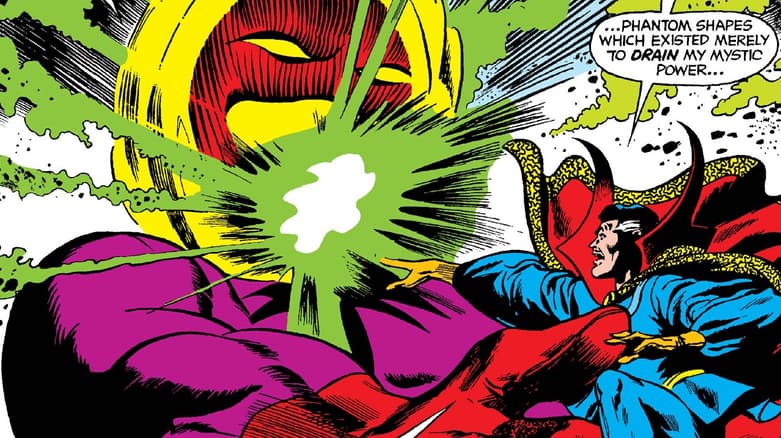 Doctor Strange debuted in and hung around STRANGE TALES for half a decade before graduating to his first solo series in 1968. DOCTOR STRANGE picked up the numbering from the previous title even though TALES continued on itself with new star Brother Voodoo.
DOCTOR STRANGE #169-174 featured stories written by Roy Thomas and drawn by masters of the artistic arts like Dan Adkins, Tom Palmer, and Gene Colan. These luminaries of their craft not only launched Stephen in his own series, but also brought back the likes of Dormammu, Nightmare, Clea, and even Victoria Bentley who first appeared in STRANGE TALES #114.
As you might expect, the first issue recounted Strange's origin as first seen in STRANGE TALES #115, but with a new flourish and depth from Adkins. In the following issue, Strange entered the mind of the Ancient One to expel his very first on-page enemy, Nightmare, from the cranial realm.
By #171, Strange decided to track down Clea. He appealed to the Herald Satannish to find her location which turned out to be The Realm Unknown. Though the Herald refused to take Strange to Clea, he did hint that he would need the help of a woman who turned out to be none other than Victoria Bentley.
In his search for Clea and the kidnapped Victoria, Strange ran into none other than Dormammu! Even though he seemed to perish in a battle with Eternity back in STRANGE TALES #146, the demonic entity appeared in the Realm Unknown where he eventually became ruler and stumbled upon Clea. Knowing that his nemesis would eventually come looking for the woman, he planned and waited to return to our world.
Doctor Strange used a combination of arcane skill and knowledge to give Dormammu exactly what he wanted, but with unexpected results. See, back in STRANGE TALES #127, Strange beat Dormammu and made him pledge never to invade Earth. Once he did, the monster returned to his home dimension to plot his next attack.
Back in Greenwich Village, Strange seemed less than thrilled about bringing Clea back, though he and Wong set her up with a place of her own. Victoria also felt less than enthused about the success of their mission as she'd developed strong feelings for the Master of the Mystic Arts.
Opening the Book of Vishanti
So, here's the deal on Doctor Strange's white-haired lady Clea: she debuted in STRANGE TALES #126 by Stan Lee and Steve Ditko, mostly following the good doctor around as he vanquished Dormammu's minions in her home dimension. In the following issue she gave Strange a tour of Dormammu's domain—including the first appearance of the Mindless Ones—before he battled the dreaded one. Later, in STRANGE TALES #150-155, the Ancient One placed Clea in a pocket dimension to save her life which turned out to be the Unknown Realm that Stephen found her in as his solo series kicked off.
The Hype Box
Can't-miss news and updates from across the Marvel Universe!