Comics
Published March 14, 2019
Revisit Bêlit's First Appearance in 'Conan the Barbarian'
After she was a pulp heroine, the Queen of the Black Coast made waves in Marvel Comics!
Earlier this year, Conan the Barbarian made his triumphant return to Marvel, continuing the comic book legacy of Robert E. Howard's iconic creation at the House of Ideas. But Howard's female warriors were equally fierce and memorable. Conan fought alongside women and battled evil sorceresses and fallen goddesses, but Bêlit was in a class all by herself. She was Conan's lover when she made her first appearance in 1975's CONAN THE BARBARIAN #58, but never anything less than his equal. In fact, not even Conan could deny Bêlit's command of the high seas.
This week, Marvel reintroduced the She-Devil of the Sea in AGE OF CONAN: BÊLIT, QUEEN OF THE BLACK COAST #1. Tini Howard and Kate Niemczyk teamed up to give Bêlit an expanded origin story in this five-issue miniseries. For the first time, we'll see Bêlit as a teenager whose love for the sea sends her on an unforgettable adventure. But it's not the first time Marvel has told Bêlit's story.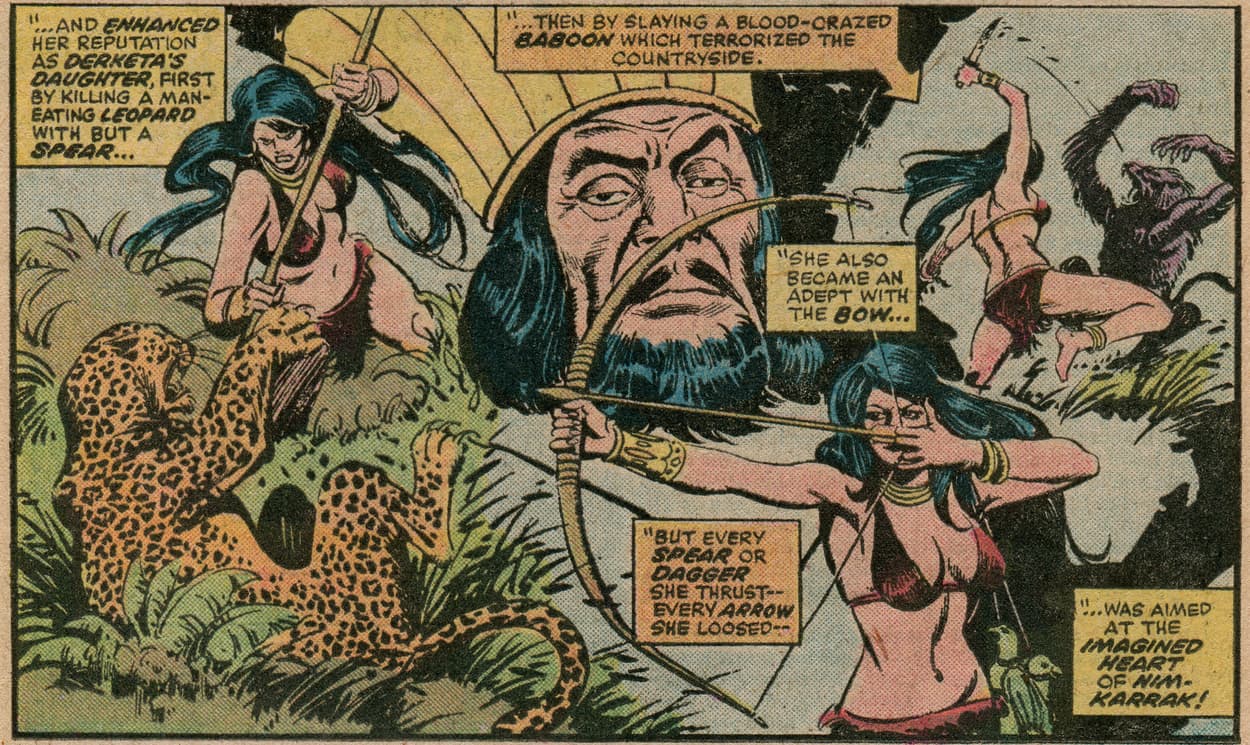 CONAN THE BARBARIAN #59 was the second part of Marvel's QUEEN OF THE BLACK COAST adaptation, which introduced Conan to the love of his life. Roy Thomas and the late John Buscema revealed in this version of her origin story that Bêlit's father was a king until his brother betrayed the kingdom to Stygians. Bêlit's guardian, N'Yaga, spirited her away and raised her among his tribe. N'Yaga promised his people that Bêlit was divine, and she lived up to that reputation when she came of age. Bêlit personally retrieved the Silver Eye of Dagon from the monstrous Mound-Dwellers. After that, even Bêlit's biggest detractor was forced to admit her divinity.
The newly-minted Queen of the Black Coast first came across her future companion in CONAN THE BARBARIAN #58 when they fought on opposite sides during a battle at sea. Just a few minutes of watching Conan in action was enough to convince Bêlit that he would be hers. Conan was particularly taken aback by the reactions of Bêlit's crew. They worshipped her so completely that they would die for her. And eventually, they did.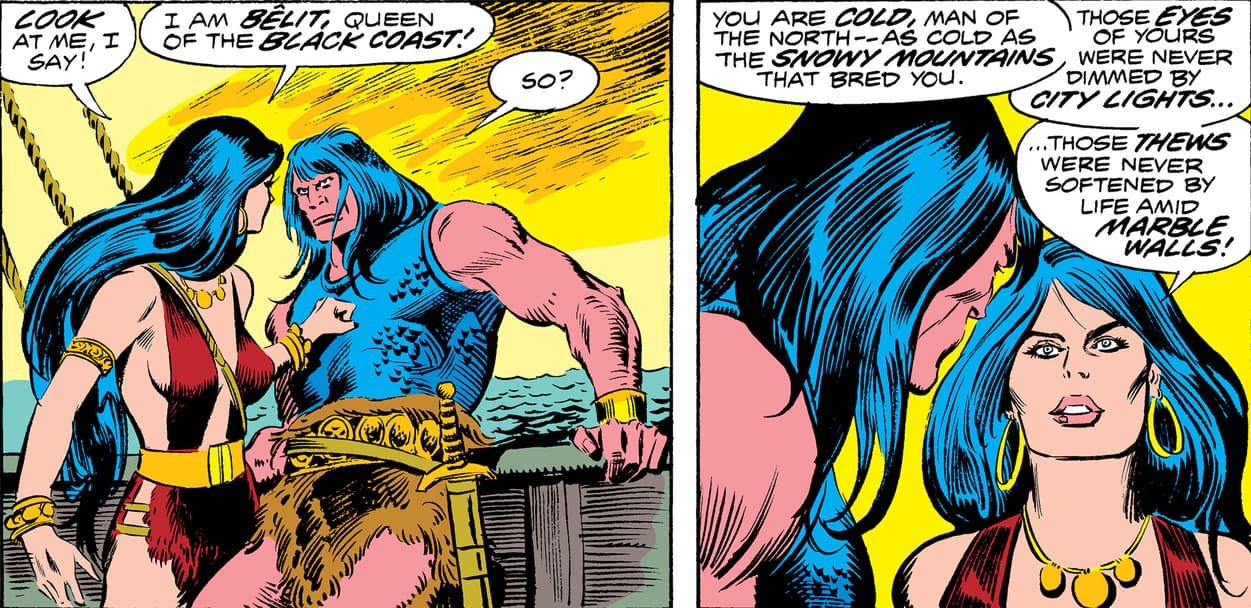 Howard only wrote one story with Bêlit, but Thomas wisely decided to keep Bêlit around. So instead of making only a cameo appearance in Conan's life, Bêlit had a sustained presence in Conan's title for the better part of forty issues. Bêlit even met a certain flame-haired She-Devil, who was also known to be one of the greatest warriors of her era. Both women were present when Conan faced the legendary King Kull, in CONAN THE BARBARIAN #68's time-bending adventure that featured several of Howard's most memorable creations.
The dynamic between Bêlit and Conan was quite interesting. On Bêlit's ship, the Tigress, her word was law, and even Conan followed her lead. On land, it was a more equitable partnership, and Bêlit never let Conan forget that she was just as formidable as he was. They were such a strong unit that kingdoms rose and fell around them. They could have stayed together forever as a legendary duo.
But everything ends eventually – and tragically. In CONAN THE BARBARIAN #100, the demise that Bêlit had evaded in QUEEN OF THE BLACK COAST finally caught up with her and her crew. Only Conan was left alive against a strange creature that resembled an ape with wings. Bêlit had promised that she would protect Conan, even in death. Somehow, she kept that promise, as an apparition of Bêlit distracted the creature long enough for Conan to avenge his loss. Conan placed Bêlit's body on the Tigress and let the ship serve as her funeral pyre. Conan eventually took on other lovers, and even a queen when he became king. But there was only one Bêlit. No one else came close.
The beautiful thing about comic book adaptations is that they don't necessarily have to follow the original story exactly. Who is to say that Bêlit's ultimate destiny is death? AGE OF CONAN: BÊLIT, QUEEN OF THE BLACK COAST #1 is the start of a new chapter for our favorite warrior. In this new incarnation, Bêlit enjoyed years of adventures before she even met Conan. And we can't wait to see where her path leads.
AGE OF CONAN: BÊLIT, QUEEN OF THE BLACK COAST #1, written by Tini Howard with art by Kate Niemczyk, is available now online and at your local comic shop! You can also pre-order your copy of AGE OF CONAN: BÊLIT, QUEEN OF THE BLACK COAST #2 today!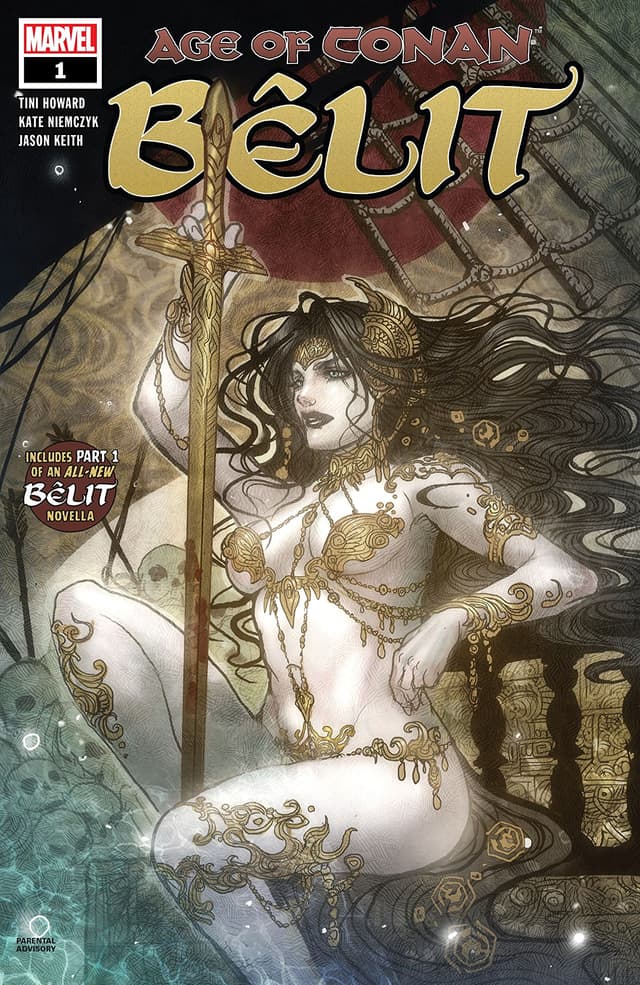 The Hype Box
Can't-miss news and updates from across the Marvel Universe!