Comics
Published June 10, 2020
Revisiting 'New Warriors' in the '90s with Artist Darick Robertson
Read the original series on Marvel Unlimited today!
Take a guided tour of Marvel's mightiest creators with Marvel Tales! Ben Morse, currently a visiting lecturer at UNLV, previously spent a decade working within the House of Ideas. In each installment of this series, he utilizes that insider knowledge—plus his lifelong fandom—to connect with comics professionals as they spin stories about the Marvel Universe and its inhabitants!
When it comes to comics, the name "Darick Robertson" conjures up the sterling reputation of a well-respected professional amongst fans and peers. Highly regarded for turns on WOLVERINE (2003) and NIGHTCRAWLER (2004) as well as mature takes on Nick Fury and the Punisher plus legendary projects elsewhere in the industry, Robertson catapulted to Marvel superstardom when he took over artistic chores on the original volume of NEW WARRIORS in 1992 with issue #26.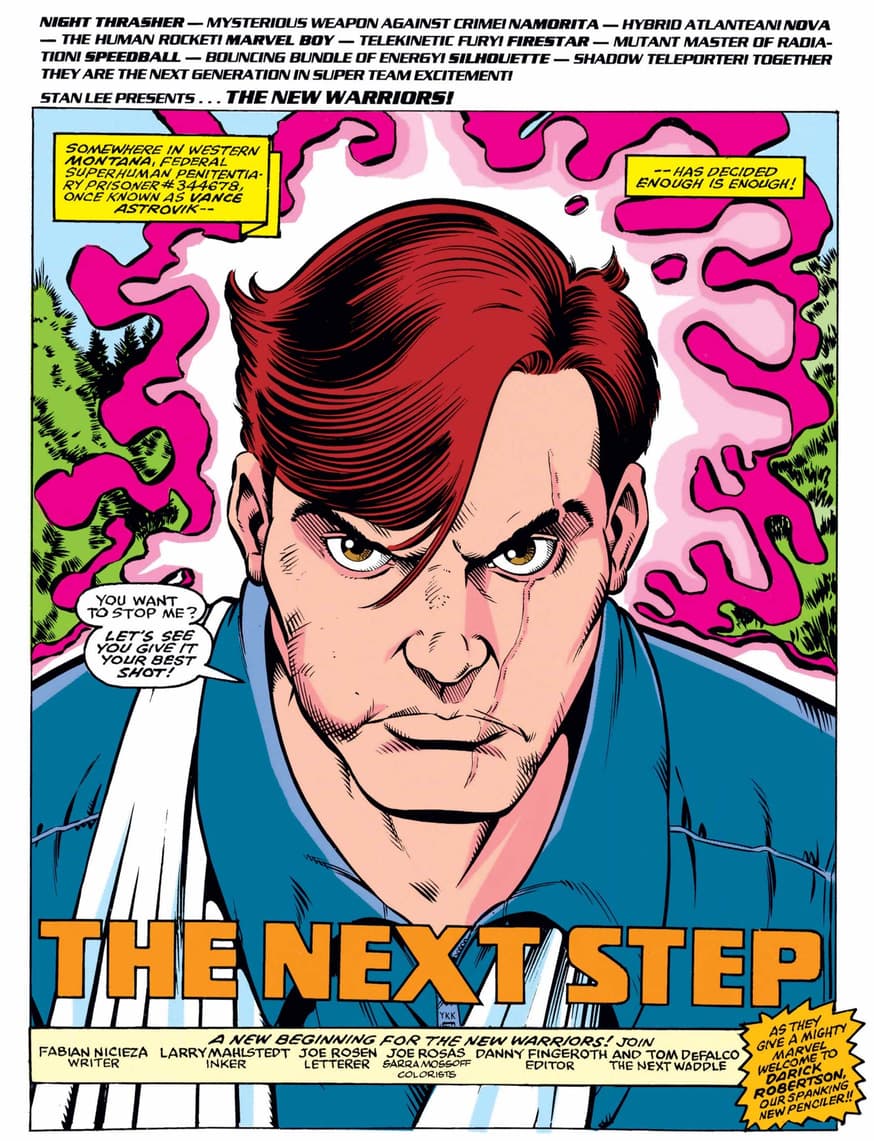 "[Original NEW WARRIORS artist] Mark Bagley was about to depart to take over as the regular artist on AMAZING SPIDER-MAN and I had a good relationship with [the book's writer] Fabian Nicieza at the time," relays Robertson. "Editor Danny Fingeroth had me create a couple of audition pages without a script, just asked me to have Spider-Man fighting the New Warriors. I did the audition pages, eager to have a monthly gig, and even though Danny didn't like them—I didn't either to be fair—he saw the other work I was doing on WONDER MAN ANNUAL #1 and such at the time, and gave me the gig anyway."
While Darick feels it took him a few issues to find his footing with the Warriors, the chemistry with Nicieza and Fingeroth existed immediately, as "[he and] Fabian remain great friends to this day." The artist "really enjoyed the run" claiming he "was given a lot of room to grow."
While team leader Night Thrasher had recently launched a solo series and thus remained off limits for visual reimagining, over his time at the Crashpad, Robertson would tweak Nova and Firestar, plus completely revamp Marvel Boy and Namorita as Justice and Kymaera. "I absolutely loved drawing Speedball and Rage together," he adds. "I wanted to do my own spinoff book about them. I even wrote a couple of Speedball solo tales for the annuals."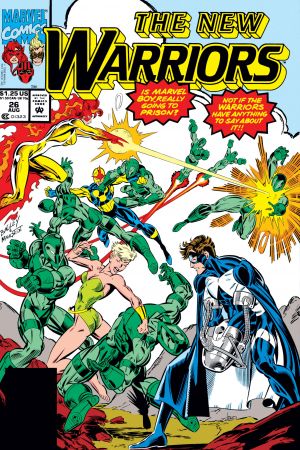 New Warriors (1990) #26
published

added to marvel unlimited

penciler

penciller (cover)

letterer

colorist

inker

writer
What is Marvel Unlimited?
As far as standout storylines, he remembers the "Family Values" arc from issues #37-39 wherein a street gang called the Poison Memories targeted the team through their families, even killing Rage's grandmother, as a high point. "It had a lot of emotion and Rage really developed as a character through that.
"I also revamped Speedball and Rage," he continues. "Along with a streamlining of his costume, I gave Speedball a leather trench coat as a bit of a gag to the mid-90s trend of all the Marvel heroes suddenly wearing jackets. A long coat on Speedball was my idea of Robbie Baldwin trying to fit in and be cool, even though a long coat with his powers was rather impractical."
Before wrapping up with the extra-sized issue #50, which culminated the "Time and Time Again" epic featuring the time-traveling Sphinx, Robertson steered the Warriors through INFINITY WAR, co-created Turbo and Darkling, took Nova to space and back, and gave his own takes on Spider-Man, X-Force, and more along the way.
"It was a crazy time in comics and I was young and eager, so I was getting a lot of opportunities to work for some new emerging companies, like Malibu's Ultraverse, and design and create new characters," Darick declares in reference to his eventual departure from NEW WARRIORS. "Meeting the monthly deadlines with my workload was getting more difficult, so I was looking to have more flexibility. I loved the book and working with Fabian, but he was ready to let it go as well after 50 issues. 25 issues seemed like a nice even number.
"I'd still love to do a reunion story, set in the '90s timeline, just to revisit those characters with Fabe and bring my decades of art evolution to the page and draw the Warriors again."
Relive the '90s with Darick Robertson's work on NEW WARRIORS (1990) from issue #26 forward. Also check him out on the early arcs of WOLVERINE (2003) and the full 12-issue run of NIGHTCRAWLER (2004)!
The Hype Box
Can't-miss news and updates from across the Marvel Universe!