Comics
Published April 11, 2018
Rewriting Captain America History
Mark Waid tells a new story with original artwork from Jack Kirby!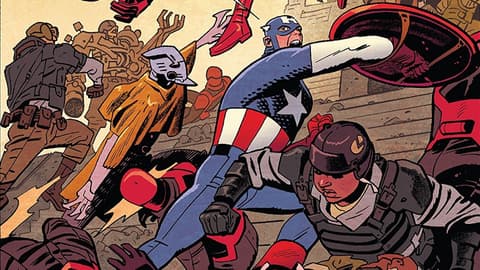 The main story in CAPTAIN AMERICA #700, by storytellers Mark Waid and Chris Samnee, colorist Matthew Wilson, and letterer Joe Caramagna, serves as a powerful culmination of this creative team's run alongside the Sentinel of Liberty. But these all-star artists aren't the only ones getting in on the landmark issue action! The Cap's co-creator, Jack "King" Kirby himself, contributes to the action as well in a special bonus story written by Waid with colors by Wilson!
In the back of issue #700, Mark Waid took on the mammoth task of repurposing original Jack Kirby and Frank Giacoia art from TALES OF SUSPENSE with a brand-new Steve Rogers story. To get the all the details, we caught up with the writer to ask how he went about creating this cross-generational collaboration.
Marvel.com: How did you come up with the idea for this one-of-a-kind story?
Mark Waid: I've been wanting to do something like this for a long, long time. In the earliest days of the MARVEL ESSENTIALS black-and-white volumes, I came to realize just how many Silver Age and Bronze Age comics artists produced consistent and reliable work in an old-fashioned six-panel grid. To be honest, there weren't that many who did huge, long, hundreds-of-pages uninterrupted runs in the 1960s and 1970s—John Buscema, Jack Kirby, Steve Ditko, Gene Colan, a few others. But I'd always wondered what it would be like to redialogue their material to create new stories—especially if I could pick-and-choose specific panels to build brand-new pages.
Marvel.com: Can you tell us what your process was like?
Mark Waid: Way more complicated than you'd think.
STEP ONE: I had to pick a character, but that was a gimme seeing as how this was going to be for CAPTAIN AMERICA #700.
STEP TWO: Before I even began choosing the artwork, I had to settle on one and only one penciller/inker team for visual consistency. This immediately winnowed down the number of available Captain America pages pretty substantially—inkers like Syd Shores and Dick Ayers were fine craftsmen, but their work was either too sparse (comparatively) or too centered on very specific scenes (say, World War II battle scenes) that would be difficult to weave into a modern narrative. In the end, based on the volume of collaboration as much as anything, I opted to pull from the Jack Kirby and Frank Giacoia stories from TALES OF SUSPENSE.
STEP THREE: I had to narrow the available Kirby/Giacoia artwork down even further, in search of panels that had word balloons and captions that didn't hide important background art and thus wouldn't require much if any retouching by the production department. I didn't want to simply "white out" existing balloons and replace that dialogue—that would mean having not only to write dialogue but then to fit it within specific spaces on the page, with almost no margin for error. What I'd already set out to do would be hard enough. Moreover, I needed panels that would fit into a Silver Age-style six-panel grid—panels of wildly differing sizes would be impossible to jigsaw-puzzle together.
STEP FOUR: I had to look over all the existing pages and, while making detailed notes, get a sense of what kind of story might be told with the artwork at hand. There were a lot of pages of Cap simply fighting modern-day villains in the streets and buildings of New York City. Suppose Cap were racing across Manhattan, facing some sort of gantlet put before him by the Red Skull? If so, why? There were some panels I could use of scientists in a lab. Perhaps Cap was struggling to get something to them? How would the menaces he'd face connect to be part of a cohesive story?
STEP FIVE: All of this left me with roughly 150 pages of artwork from which I could choose panels. I'm pretty versatile in Photoshop and could have begun cutting and pasting on the computer—but at this stage, it was just easier and faster to stay old-school. I printed every page out with my inkjet printer, got out scissors, X-Acto knives, and a cutting mat and built a deck of panels to play with, moving them around constantly in search of building some continuity.
STEP SIX: A rough narrative began to take shape. Here's a good sequence with Cap fighting the Super-Adaptoid, but I can't imagine a way to put that villain in the middle of a story and not see him defeated; out it goes. Here's a run of panels showing Cap fighting a soldier with a raygun back in World War II—is there anything specific in the artwork that locked it into the 1940s? No? Can those panels be incorporated and juggled?
STEP SEVEN: The selection of potential panels grows smaller. Repetitive action poses? Out. Random gunmen just appearing and then disappearing? Out. But I'm finally zooming in on around 50 panels that could tell a story about Cap racing across New York to get to an injured S.H.I.E.L.D. agent in a lab. Hey, look! Here's the only usable panel that might show such an agent. It's from much later in the Captain America run, meaning the linework was a little bolder but not uncomfortably so, that'll fit nicely. Huh—I have a dozen Red Skull panels here—which two or three would make him a presence in the story without having to have him confront Cap directly?
STEP EIGHT: The rough-draft paste-up was done with scissors and tape to arrange the panels into a Silver Age-style grid. I scanned the pages for the Marvel production offices to use as a guide, providing them also with identification as to where each and every panel came from, specifically.
STEP NINE: Production's ten dialogue-and-caption-free pages come back for dialoguing, and I finally get to work with The King.
Overall, the project took about three days—one to go over the material, one to think up a story, and one to do the actual physical production. It was much more difficult to do than I'd dreamed—but with the right artist (Steve Ditko? Jim Aparo?), it might be fun to take another swing at it down the road.
Read the full story in CAPTAIN AMERICA #700, by Mark Waid and Chris Samnee—out today!
The Hype Box
Can't-miss news and updates from across the Marvel Universe!