Comics
Published June 19, 2017
Riding the Edge of Venomverse
Symbiote and Spirit of Vengeance mix as Ghost Rider goes Venom!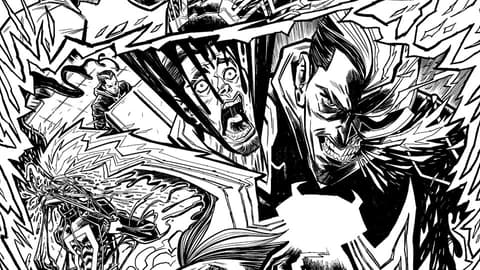 Simon Spurrier and Tigh Walker just might tip the scales in favor of the symbiotes in the pages of EDGE OF VENOMVERSE #3. The July 26-dropping issue brings a new Venomized character into the fold: Ghost Rider! With the Spirit of Vengeance, otherwise known as Robbie Reyes, on the side of the symbiotes, it may seem impossible for the good guys to pull out a win—but we've got faith in them.
While we wait on the big event, we talk with Walker about bringing these two deadly designs together, working towards a monumental story, and working with Spurrier!
Marvel.com: When creating the look of this symbiote-possessed Ghost Rider, what were the key elements of each individual icon that had to come through in the finished product?
Tigh Walker: One thing that I really hoped to carry over from both characters was that slick black oiliness against those clean, crisp white designs. From Venom, the spider, and from Ghost Rider, those bold blocky lines. So I tried to combine those two iconic shapes into something new but familiar for the Host Rider.
More specifically, I really wanted to include Venom's tangle of teeth, tentacle-y tongue and scraggy eye shape.
Then, I was also looking to borrow Ghost Rider's skeletal schnoz, cheek bar thing—I don't know what it is but I dig it!—and that fountain of forehead flames.
I really wanted to make him something you might actually be scared of if you met him in real life. I mean, I'm sure if you met him in real life he'd be totally disarming. His name would be Stu or something, and he'd be a dentist or an accountant and he'd have two corgis, a favorite movie, and a song that made him cry every time he heard it; he'd be a lovely guy. But because it's not real life and both Venom and Ghost Rider are a tad horrifying on their own, it was important that that quality be mirrored in the Host Rider.
Marvel.com: How was the actual design process for this combined character? Was there a lot of back and forth about getting him to look just right?
Tigh Walker: My first impulse was to go out, grab a Ghost Rider and a Venom costume, put them on at the same time, stand in front of the mirror, take some pics and send them to [editors] Devin [Lewis and] Allison [Stock] for feedback. But the sales clerk thought I was saying denim, not Venom, and basically I got some sweet jean shorts that I didn't want instead.
I'm just kidding. I totally wanted the jean shorts. They're amazing and do wonders for my calves.
For the design, Devin/Allison initially sent me a few really nice covers that had been done previously, so I had those as a reference to begin with. Then after reading the script, I had a fairly solid idea of what I thought this [fiery]/goopy/toothy guy should look like.
For the Host Rider himself there wasn't too much back and forth, but there was a bit for his mount/vehicle, just to get that sweet puppy looking right.
There were a lot of designs for this issue and every one of them was insanely fun to work on. So much so that I've started Venomizing random things at home. Toothbrush? Venomized. Grape soda? Venomized. My fish, Fin Diesel? Venomized. It's pretty fun, you should totally try it. Or don't, I'm not the boss of you, do what you like.
Marvel.com: With a Venomized Ghost Rider you've got two very different kinetic elements at play between the symbiote and the latter's fire. How was it playing with those two from panel to panel?
Tigh Walker: It was interesting to find a balance for sure. Both of those elements can get pretty busy visually just on their own, so it was fun to marry them and find ways to have them co-exist.
I found that the fire really helped show large sweeping movement because you can have it trailing off of the Host Rider in fun ways. There were also cues from Simon about which element should be favored and when, which really helped.
For his weapons, the Host Rider uses a sort of fiery flail type thingy sometimes, but he can also shoot chains—like webbing—that are covered in that slick, black symbiote goopy stuff. So there are opportunities to showcase it all.
Marvel.com: Both Venom and Ghost Rider are pretty powerful on their own, but combined they sound almost unstoppable. Is it fun playing with that level of ability on the page?
Tigh Walker: Look TJ, by now I feel like we're friends, so I'm not going to sit here and lie to you: it really is. It's super fun. It was a challenge to try and convey that amount of energy on the pages, but I tried to fit as much in as possible. Oddly, as I was drawing this issue, every now and again I caught myself smiling giddily for no other reason than the page was just crazy fun to be drawing. And I don't normally smile, like, ever. Not even for pictures.
Marvel.com: How has it been working with Simon and editorial on this important lead up to a big event?
Tigh Walker: Working with Simon/Devin/Allison has been sincerely fantastic.
I can't really say enough about Simon's script for this issue. Immediately after reading it for the first time I stood up, screamed "Are you kidding me right now?!?" at some random cat that just happened to be in my living room, ran down three flights of stairs and whipped an egg salad sandwich at a parked car. So basically, Simon owes me an egg salad sandwich. That's how good his script is. It's egg salad all over a car good.
Devin and Allison are super great to work with and I'm very honored and excited to be a part of the lead up and to see where the story takes us. I'll tell you what though, if I ever get a chance to meet them—they're both getting hugs. And I'm not even a hugger, like at all, so it's sure to be extra awkward for all of us.
EDGE OF VENOMVERSE #3 by Simon Spurrier and Tigh Walker roars into stores on July 26.
The Hype Box
Can't-miss news and updates from across the Marvel Universe!