Comics
Published August 15, 2017
Rocket: Profile in Courage
Writer Al Ewing discusses the raucous raccoon's newest foe!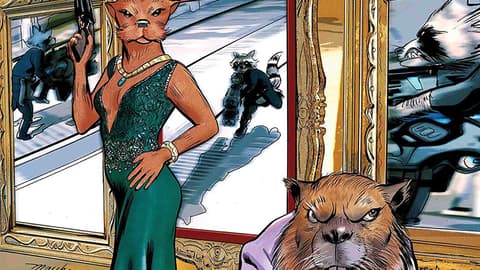 Rocket Raccoon's been traveling around the galaxy for decades—and he's come up against some formidable opponents in that time. He's battled cosmic villains, alien races, and sometimes even himself—but he's never had to contend with an anthropomorphic beaver that's CEO of a mega-corporation.
Introducing Castor Gnawbarque III—a walking, talking nocturnal mammal that rivals even our hero. And in ROCKET #5, out on September 13, writer Al Ewing and artist Adam Gorham bring the two face-to-face…or snout-to-snout.
What else will we learn about this villainous semiaquatic rodent? We met up with Al Ewing in a secluded beaver dam to find out.
Marvel.com: I've got to ask… How exactly does one get in the headspace of a sentient animal?
Al Ewing: I haven't really thought about it in those terms. I guess I have given Rocket some animal characteristics, in that raccoons have excellent hearing and a very good sense of touch—which ended up informing the comic a lot with Rocket being good at cracking safes. But mostly, I'm just writing an alien who happens to be Raccoonoid instead of humanoid, in a universe where a lot of alien species are some form of evolved animal. In a lot of ways, ROCKET veers into being a funny animal type of book—it's the easiest thing in the world to describe a new alien as being like a giraffe or a warthog, and our superstar artist Adam Gorham loves to play around with what that might mean.
Marvel.com: Right! Rocket is so much more complicated than he seems. Is it difficult writing him?
Al Ewing: I think the challenge was reconciling the happy-go-lucky Rocket of my childhood with the very different character he's become—and finding a way to make those two elements work together. And that's the joy of it, too, because as soon as I understood that the Rocket of then and the Rocket of now are the same person, a whole chunk of his personality clicked into place. He's a character who's fallen a long way from what he was, which makes him very suitable for the kind of absurdist noir we're telling.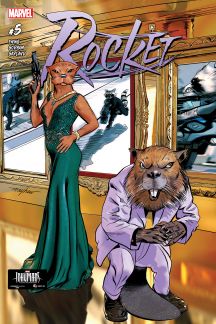 Marvel.com: He's definitely grown a lot since then. What do you think of his modern pop culture presence? Did it alter how you developed him for the book?
Al Ewing: Well, I was already far along with the Rocket book when I saw "Guardians of the Galaxy Vol. 2," but one thing that struck me in the movie was that Rocket carried a lot of sadness. His arc was all about lashing out, driving people away, dealing with his pain. And, yes, the movie Rocket is a very different character to the one we're writing, but they do share that emotional core. Rocket's someone who carries a lot of pain around.
Marvel.com: And how does Castor Gnawbarque III fit into this story?
Al Ewing: Castor Gnawbarque is the guy behind all of Rocket's troubles…but at the same time, as I've been writing him, I've realized that he's not a bad guy. Or he is, but as villains go, he's a flawed, desperate individual trying to fill a hole inside him that no amount of money can fix. Essentially, he's quite a small, paranoid man, driven by petty little neuroses. But because he's so rich and powerful, his desperate scrabbling around for some meaning in life affects more people than just him. Without even thinking about it, he's causing misery for a whole planet—and Rocket can't let that go.
Marvel.com: Sometimes villains echo experiences the heroes are going through themselves. How do you think Gnawbarque and Rocket differ—and how are they the same?
Al Ewing: Well, obviously, they're both small furry mammals and they're both plagued by inner pain. But where Rocket is a raccoon—a thief—Castor is a beaver—a worker. In some ways, he's been poisoned by that; work doesn't make him happy, his damming projects are creating an environmental disaster, but he can't stop. He's driven by the ghost of his father—to achieve more and more, without knowing why. In some ways, despite the fact that Rocket's essentially a failure and a guy who lost everything that mattered to him a long time ago, he's retained more of his soul than someone like Gnawbarque.
Marvel.com: How does this adventure influence Rocket's difficulty grappling with his identity and past?
Al Ewing: Rocket has to deal with his identity in a lot of ways over the course of this caper. We'll see what remains of Rocket when you take every distinguishing feature away and who he chooses to stand by when the chips are down. We'll also get a good look at how he deals with the ghosts of his past. Frankly, I'm not sure there'll be a dry eye in the house when this all ends.
Meet Castor Gnawbarque III in ROCKET #5, by Al Ewing and artist Adam Gorham, available on September 13!
The Hype Box
Can't-miss news and updates from across the Marvel Universe!