Comics
Published September 22, 2023
'Rom and the X-Men: Marvel Tales' #1 Collects Rom the Spaceknight's Classic Run-Ins with Mutantkind
This December, enjoy rare stories from Bill Mantlo and Sal Buscema's 'Rom' series that guest starred the X-Men.
Earlier this year, Marvel Comics announced the return of a comic book icon: ROM!
Thanks to an exciting new collaboration between Marvel and Hasbro, a leading toy and game company, fans can enjoy the beloved adventures of this popular 80s toy turned Marvel super hero in the form of long-awaited collections, including the upcoming ROM OMNIBUS VOL. 1 and this week's Facsimile Edition of ROM #1. Then, in December, see rare mutant moments reprinted for the very first time in ROM AND THE X-MEN: MARVEL TALES #1. 
Over the course of his hit solo series by industry legends Bill Mantlo and Sal Buscema, Rom the Spaceknight proved to be a pivotal figure in the Marvel Universe and fought alongside its greatest super hero teams including the Avengers, the Fantastic Four, and the X-Men. ROM AND THE X-MEN: MARVEL TALES #1 collects ROM (1979) #17-18 and ROM (1979) #31-32, showcasing Rom's first encounter with the Children of the Atom and more! 
During his classic adventures hunting the vile Dire Wraiths on Earth, Rom became embroiled in the affairs of mutantdom as he teamed up with the Uncanny X-Men, fought against the Brotherhood of Evil Mutants, and even inspired Rogue in a startling turning point towards her journey towards heroism! 
In ROM (1979) #17-18, Rom and the X-Men are searching for the offspring of a Dire Wraith and a human, a creature known as Hybrid—which Cerebro has detected as a mutant! But as they clash over their target, Rom gets a taste of his own medicine courtesy of Kitty Pryde! Then, in ROM (1979) #31-32, the Galadorian hero battles Mystique's villainous mutant team—including future X-Men stalwart, Rogue—before teaming up with them for a rematch against Hybrid!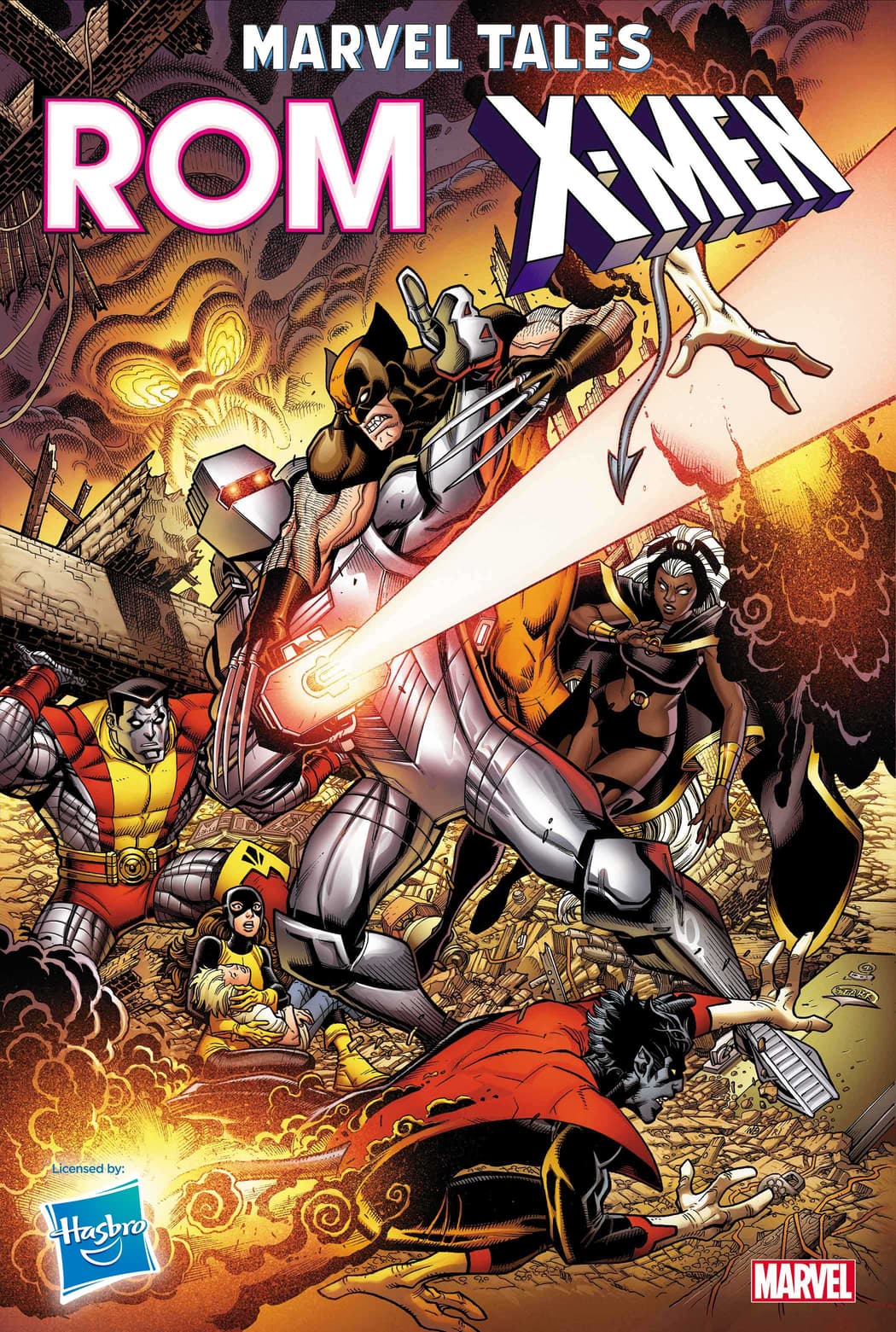 ROM AND THE X-MEN: MARVEL TALES #1
Written by BILL MANTLO
Art by SAL BUSCEMA
Cover by NICK BRADSHAW
Virgin Variant Cover by NICK BRADSHAW
On Sale 12/20
Throughout the year, MARVEL TALES celebrates the legacy of the House of Ideas with amazing collections of classic issues, re-presented with brand-new covers! Check out Nick Bradshaw's new ROM AND THE X-MEN: MARVEL TALES #1 cover below, also available as a virgin variant cover, and pick up this rare chapter in Rom AND X-Men history this December!
Grab these comics and more at your local comic book shop! Or redeem then read your digital copy on the Marvel Unlimited app by using the code found in your print comic. Find and support your local comic book shop at ComicShopLocator.com.
To read your Marvel comics digitally, download the Marvel Unlimited app for iOS and Android devices. Gain an expansive catalog of 30,000+ comics spanning Marvel Comics history, plus access your entire digital library including comics redeemed from print.
The Hype Box
Can't-miss news and updates from across the Marvel Universe!