Comics
Published January 30, 2020
Russell Dauterman Presents a First Look Inside 'Giant-Size X-Men: Jean Grey and Emma Frost'
Pre-order the ish at your local comic shop today!
Jean Grey and Emma Frost have a long history, stemming back to their first meeting during a fiery confrontation at the onset of the Dark Phoenix Saga. They've come a long way since then, teaming up as fellow X-Men and currently leading mutantkind into their rightful future as members of Krakoa's Quiet Council.
On February 26, they'll be putting their mighty mutant minds together for their greatest partnership yet—in GIANT-SIZE X-MEN: JEAN GREY AND EMMA FROST!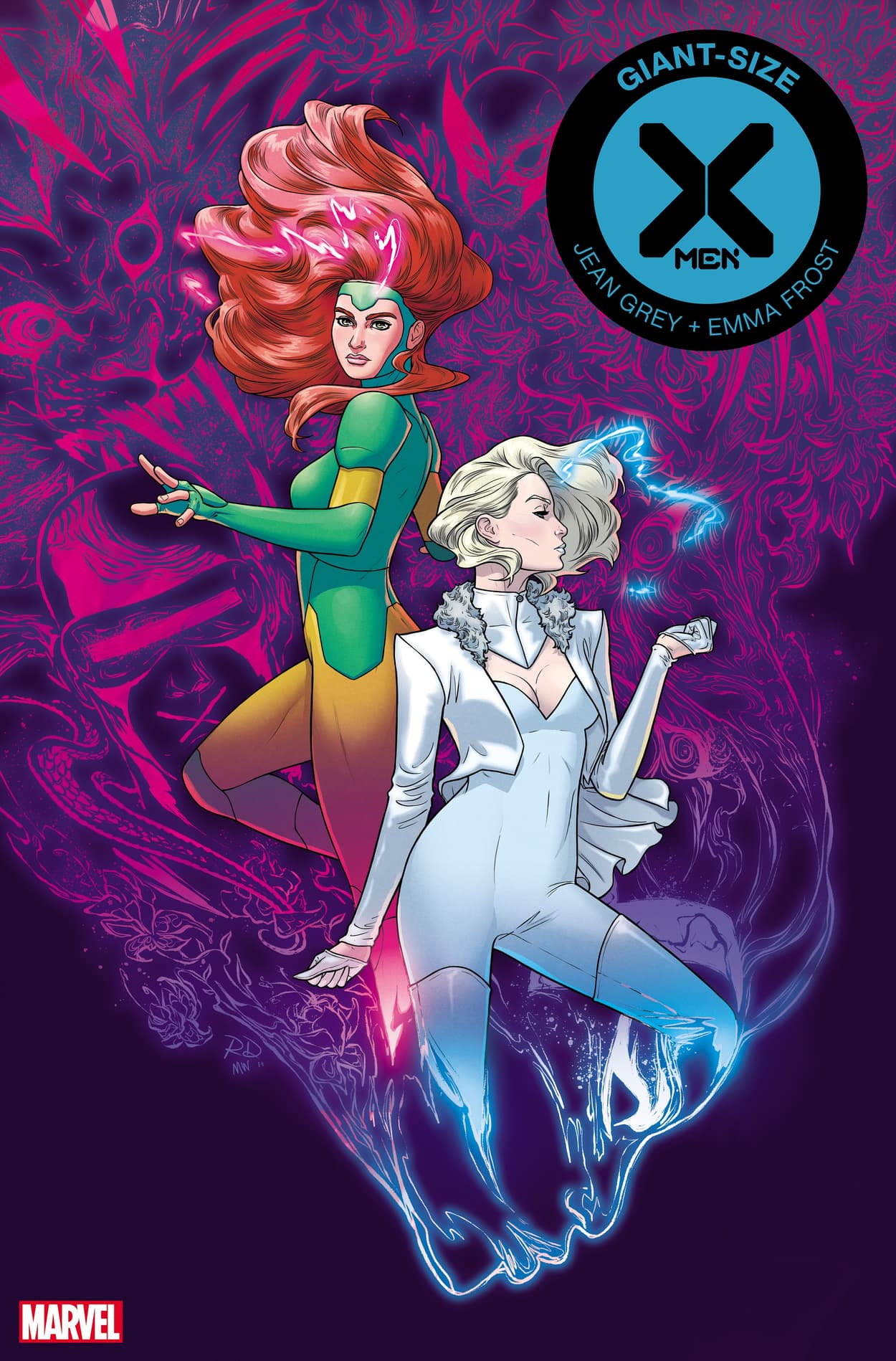 This essential X-Men tale will be the first of five stories written by Head of X Jonathan Hickman, each one specifically designed to showcase some of Marvel's best artists! First up is Russell Dauterman, known for his incredible work on titles like MIGHTY THOR and WAR OF THE REALMS. Dauterman also happens to be an avid X-Men fan, and in preparation for his GIANT-SIZE X-MEN debut, Marvel.com spoke to the superstar artist about how it felt getting into the minds of some of his favorite characters!
While some would call them rivals, Jean Grey and Emma Frost have always had a much more complicated relationship than that. How do you view them?
Yeah, complicated is a good way to describe their relationship. I think that recent scene in X-MEN #3, with Emma and Jean at the council meeting, sums up their relationship really well (with great dialogue from Jonathan). They haven't forgotten the drama, but they're moving past it. They're not going to spend this issue fighting over Scott.
Jean and Emma are both telepaths, but they each have different methods when using their gifts. Does your approach differ when depicting their telepathy and power signatures?
Jean is Omega level, so to represent that I generally made her powers bigger and more imposing than Emma's. In a few spots, I have Emma's power signature taking the vague shape of a crown as a nod to her personality. And, there's been some variety in power colors over the years, but I wanted to give each character's power signature a distinct color here.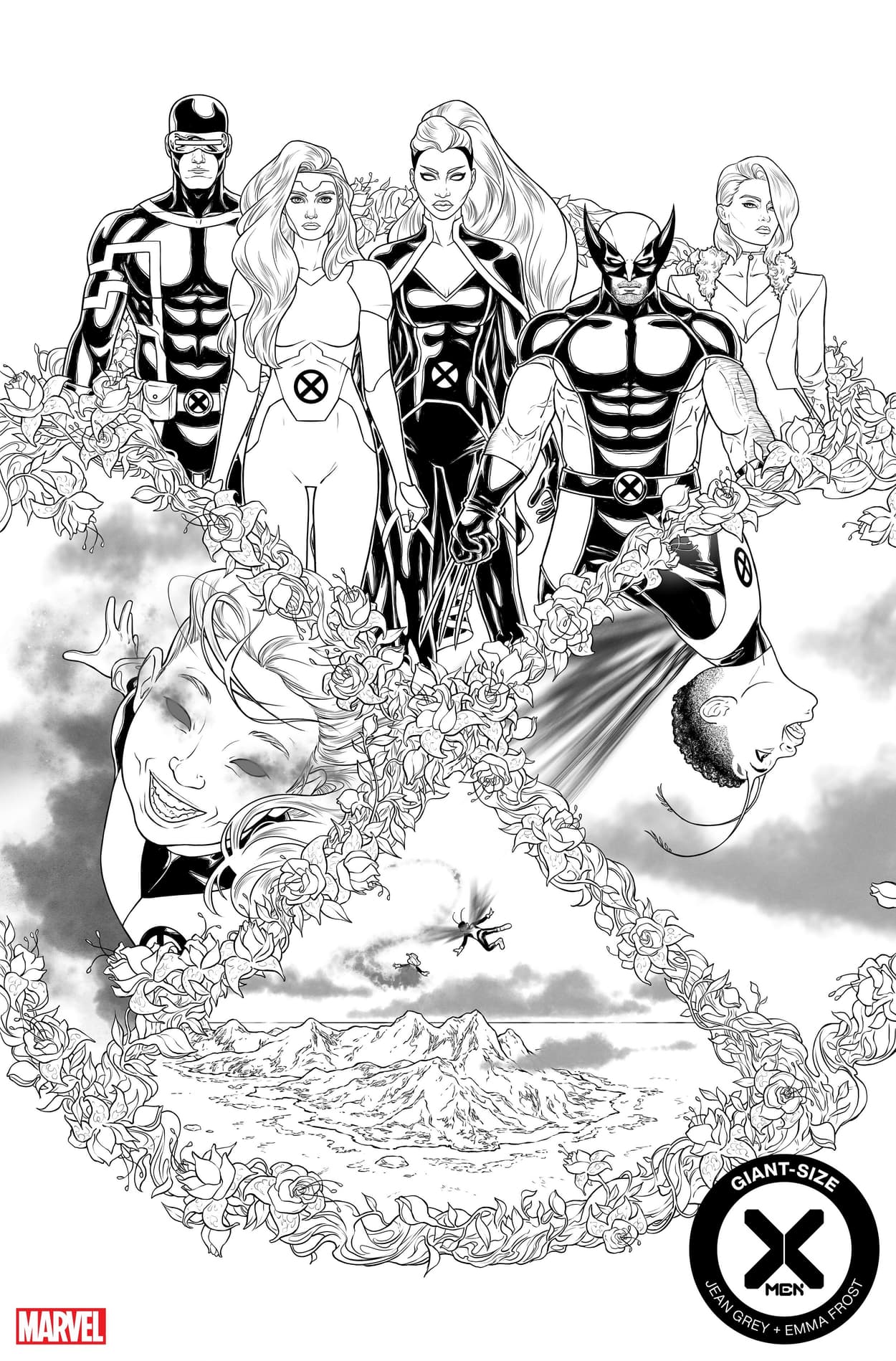 Giant-Size X-Men is a series of one-shots written by Jonathan Hickman, but they're designed to showcase some of Marvel's top artists...and it all starts with you! How was this creative process different than books you've worked on in the past?
I got to pick the characters! That was incredibly cool! I was asked what X-characters I wanted to focus on and what sort of story I wanted to tell. I said I'd love to draw Jean and Storm, my favorites. I love Emma too, and suggested her—I thought that would be an exciting combo.
The one-shot was done Marvel Style, which was pretty new to me, as opposed to working from a full script. After we talked a little bit, Jonathan came up with a story that fits within his larger plans and he wrote a breakdown of the plot. I broke that down into individual pages and we went from there. I tried to work in visuals that I'd want to see, as a fan of these characters.
You're a huge X-Men fan. In fact, you landed some of your first comic gigs after posting a piece of X-Men art inspired by the '90s animated series. Now you're making your mark on the franchise through your glorious MARAUDERS covers as well as some other incredible variants. How does it feel to evolve from fan to one of the most acclaimed and sought out after X-Men artists of today?
The X-Men have been a nearly lifelong love of mine. They're the reason I started reading comics and a big part of why I wanted to be a comic book artist. So drawing this book is a dream come true.
I'm so thrilled to be working on this with Jonathan and Matt, and to be working on the MARAUDERS covers. I'm a huge fan of how Jonathan and his collaborators have revitalized the X-Men. I'm very happy to be involved.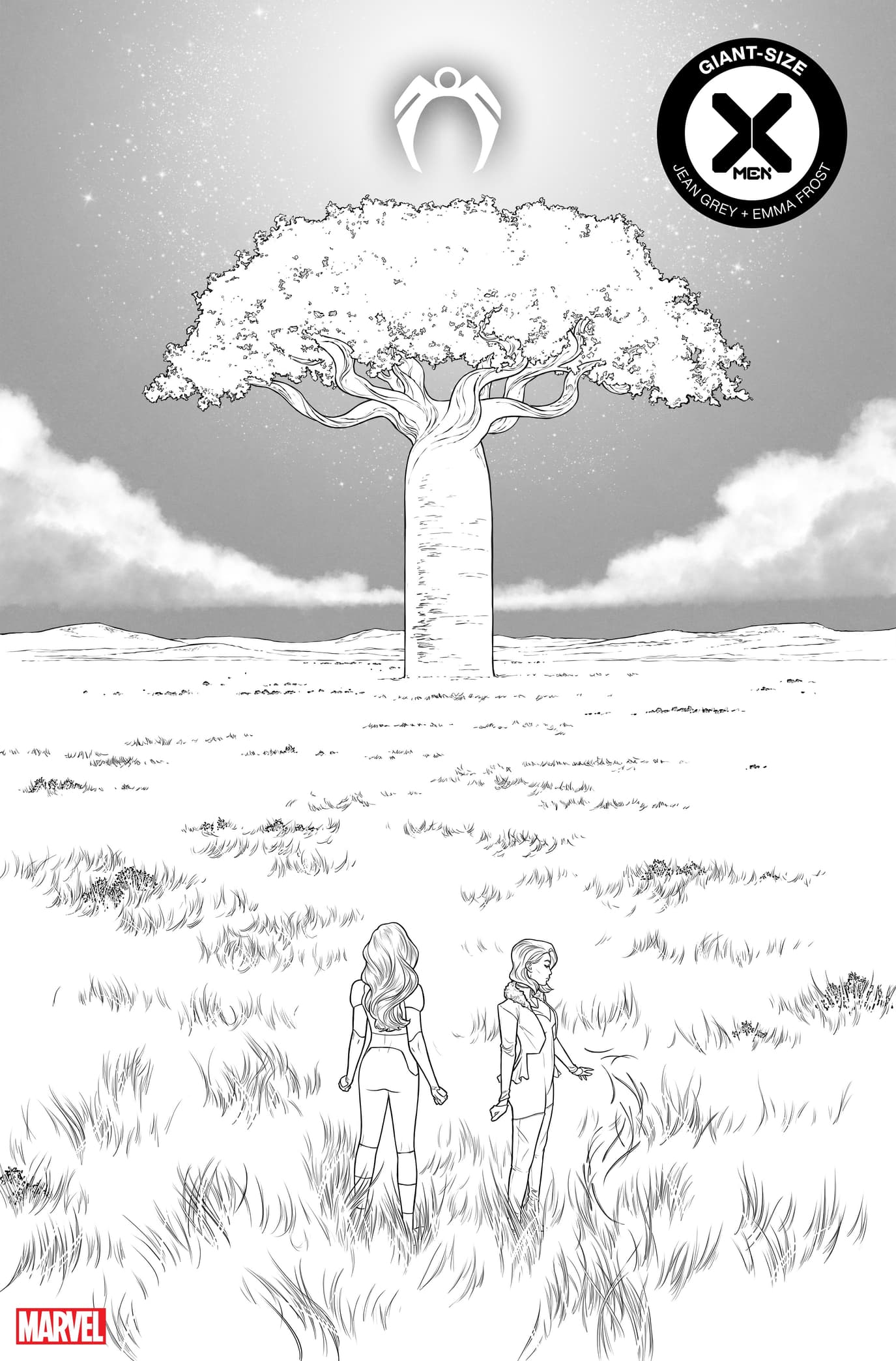 Fans go wild for your X-Men covers, but this will mark one of the few times you're drawing interiors for an X-Men story. How did your usual creative approach shift?
Covers are more about creating a single image that's (hopefully!) attention-getting and exciting. Interiors have a lot of different rules, and the choices made need to help tell the story. But I'm always looking for ways to fit cover-worthy images within the interiors, and I treat the whole page as a single composition.
Looking through these pages, it's really unlike any X-Men story we've ever seen before—but you also pay homage to X-Men history. Tell us about which stories inspired you.
I'm a huge fan of the Morrison/Quitely NEW X-MEN run, the iconic Claremont era, '90s X-Me, and GENERATION X. There are bits from all of those things in this issue, either in the story or in designs and visuals. Some are overt homages, and others are more like Easter eggs. (Or maybe I'm wrong and they're all obvious!)
There was one story bit in particular that was left open-ended in the outline, so I took that opportunity to add in some X-Men history. ☺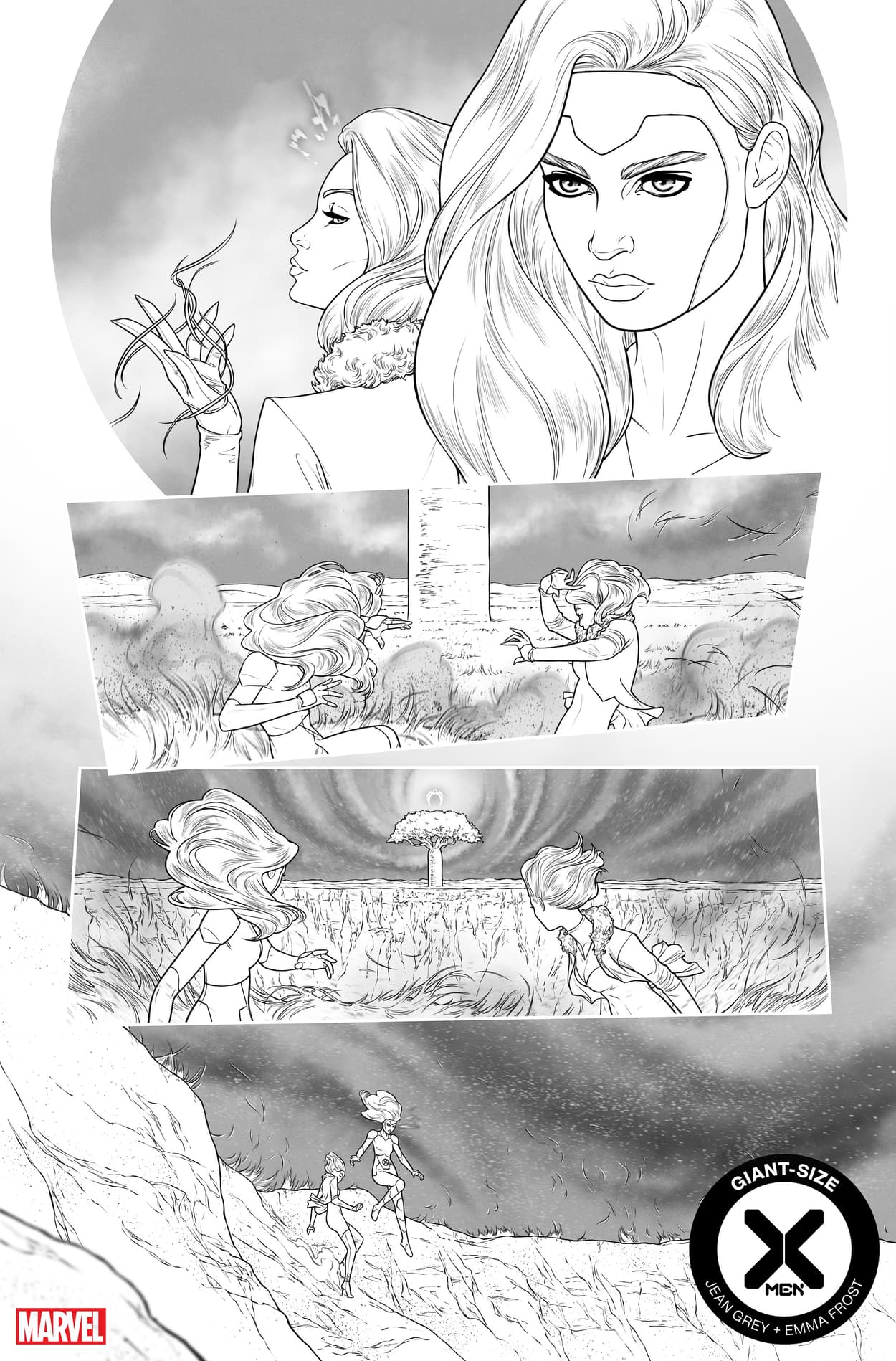 What can Jean and Emma fans expect from this story? Will this be an uneasy alliance or will the pair be working together as a well-oiled machine? A mix of both?
A mix of both. They're definitely better at working together than they have been in the past, but everything does not go smoothly.
Will this be a standalone tale or will it have an impact on the wider happenings in the X-Men universe?
This can definitely be enjoyed on its own, but yes, there's something in particular that will pretty directly affect future X-stuff.
GIANT-SIZE X-MEN: JEAN GREY AND EMMA FROST by Jonathan Hickman, Russell Dauterman, and Matt Wilson goes on sale Wednesday, February 26. Pre-order your copy today online or at your local comic shop!
The Hype Box
Can't-miss news and updates from across the Marvel Universe!