Comics
Published May 18, 2017
Secret Empire Exposed: Black Widow & Hawkeye
Before Clint and Natasha go their separate ways, see how they first got together!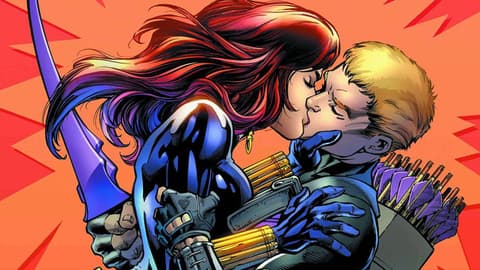 Each week, we use our super sleuth skills to dig into the histories of the characters fighting on both sides of Secret Empire!
This week's installment of SECRET EMPIRE by Nick Spencer and Andrea Sorrentino not only established Captain America's potentially wavering relationship with Hydra and equipped the heroes with the information they need to find the Cosmic Cube pieces, but also drove an enormous, and possibly permanent, wedge between longtime friends—and more—Black Widow and Hawkeye.
Way back in TALES OF SUSPENSE #57, Hawkeye—who decided to go from expert circus performer to masked hero after seeing Iron Man in action—got wrongfully accused of a crime. Russian spy Black Widow then appeared to save him, filled his quill with fancy arrows, and set him against Shellhead, dangling the potential for love like a carrot before the archer's nose.
The duo continued to work together in the pages of TALES OF SUSPENSE #60 and #64, but eventually Hawkeye's patriotism overcame his lust for the espionage expert and he went straight, joining Earth's Mightiest Heroes along with the rest of Cap's Kookie Quartet in AVENGERS #16.
Even though she too intended to defect to the States, Natasha found herself brainwashed and battling her former beau and his new allies in AVENGERS #29 and #30. However, she admitted that her love for Hawkeye helped break her from the mind control. The pair tried to make it work for a while, but ultimately, they went their separate ways.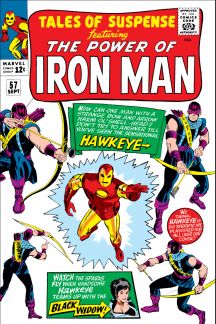 Natasha eventually became a full-fledged member of the Avengers herself and even led the team for a while. She also co-headlined the DAREDEVIL series for a time. Hawkeye moved on with Mockingbird, but still showed up in DAREDEVIL #99 to try and win the Widow back!
After enough time passed, Hawkeye and Black Widow figured out how to work together as friends and teammates. Most recently, Hawkeye came under fire during CIVIL WAR II for killing Bruce Banner at the doctor's own orders. He then moved on to OCCUPY AVENGERS. Black Widow herself starred in her own acclaimed eponymous series.
So, what could cause such a rift between these two? A very clear split in ideology. Black Widow wants to assassinate Captain America for all he's done, especially after the resistance lost so much ground trying to figure out if he was a clone or a Skrull or something else. Hawkeye, however, wants to wait and see if this Cosmic Cube plan can come together and fix his friend. In SECRET EMPIRE #2, Natasha made her position clear as she cold-clocked Clint and made off with her own agenda.
The Empire Strikes Back
If any two characters could understand the possibilities of a second chance, it's Clint and Natasha. As you can tell from the above history lesson, both characters worked on either side of the law before becoming Avengers. A major reason they both got accepted into that organization's hallowed halls lies with Captain America having faith in them. As Avengers and even agents of S.H.I.E.L.D., both have been able to at least try and make up for the bad they've done, which makes Natasha's stance all the more troubling.
The Hype Box
Can't-miss news and updates from across the Marvel Universe!