Comics
Published May 25, 2017
The Evolution of Captain Marvel in the Marvel Universe
Dig into the history of Carol Danvers!
SECRET EMPIRE #0 saw Captain America's Hydra agenda come full circle as he assumed control of the world governments through S.H.I.E.L.D., isolated New York City in the Darkforce Dimension, and blocked Alpha Flight with the planetary defense shield. That last one seemed particularly aimed at Captain Marvel. In fact, Cap even fully explained that he'd had a Chitauri queen hidden on planet, which meant her people would never stop coming for her. In other words, the extra-terrestrial pummeling would never end.
If she had time to reflect on how she got to that point, Carol would remember taking the job as head of Alpha Flight after the events of Secret Wars. In the volume of CAPTAIN MARVEL that launched in 2016, she assumed control of the group working out of the Alpha Flight Space Station putting her in charge of a full staff plus the likes of Puck, Aurora, Sasquatch, and Abigail Brand. Their mission? Stop space threats from reaching the Earth.
The first adventure put her and the team in direct opposition to an alien race that didn't take kindly to her Kree genetic signature after people from that particular planet nearly wiped them from existence. Soon after, Carol re-purposed her group to utilize the information coming from the Inhuman Ulysses to save the planet during Civil War II. The crossover also ran through A-FORCE and ULTIMATES, two team books that Carol also regularly appeared in. Captain Marvel's desire to use Ulysses to save the world, even if he's wrong every now and then, didn't sit well with everyone, including Iron Man who worried more about someone else using that information for the wrong reasons.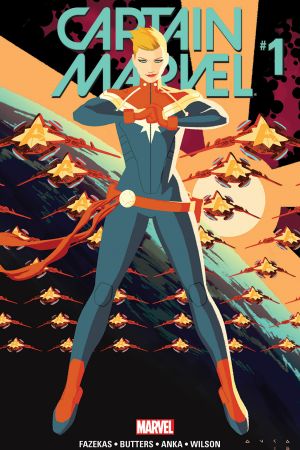 Captain Marvel (2016) #1
published

added to marvel unlimited

letterer

colorist

colorist (cover)

inker

inker (cover)

penciler

penciler (cover)

editor

writer
What is Marvel Unlimited?
The event ended with Carol's boyfriend Jim Rhodes dead, her longtime friend Jennifer Walters beaten comatose, Tony Stark out of commission, and the hero community once again left in a shambles. Yet, in the pages of her new series MIGHTY CAPTAIN MARVEL, Danvers found herself dealing with not only newfound fame, but also the impending Chitauri invasion. This week's MIGHTY CAPTAIN MARVEL #5 actually takes place before the events of SECRET EMPIRE #0, showing how Carol started training a group of Alpha Cadets and also fought the first wave of invaders with the Guardians of the Galaxy, some of the Ultimates, and other heroes before getting the news that Cap had betrayed them.
SECRET EMPIRE #1 skipped ahead to show a world where Hydra had already taken control. We saw Captain Marvel sending out a distress signal to anyone who might hear saying that Earth needed help, noting that this threat could easily spread to their planets. As long as she's still up there, humanity has a hope!
The Empire Strikes Back
The alien menace known as the Chitauri first appeared in the Ultimate Universe in the pages of the original ULTIMATES. They would show up to menace that reality on more than one occasion, but blew up to nearly a household name after becoming the main threat in the first Avengers film! The aliens first appeared in the Marvel Universe in the pages of NOVA to hassle Sam Alexander. Thanks to a stolen Ultimate Nullifier, though, he made short work of them.
The Hype Box
Can't-miss news and updates from across the Marvel Universe!