Comics
Published July 5, 2017
Secret Empire Exposed: Hydra's Avengers
They continue fighting for Captain America, but why?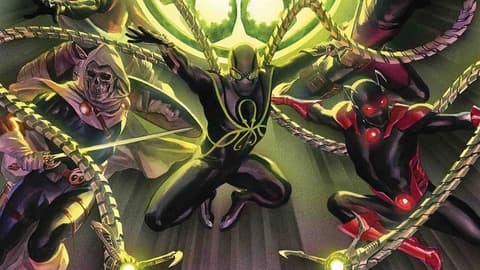 Each week, we use our super sleuth skills to dig into the histories of the characters fighting on both sides of Secret Empire!
It might seem like every hero in the Marvel Universe remains staunchly opposed to Steve Rogers and his new role as the head of Hydra. However, as we've seen throughout SECRET EMPIRE, he's got a group he still calls The Avengers. We can understand why Taskmaster, Superior Octopus, Black Ant and maybe even Deadpool made the jump, but what about stalwart Avengers Odinson, Scarlet Witch and Vision?
The team first debuted in SECRET EMPIRE #1 fighting the huge monster known as Kriggorath. When the beast refuses to deal with Captain America, he calls in his team and they utterly destroy the monster. In #3, Baron Zemo lead the team in an attack on Atlantis to retrieve a Cosmic Cube fragment only to find a decoy.
The group did the same in SECRET EMPIRE #4, when they wound up in Alaska looking for another fragment at the same time that A.I. Iron Man, Sam Wilson and the others appeared to do the same. Thanks to Hank Pym-Ultron's machinations, the true Avengers members all sat down for a skewed take on a family dinner, but the good guys walked away with the Cube piece.
In that issue, we also got hints as to why these former heroes remain loyal to an apparent traitor. A demon called Chthon possessed the Witch, an A.I. Virus keeps Vision in line and, according to A.I. Stark in #4, Odinson "just wants his hammer back."
In SECRET EMPIRE #5, we learn a bit more about the former Thor's role in all this. Captain America wielded the hammer at one time to quell the opposition, but leaves it in Washington, D.C. because he doesn't feel he needs that kind of additional power all the time.
In the same issue, Odinson wonders about his decision to stand by his longtime comrade and friend Steve Rogers. They claim to be able to help the purgatory-trapped Jane Foster and also reconnect Midgard to Asgard, but he questions how they treat the innocent.
As Thor questions his decisions, both Scarlet Witch and Vision seem to be fighting their own torments. Meanwhile, as we've already examined, Deadpool feels an intense devotion to Cap, but also lied to Hydra about the resistance hiding in The Mount in DEADPOOL #32, so we'll see which way he truly goes.
If you're wondering how Doctor Octopus went from being, well, dead to running around in a body with Spider-Man's powers and his own unique appendages, then you should check out the Clone Conspiracy story. The short version: Doc Ock put his consciousness in a clone body. Now he's working with Hydra to ensure Parker Industry's utter failure, as established in AMAZING SPIDER-MAN #25. And then there's Taskmaster and Black Ant. Those guys are just bad. Nuff said.
Seeing as how Hydra's Avengers stand big as life on the cover of SECRET EMPIRE #6, expect them to continue playing an important part in this event.
The Empire Strikes Back
Both Taskmaster and Black Ant – formerly the Irredeemable Ant-Man – go back to their days together in SECRET AVENGERS. They wound up in the super villain-run country of Bagalia where Captain America crashed a ship in CAPTAIN AMERICA: STEVE ROGERS #1. In CAPTAIN AMERICA: STEVE ROGERS #11, Taskmaster discovered the important video footage of Cap first saying "Hail Hydra" from that first issue and tried to exploit it. In the following installment, they tried selling ousted S.H.I.E.L.D. leader Maria Hill the information. While waiting to make the transaction, Madame Hydra showed up, zapped them and brought them into the fold.
The Hype Box
Can't-miss news and updates from across the Marvel Universe!