Comics
Published April 20, 2017
Secret Empire Exposed: Steve Rogers
How did the most beloved hero in the Marvel Universe become its most dangerous enemy?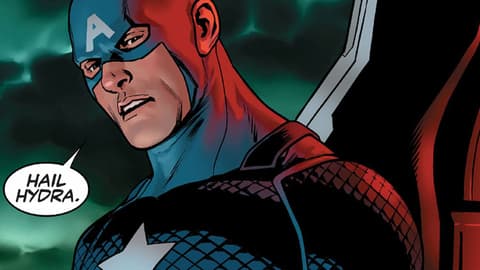 Each week, we use our super sleuth skills to dig into the histories of the characters fighting on both sides of Secret Empire!
Over a year ago, Captain America uttered two words that sent the comic-reading world into an uproar: "Hail Hydra." Since then, this new version of an old hero has worked to secretly aid his beloved organization, especially in the pages of CAPTAIN AMERICA: STEVE ROGERS by Nick Spencer and regular artist Jesus Saiz.
This week, however, the Marvel Universe finally started understanding the truth with the publication of SECRET EMPIRE #0 by Spencer along with artists Daniel Acuna and Rod Reis. Captain America hasn't just been working for Hydra this whole time, he's been orchestrating a three-pronged attack on the entire planet in his efforts to tear down the existing framework of society and rebuild it from the ground up.
In addition to drawing an immense Chitauri army by capturing and holding a queen on Earth, Rogers also orchestrated the creation of an army of super villains to attack Manhattan and even got the U.S. government to completely sign over power to him. In other words, he has the world in his grasp and simply needs to squeeze.
But how did it all come to this? How did one of the greatest heroes ever created, a man who's patriotism and leadership have inspired others since his creation in 1941, go so bad? Not to deflect blame from the perpetrator, but The Red Skull pulled all the strings.
As explained in CAPTAIN AMERICA: STEVE ROGERS #2 by the Skull himself, Kobik actually came from the Cosmic Cube destroyed in a battle between the villain and Captain America, as seen way back in CAPTAIN AMERICA #448. After re-forming as a child, she sought out the man she had spent so much time with previously. With the entity in his grasp, the Skull indoctrinated her with stories about the greatness of Hydra.
So, what does all this have to do with Captain America? Well, when Maria Hill decided to use Kobik to create Pleasant Hill—a prison for super villains changed by the Cosmic Cube into supposedly peaceful individuals—she actually played into the Skull's plans. After Sam Wilson, Bucky Barnes, Steve Rogers—then transformed to his actual physical age—and other heroes found out about the prison, they demanded it be shut down. Following an attack by Crossbones in Pleasant Hill, Cap got his youth and power restored by Kobik who didn't want anything bad to happen.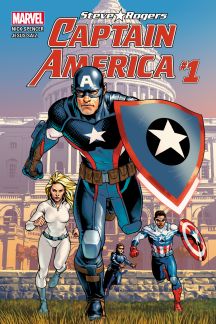 Now, here's where things get tricky. According to Red Skull, at this moment he had Kobik rewrite all of Steve's memories, which explains the mostly black and white flashbacks seen throughout his solo book. Instead of dedicating himself to the individual-praising doctrines of the United States, Steve learned the true power of working together from Hydra. Instead of growing up in New York City until he entered into Project Rebirth, a woman named Elisa took him to a Hydra camp where he and other children trained to become agents. There he met Helmut Zemo and the two became lifelong friends.
In his mind, Steve took on the assignment to kill Dr. Erskine, the man who created the Super Soldier Serum. Instead, Helmut pulled the trigger, but Hydra arranged for Arnim Zola to take over and still give Steve the serum which produced Captain America. Rogers served during World War II for the Allies, but secretly still worked for Hydra. In that version of history, the Axis powers won, but the Allies developed a Cosmic Cube that would supposedly allow them to rewrite history. In the pages of SECRET EMPIRE #0, Kraken explained to Steve that he would enter into this new world and be something very different, but would eventually wake up when Kobik touched him.
Restored to his Hydra-loving ways, Steve started working with Red Skull, though also against him. It turned out that, to Captain America, Hydra represented a more pure idea and that the Skull had tarnished it by recruiting racists and making it all about himself. After much subterfuge, Cap killed Skull in CAPTAIN AMERICA: STEVE ROGERS #15 and continued with his plans to move the proper Hydra to the forefront of humanity.
Now the question becomes, who can stop the world's most experienced tactician? Well, hopefully the combined might of Earth's Mightiest Heroes…
The Empire Strikes Back
Unfortunately, Secret Empire does not mark the first time that Captain America wound up working for The Red Skull. Co-creator Jack Kirby had the villain recount his own origin to a bound Sentinel of Liberty way back in TALES OF SUSPENSE #66. The tale gave a chemical enough time to work its way into Cap's system and allow the bad guys to seemingly order him to attack the Supreme Commander of the Allied Armies in the following issue. Before the mission itself in issue #67, the Skull introduced Cap to Hitler and then sent him after his target. Bucky infiltrated the accompanying Nazi squad, but couldn't fully shake Steve out of his stupor. Finally, in #68, it's explained that Cap snapped out of the Skull's control when he had the gun pointed at the General, causing him to return to his heroic state of mind.
The Hype Box
Can't-miss news and updates from across the Marvel Universe!