Comics
Published May 1, 2017
Secret Empire: Good Friends, Better Enemies
Captain America's history with the Invaders before they face off in Brave New World!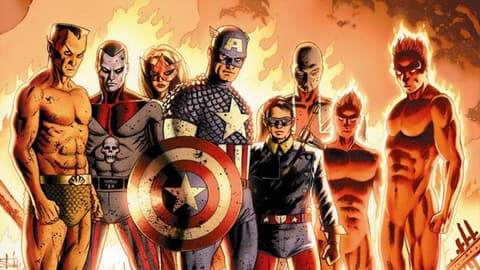 Betrayal always hits old friends hardest; so, after Steve Rogers revealed himself as Hydra's supreme ruler in Secret Empire, you can bet that some of the most confused and angry people around number as Namor, the original Human Torch, and Toro, otherwise known as his compatriots in the Invaders.
A team of super powered individuals that battled Hitler and the Nazi forces during World War II, the Invaders come together again on June 7 in SECRET EMPIRE: BRAVE NEW WORLD with stories by Paul Allor and Brian Level. While Marvel's original super team might be going through some tough times now, it seemed like a good idea to look back on brighter, happier days when they worked to put down strange madmen instead of familiar faces like Steve Rogers.

All Winners Squad
Captain America, Bucky, Human Torch, Toro, and Namor actually first came together in 1946's ALL WINNERS COMICS #19 and again in #21—#20 doesn't actually exist. Even with just the pair of appearances, the team-up clearly made enough of an impression to stick with creators and readers for decades to come.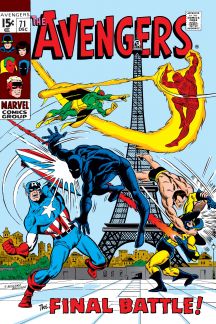 First Appearance
After some reprints in the 60s and 70s, people wanted to see more team-oriented WWII stories, especially writer Roy Thomas and artist Sal Buscema who brought Captain America, Human Torch, and Namor together in the pages of 1969's AVENGERS #71. Thanks to a game between Kang and The Grandmaster, Black Panther, Vision, and Yellowjacket fought those brave heroes in 1941!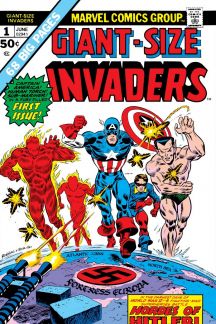 Giant-Size Invaders
Six years later, Thomas returned to the team along with artist Frank Robbins to offer a look at the first meeting between the Invaders fab five. After each fought against the Nazi menace of Master Man, Winston Churchill appeared to ask if they'd continue working as a unit. They agreed, ending with a hearty battle cry of, "Look out Axis—here we come!"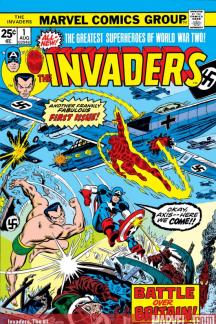 The Invaders
Later in 1975, Thomas continued the team's adventures in an ongoing series that would run until 1979. Over the course of 41 regular issues, the Invaders met up with other familiar Golden Agers like Union Jack, Spitfire, Whizzer, and more. They even came up against a Thor who had been tricked by Adolf Hitler himself. For that adventure, be sure to check out issues #32 and #33!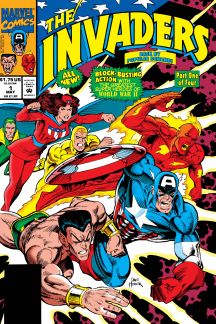 The Invaders Return
It would be almost 20 years until the Invaders starred in their own title again, but that day came in 1993 when Thomas once again shined the spotlight on Cap, Human Torch, Namor, Whizzer, and Miss America. The four issue limited series also brought characters like Blazing Skull and the original Vision back from limbo as they battled enemies both old and new.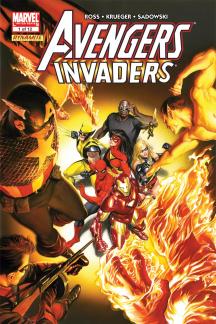 Avengers/Invaders
In 2007, the main Invaders squad traveled to the then-present to help the Avengers stop a Cosmic Cube incident. Though everyone thought they'd succeeded, a WWII soldier came along, got his hands on the Cube and did his best to rewrite history. After fixing most of his mistakes, the teams set about to go their separate ways, but Bucky used the device to resurrect his best friend Toro, which led to a series called THE TORCH.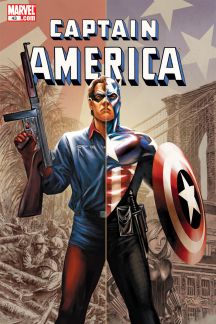 The Man with No Face
Writer Ed Brubaker's run on CAPTAIN AMERICA came jam packed with references to Steve's long history, but issues #43–48 really got into the dynamics of the Invaders. At that point, most thought Steve dead and Bucky filled in for him, which allowed Mr. Barnes to keep Jim Hammond's body safe. Stumbling into something much bigger, Bucky turned to Namor for help as they uncovered some old enemies from the war.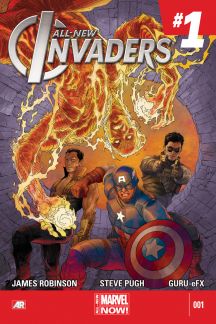 All-New Invaders
The last time the Invaders struck out on their own, the group consisted of Winter Soldier, Namor, Human Torch, Sam Wilson, and rookies like Golden Girl's granddaughter Radiance and the new Iron Cross. James Robinson wrote all 15 issues of ALL-NEW INVADERS with Steve Pugh drawing most of them. In addition to exploring new takes on old dynamics, this book also pitted the team against alien invaders and ticked off Inhumans!
Watch the next step for the Invaders in SECRET EMPIRE: BRAND NEW WORLD #1 on June 7!
The Hype Box
Can't-miss news and updates from across the Marvel Universe!